Mummies with golden tongues that 'speak to the dead' unearthed in Egypt
Tombs thought to date back 2,000 years
Matt Mathers
Tuesday 02 February 2021 15:45 Comments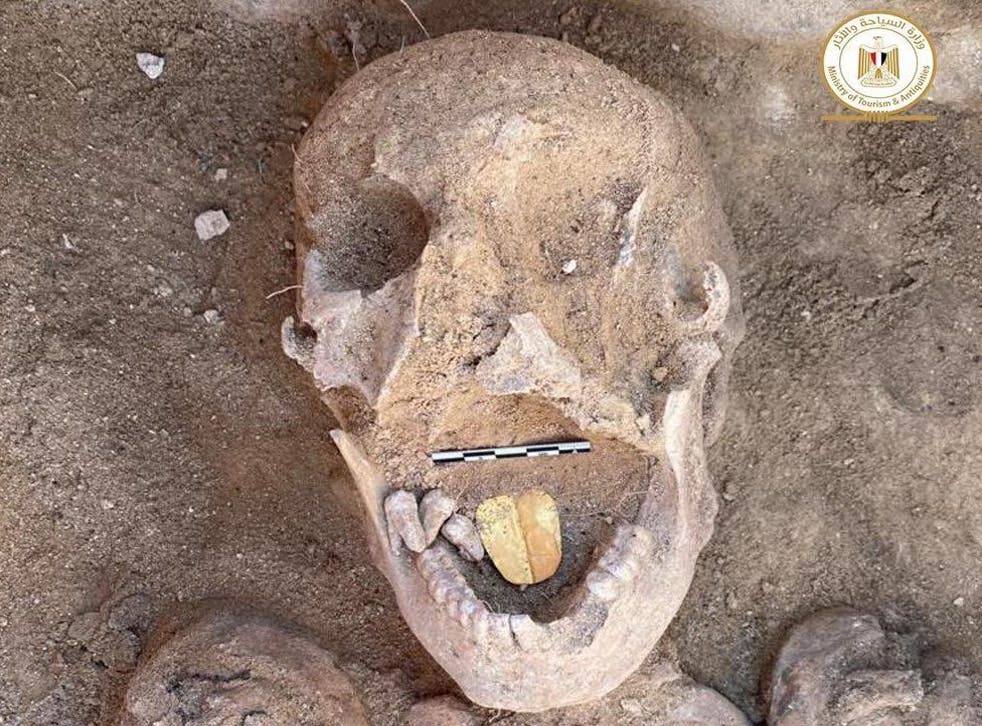 Mummies with "golden tongues" have been unearthed in Egypt, the country's tourism and antiquities ministry has said.
A team of Egyptian-Dominican archaeologists discovered 16 burials in rock-cut tombs at Alexandria's Taposiris Magna temple in western Alexandria.
Experts believe the tongues, made of gold foil, were placed inside the dead person's mouth after their biological tongue had been removed during the embalming process.
They say this was done in the hope that the dead person could speak to Osiris in the afterlife.
Osiris is the Egyptian 'Lord of the Underworld' and judge of the dead - one of the most important gods of ancient Egypt.
The tombs in which the gold-tongued mummies were found are thought to date back 2,000 years and were popular in ancient Greek and Roman eras.
A woman's funeral mask was also found at the site, Khaled Abo El Hamd, director-general of the antiquities authority in Alexandria, said.
Golden flakes from a wreath and marble masks dating to the Greek and Roman eras were also found, he added.
Egypt's antiquities ministry said coins which had Queen Cleopatra VII face and name inscribed on them had been previously found at the site.
Cleopatra VII was the last queen of the Greek-speaking Ptolemaic dynasty. She was a descendant of its founder, Ptolemy I Soter, a Macedonian Greek general and companion of Alexander the Great.
She ruled Egypt from 51-30BC and it fell under Roman control following her death.
Register for free to continue reading
Registration is a free and easy way to support our truly independent journalism
By registering, you will also enjoy limited access to Premium articles, exclusive newsletters, commenting, and virtual events with our leading journalists
Already have an account? sign in
Register for free to continue reading
Registration is a free and easy way to support our truly independent journalism
By registering, you will also enjoy limited access to Premium articles, exclusive newsletters, commenting, and virtual events with our leading journalists
Already have an account? sign in
Join our new commenting forum
Join thought-provoking conversations, follow other Independent readers and see their replies