Angela Merkel reads Benjamin Netanyahu the riot act over settlement plan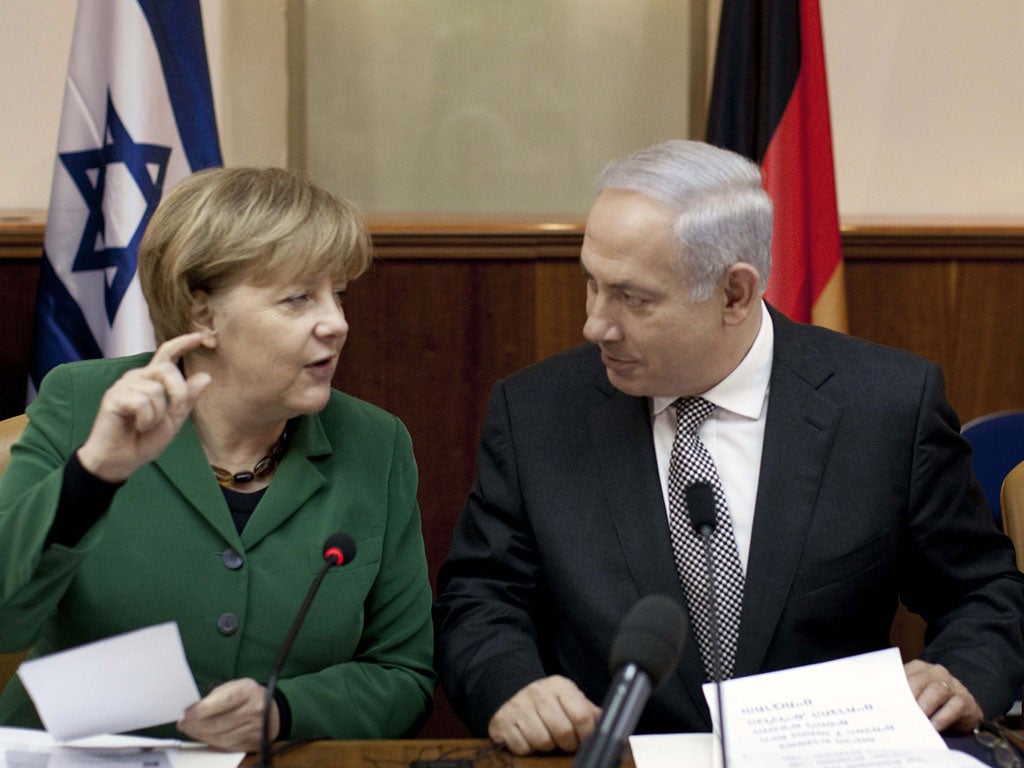 Israel has infuriated its most reliable West European ally, German Chancellor Angela Merkel, by announcing expansion of a Jewish settlement in Jerusalem in defiance of a US-backed warning to both parties in the Middle East conflict to avoid "provocative actions".
Ms Merkel's anger, expressed in unequivocal terms in a personal telephone call to Israel's Prime Minister Benjamin Netanyahu, was all the greater because of the prodigious efforts she had made on Israel's behalf to thwart the Palestinians' UN recognition bid and persuade Palestinian President, Mahmoud Abbas, to re-enter direct negotiations.
Israel yesterday formally accepted – albeit with "some concerns" – the statement by the international Quartet of the US, EU, Russia and the UN calling on both sides to hold direct talks. But the decision to build around 1,000 new homes in the Gilo settlement came as the Palestinian leadership was still deliberating on whether to do so. In the event, the Palestinians have stuck to their line that while there were encouraging elements in the Quartet's statement, they will not agree to return to negotiations without a settlement freeze. Mr Abbas's spokesman, Nabil Abu Rudeineh, told the official Palestinian news agency Wafa yesterday that "returning to negotiations requires the commitment of Israel to halt settlement activities and to recognise the 1967 borders without any equivocation".
While that might have been the Palestinian position without the Gilo announcement, the expansion plan – condemned by the US and the EU – was widely seen by Western diplomats as a singularly ill-timed provocation, given the already extreme difficulty of persuading Palestinian leaders that talks with Mr Netanyahu would make any progress.
Ms Merkel was said by her spokesman Steffen Seibert, after her telephone call on Friday to Mr Netanyahu, to have had "absolutely no understanding" of how the expansion plan was allowed to go ahead. Mr Netanyahu had told the Jerusalem Post ahead of the Interior Ministry decision that he had no intention of intervening in it. An unnamed Israeli official was quoted in Haaretz yesterday as suggesting that a consequence of the row might be that Germany would change its mind and decide to support the proposal of French President Nicolas Sarkozy to upgrade the Palestinians' UN status to that of "a non-member state".
One option remains for the Palestinians to seek such status through the UN General Assembly if it fails to command the required nine state majority at the UN Security Council for full membership.
While the Quartet statement did not call for a settlement freeze, it did reaffirm the 2003 internationally agreed Road Map which called for a complete halt to settlement building and also referred to the Arab Peace Initiative, which specified that a Palestinian state should be based on 1967 borders.
Mr Netanyahu was said to have maintained to Ms Merkel that Gilo was an integral Jerusalem "neighbourhood" and that both sides had accepted in all previous negotiations that Gilo would fall within Israel if an agreement was reached. Most of the international community, including Britain, regards Gilo as built on territory occupied and then illegally annexed by Israel after 1967 and holds that fresh settlement building pre-empts future negotiations on a Palestinian state, which should have East Jerusalem as its capital.
Meanwhile, the hardline nationalist Deputy Foreign Minister, Danny Ayalon, repeated Mr Netanyahu's line to reporters on a tour of Gilo yesterday, but also added that "Jerusalem is the capital of Israel and cannot and will not be divided. [Gilo] is part and parcel of Jerusalem now and forever."
He added: "We have the highest appreciation and admiration for Angela Merkel. Germany has been among the best friends of Israel. But it is important for people to come here and see for themselves."
Join our commenting forum
Join thought-provoking conversations, follow other Independent readers and see their replies