Arab politician performs Muslim call to prayer in Israeli parliament in protest against plan to quieten mosques
Bill shows 'fascism grows inside the Israeli community,' says Ahmad Tibi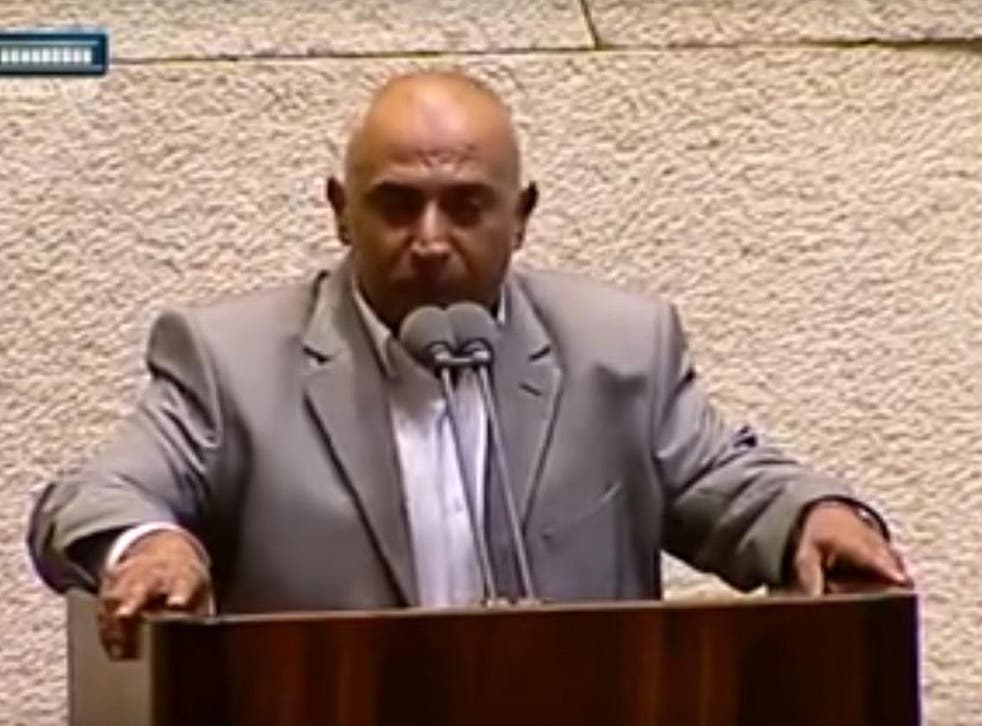 An Arab politician has staged a Muslim call to prayer in Israel's parliament in protest against a bill that would quieten mosques.
Ahmad Tibi, a member of the Israeli government, performed the 'Azan' during a speech in which he argued the proposed bill – that would limit the volume of mosques' calls to worshippers – demonstrated the Israeli government's Islamophobia.
Another Arab-Israeli politician, Taleb Abu Arar, joined Mr Tibi in performing the prayer.
Under the proposals, mosques would be barred from using loudspeakers or public address systems to summon worshippers.
The draft bill applies to all places of worship, yet it is seen as targeting mosques, which broadcast five calls daily, including two at night.
Critics say the move threatens religious freedom and is unnecessarily divisive.
Israeli Prime Minister Benjamin Netanyahu gave his support to the proposals on Sunday.
"I cannot count the times – they are simply too numerous – that citizens have turned to me from all parts of Israeli society, from all religions, with complaints about the noise and suffering caused them by the excessive noise coming to them from the public address systems of houses of prayer," Mr Netanyahu told a cabinet meeting.
The so-called "muezzin bill" is the climax of escalating tensions over noise from mosques.
Similar measures against the noise have been proposed by Israeli politicians several times in recent years.
The new bill now faces three readings in parliament before becoming law, but is likely to succeed because it has the backing of the country's leading coalition.
The Israeli–Palestinian conflict intensifies

Show all 10
Around 18 per cent of Israel's population are Arab, most of them Muslim, and they accuse the Jewish majority of discriminating against them.
"This law reflects the fascism that grows inside the Israeli community," Mr Tibi told Anadolu.
"Palestinians and Muslims around the world must work to thwart the Israeli decision to limit the call to prayer."
Palestinian presidential spokesperson Nabil Abu Rudeineh warned the bill could escalate conflict in the area.
"The Israeli actions are completely unacceptable," he said in a statement.
"The Palestinian leadership will go to the UN Security Council and to all international institutions to stop the escalating Israeli measures."
Palestinian group Hamas described the bill as "an outrageous provocation to the sentiments of Muslims everywhere and unacceptable interference in worship and religious practice".
Nasreen Hadad Haj-Yahya, of the Israel Democracy Institute, a thinktank, wrote in local newspaper Maariv: "The real aim is not to prevent noise but rather to create noise that will hurt all of society and the efforts to establish a sane reality between Jews and Arabs."
Register for free to continue reading
Registration is a free and easy way to support our truly independent journalism
By registering, you will also enjoy limited access to Premium articles, exclusive newsletters, commenting, and virtual events with our leading journalists
Already have an account? sign in
Register for free to continue reading
Registration is a free and easy way to support our truly independent journalism
By registering, you will also enjoy limited access to Premium articles, exclusive newsletters, commenting, and virtual events with our leading journalists
Already have an account? sign in
Join our new commenting forum
Join thought-provoking conversations, follow other Independent readers and see their replies