Arab Spring: How hope sparked in Tunisia five years ago has been extinguished in the mire of violence
After the Arab Spring, a global winter is now upon many states hungry for change
Kim Sengupta
Diplomatic Editor
Saturday 12 December 2015 22:44 Comments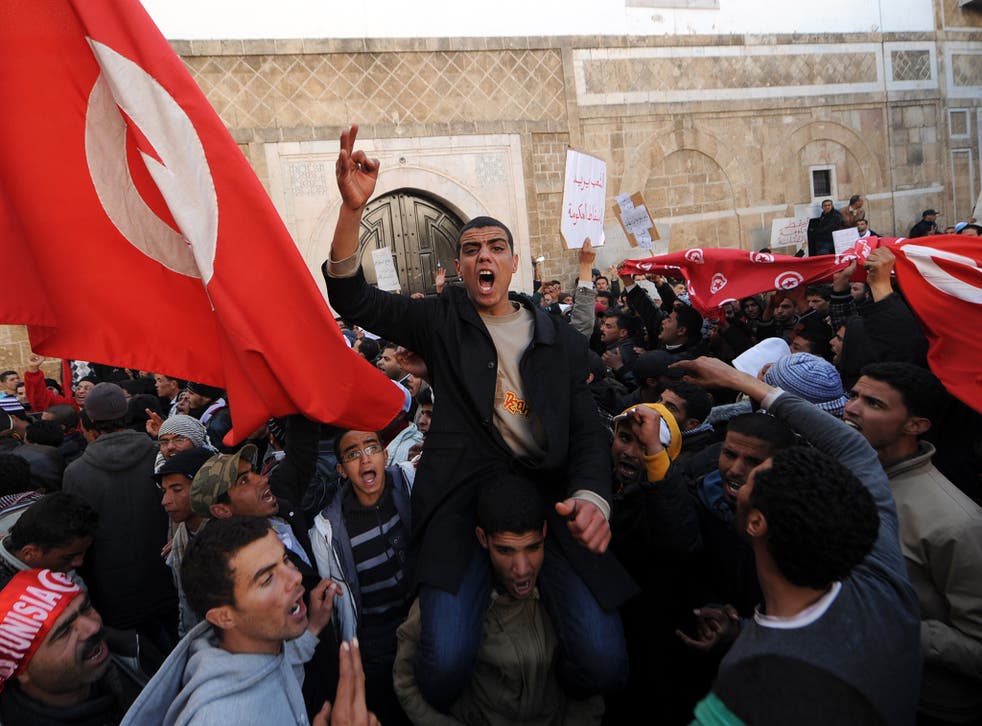 'The government drove him to do what he did; they never gave him a chance. We are poor and they thought we had no power," said Mannoubia Bouazizi with tears rolling down her cheek. "My son is lost, but I am proud of what he did. Look what is happening, how many people are now getting involved. It is good to know that my son had played a part in changing things."
Mrs Bouazizi was speaking at her home in Sidi Bouzid, a hot and dusty town in the deprived interior of Tunisia. Her son Mohammed, a 26-year-old street vendor, beaten down by years of poverty and oppression, had died after setting himself alight. The protests that began afterwards, spreading rapidly through the social media, was the start of the Arab Spring.
Mohammed's self-immolation was five years ago, on 17 December 2010. Twenty-eight days later, Tunisia's dictator of 23 years, Zine al-Abidine Ben Ali, fled along with his kleptocratic coterie. Other strongmen were to fall as a tempest swept through North Africa and the Middle East.
What drove Mohammed over the edge, according to his family, was the humiliation of being slapped on the face in public by a female official of the municipality, Feyda Hamdi, during an altercation when she had attempted to impound his cart. "These people were used to getting away with everything," Mrs Bouazizi said. "People are being kept down. But this is not just in Tunisia. My husband used to work in Libya, he told me how poor people there suffered as well."
There was little to indicate initially that the Jasmine Revolution would be replicated elsewhere. There had been protests in some of the neighbouring states, a few cases of young men setting themselves alight, emulating Mohammed Bouazizi. But there was also a feeling that President Ben Ali had perhaps panicked too soon. Other dictators were stronger and tougher. There was also hope that Tunisia, with a large middle class and with little extremist influence, would make a relatively smooth transition to democracy.
But demonstrations, countered by harsh punitive action by the security forces, began in Egypt, the largest of the Arab states; they spread across the country, with Cairo's Tahrir Square becoming the central stage. Within a few months, President Hosni Mubarak would be driven from power and end up in court facing charges of human rights abuse.
The protests were gathering momentum in Bahrain, Yemen, Jordan and Syria. The most violent upheaval, rapidly turning into a civil war, began in Libya. I arrived in Benghazi to find a young population intoxicated by the chance of freedom their parents never enjoyed.
We spent the following weeks with rebel forces trying to break west on the coastal roads towards Tripoli, only to be repeatedly beaten back by the artillery and armour of Muammar Gaddafi's regime. The day came when the tanks began to roll down the streets of Benghazi. Nato bombing, under ambiguous terms of the UN resolution 1973, began a few hours later. We saw the effect the next morning, a terrible scene of desolation laid out on a field edged with wild flowers. The regime's forces and tanks had been caught; vulnerable and in the open. What lay before us was a ghastly miniature of the carnage on the road to Basra when American and British warplanes bombed Iraqi forces retreating from Kuwait.
Tunisia one year on: Simon Calder explores the source of the Arab Spring

Show all 4
Gaddafi, realistically, had no chance of a victory after the start of Western military action, although it would take months of bombing before the rebels finally managed to capture Tripoli. Gaddafi had disappeared, but remnants of this force were putting up a stubborn fight at his hometown, Sirte.
On my way out, through Tunisia, I went back to Sidi Bouzid, where it had all started, to discover that the Bouazizi family had left town amid acrimony with neighbours: a plaque put up to honour Mohammed had been torn down and graffiti praising him as a martyr painted over. The municipal official allegedly responsible for "the slap which rang around the world" had been freed from prison, with all charges dropped, to cheers from a crowd gathered outside the courtroom.
I returned to Tunisia to cover the first parliamentary elections, but as the plane was landing in Tunis news came through of Gaddafi's capture and killing as he attempted to flee Sirte. I, along with other correspondents, were diverted to Misrata where his body had been laid out in a meat warehouse.
Libya, since then, has become a failing state, divided between rival governments and militias: Isis are in control of Sirte. In Egypt I covered the coup that removed the Muslim Brotherhood government of Mohamed Morsi, who is now in prison as Mr Mubarak had been. In Yemen a Saudi-led Sunni coalition is battling Iranian-backed Houthi rebels. My colleagues and I spent months in Syria as it descended into barbarity and Isis rose in its murderous power.
I went back to Tunisia this summer to report on the attack in the resort of Sousse in which 38 tourists were murdered. The killer was Seifeddine Rezgui, who was three years younger than Mohammed Bouazizi. Piecing his life together we found that he had been radicalised in Libya as Gaddafi fell; enraged by the depredations of Bashar al-Assad and finally inspired by Isis – an angry young man of the Arab Spring.
Register for free to continue reading
Registration is a free and easy way to support our truly independent journalism
By registering, you will also enjoy limited access to Premium articles, exclusive newsletters, commenting, and virtual events with our leading journalists
Already have an account? sign in
Join our new commenting forum
Join thought-provoking conversations, follow other Independent readers and see their replies