As teenager is buried, Palestinians ask as one: Why are his killers still at large?
CCTV cameras are everywhere in Jerusalem, but police are no closer to finding gang behind the apparent revenge murder
Ben Lynfield
Saturday 05 July 2014 12:11 Comments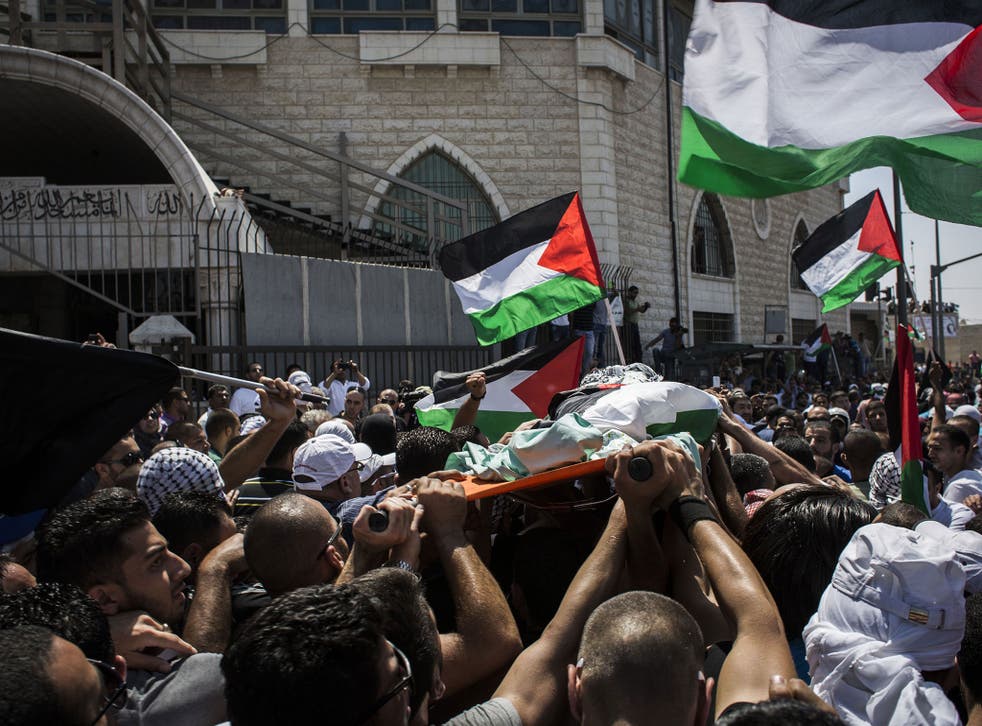 Israeli police admitted yesterday that they were no closer to finding suspects in the killing of a Palestinian teenager despite the availability of closed-circuit television images.
Mohammed Abu Khdeir was buried yesterday as video footage emerged of him being forced into a car in the early hours of Wednesday.
Jerusalem is one of the most security-conscious cities in the world and junctions and roads are covered by an extensive network of CCTV cameras yet Israeli police continue to insist they did not know whether the killers were Palestinian or Israeli.
Micky Rosenfeld, the police spokesman, said he had no new information to disclose on the investigation and that police were still trying to establish whether the killing was criminal or nationalistic. The investigation, he said, would "take time".
Palestinian community leaders are convinced the police are deliberately doing nothing to find those who killed Abu Khdeir. Darwish Darwish, a community leader, said: "They are not doing a good investigation because they don't want to expose the settler criminals. There are closed-circuit cameras that photographed the kidnappers and cars and the Israeli government is not acting on it."
Raviv Drucker, a leading Israeli investigative journalist, criticised the police for "not revealing any information".
In pictures: Israel reacts to deaths of kidnapped teenagers

Show all 23
"Their management of this crisis is horrible. They need to have an Arab spokesman briefing the press every six hours and saying everything they can. You need to put out information to kill rumours. At the rate they are going, even if this turns out to be a criminal act, it might not matter any more," he said.
The slow progress of the investigation compared to the intensive hunt for the bodies of three Israeli teenagers killed in the West Bank last month added to the anger felt by mourners.
Intensive clashes erupted in occupied East Jerusalem for the third consecutive day as the funeral took place.
"It's time for revolution, we've had enough," people among the several thousand mourners chanted as the body of Abu Khdeir, 16, draped in a Palestinian flag, was brought to a mosque for ritual cleansing before burial. "With blood and spirit we will redeem the martyr," they chanted. Later, as a masked man fired a rifle in the air, the chants shifted to "Jaffa street is on fire" – a reference to the main thoroughfare in Jewish West Jerusalem where anti-Palestinian demonstrators assembled this week – and "It's time for payback".
After the funeral, 300 of the mourners confronted police, with some throwing stones and petrol bombs. Police used stun grenades and non-lethal weapons and 13 officers were lightly wounded.
At the funeral, some of the mourners likened Abu Khdeir to Mohammed al-Dura, the child from the Gaza Strip child whose death as his father sought to shield him from gunfire became a symbol of Israeli cruelty and fuelled Palestinian passions at the start of the second intifada in 2000. Others tried to take comfort in the belief that Abu Khdeir had given his life for the nation. "Don't cry, this is a wedding not a funeral," a man told a weeping young woman.
Abu Khdeir's burnt body was found on Wednesday in a Jerusalem forest and since then Jerusalem has been ablaze with its most serious Palestinian unrest in more than a decade. "For sure this is a new intifada," said Darwish Darwish.
Palestinians say the murder was carried out by Israeli settlers to avenge the killings of the three Israeli teenagers who were kidnapped near a settlement on 12 June. The funerals of the three Israelis took place on Tuesday amid widespread anger in Israel that included anti-Arab rioting in Jerusalem.
Mr Rosenfeld said last night that a forest in southern Jerusalem had been set on fire and that it was believed that Palestinians were responsible. The Israeli army said last night a confrontation was under way in Kalandia, just outside Jerusalem, where 100 Palestinians were throwing rocks. A spokeswoman said that troops were responding with fire by Ruger rifles, a hunting weapon for small game that uses .22 calibre bullets, rubber-coated metal bullets and tear gas.
More than 70 Palestinians have been treated for wounds in clashes throughout the predominantly Palestinian East Jerusalem area captured and annexed by Israel in 1967. Police say they have faced petrol bombs and pipe bombs in addition to stones. In Isawiya, a neighbourhood close to the Hebrew University, clashes erupted yesterday, said Mr Darwish, "This is happening because the settlers did a lot of bad things with the protection of the army and the police."
Register for free to continue reading
Registration is a free and easy way to support our truly independent journalism
By registering, you will also enjoy limited access to Premium articles, exclusive newsletters, commenting, and virtual events with our leading journalists
Already have an account? sign in
Join our new commenting forum
Join thought-provoking conversations, follow other Independent readers and see their replies