Ashura 2017: When is it? Everything you need to know about the Muslim festival of mourning
Commemoration of death of Prophet Mohammed's grandson marked with public outpourings of grief, blood donations and self-flagellation by Shia Muslims all over the world
Monday 02 October 2017 10:06 Comments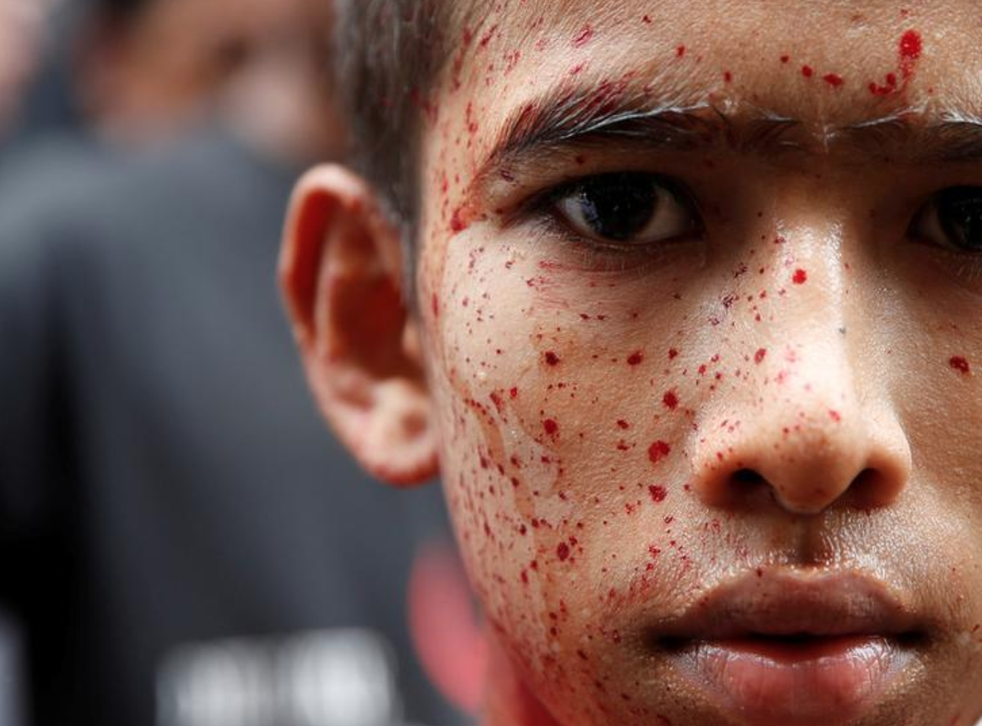 Millions of Muslim worshippers across the world have taken part in processions and services this week to mark the holiest days in the Shia calendar, Tasua and Ashura.
Tasua and Ashura, the ninth and 10th days of the month of Moharram, are days of mourning in Shia Islam to commemorate the martyrdom of Imam Hussein, a grandson of the Prophet Mohammed.
Ashura involves reenactments of the Battle of Karbala in which Hussein died in 680 AD, and public processions of intense collective grief accompanied by poetry recitals and music during which worshippers wear black.
In pictures: Muslims around world mark Ashura with self-flagellation

Show all 18
In certain parts of the world, observers beat their chests and heads and flagellate themselves with chains or swords to echo his suffering.
The date is decided according to the new moon and is celebrated as a public holiday in Afghanistan, Iran, Iraq, Lebanon, Azerbaijan, Turkey, Bahrain and Pakistan. This year, it fell on 29-30 September - the culmination of four weeks of mourning.
The self-flagellation ritual, known as 'Tatbir' in Arabic and 'Talwar Zani' and 'Qama Zani' in south Asia, is a tradition that originates from southern Lebanon and Karbala, in southern Iraq, where Hussein died.
It has been banned or strongly discouraged by many governments and Shia religious authorities in recent years because of the associated health risks.
Iran's Supreme Leader Ali Khamenei issued a decree against the practice in 1994.
Hezbollah, the armed Lebanese Shia political organisation, has repeatedly asked devout Muslims who wish to mourn Hussein to donate blood to hospitals and blood banks instead.
Donald Trump hails Lebanon in their fight against Hezbollah during press conference
Nonetheless, in Nabatiyeh, in the south of the country, mourning processions organised by political group Amal drew thousands of worshippers who took part in the tradition left the streets covered in blood and the air smelling like iron on Sunday.
In Beirut's southern suburbs tens of thousands of men and women took part in a bloodless procession which ended in a televised speech by Hezbollah chief Sayyed Hasan Nasrallah, in which he said that the recent Kurdish independence referendum in Iraq was the product of an American-Israeli conspiracy to further "divide the Middle East".
The debate over whether Imam Hussein was entitled to the position of caliph through his bloodline is where the two branches of Sunni and Shia Islam originate, and as such the holiday is sometimes used as an excuse for violence because of the marked sectarian differences in how it is celebrated.
Sunni Muslims celebrate Ashura as the commemoration of the victory God gave to Moses in Egypt.
Register for free to continue reading
Registration is a free and easy way to support our truly independent journalism
By registering, you will also enjoy limited access to Premium articles, exclusive newsletters, commenting, and virtual events with our leading journalists
Already have an account? sign in
Join our new commenting forum
Join thought-provoking conversations, follow other Independent readers and see their replies