Inside Assad's prisons: Horrors facing female inmates in Syrian jails revealed
Exclusive: Women who have survived rape and torture in Syrian government prisons are fighting back - and laying the groundwork for future legal battles against war criminals
Tuesday 29 August 2017 11:38 BST
Comments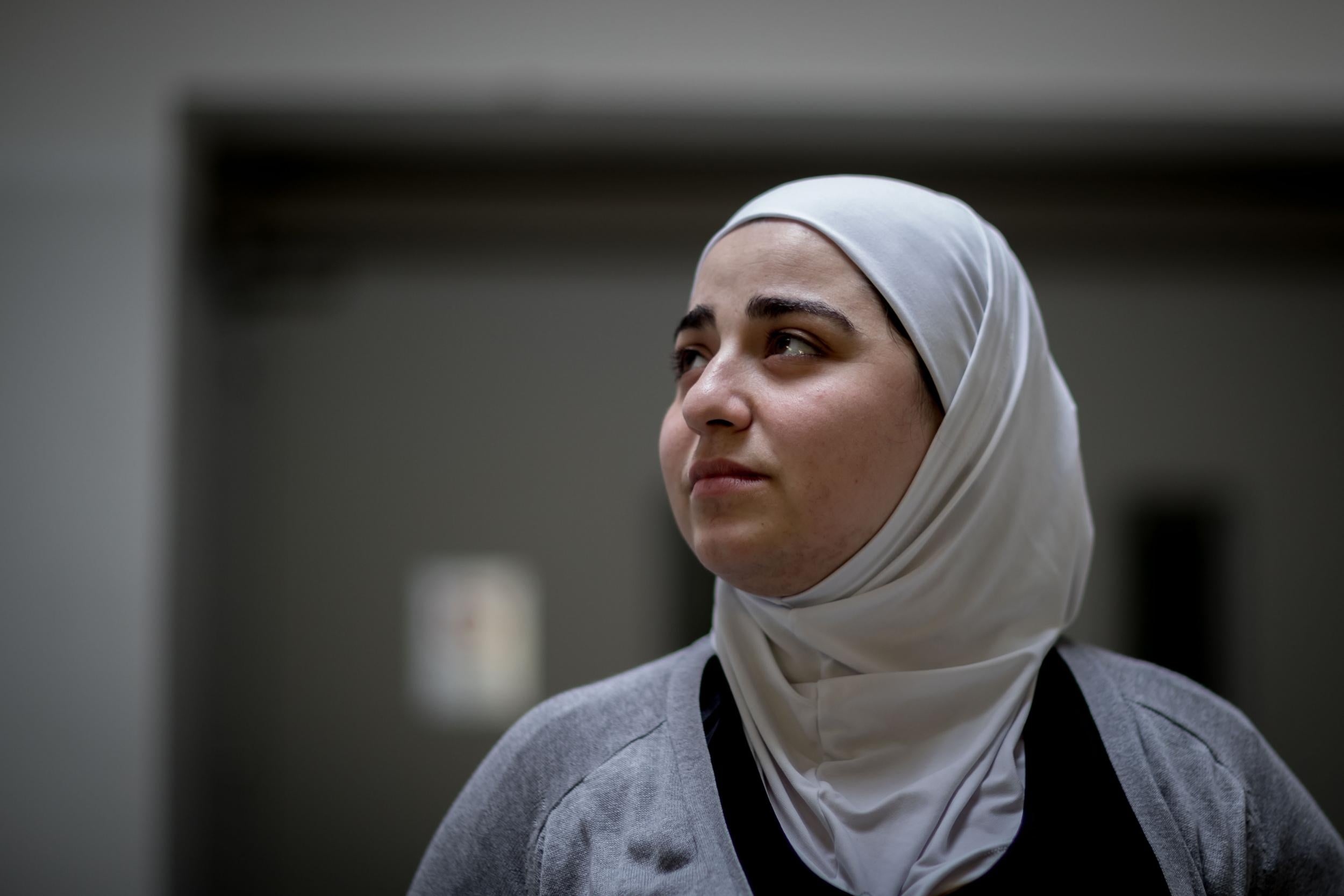 Zahira (not her real name) was 45 when she was arrested at her workplace in a suburb of Damascus in 2013. As soon as she arrived at Al Mezzeh Military Airport, she was strip searched, tied to a bed and gang raped by five soldiers.
For the next 14 days, she was raped, or threatened with rape, again and again and again.
During one interrogation, in which she says she was sexually penetrated in "every body cavity", a soldier filmed what was happening and threatened to show it to her family and community.
Shunted from facility to facility over the course of five months, in addition to repeated brutal sexual violence Zahira was also regularly beaten. One one occasion she was electrocuted and beaten with a hose pipe; on another, tied upside down for over an hour and hit in the face.
Between interrogations at Al Mezzeh she was held in solitary confinement, in a cell no bigger than one metre by one metre, with no natural light.
In Military Intelligence Branch 235, she slept in a three by four metre cell with up to 48 other women that was so cramped the prisoners had to sleep in shifts. They were allowed to use the toilet once every 12 hours, and to wash once in every 40 days.
Zahira was only released from the notorious Adra prison when the conditions affected her health so severely she lost consciousness and was taken to hospital, her jailers fearing they'd killed her.
On arrival at a medical facility doctors found she had hepatitis, pneumonia and anaemia. She had to stay in hospital for four months for corrective surgeries for faecal-urinary incontinence caused by her repeated rapes.
The woman's story is not easy to read. Experiencing what she went through is beyond the imagination of most of us.
'Dozens killed' in suspected chemical attack in Syrian province
But Zahira, and dozens of other brave women, have shared their stories with a network of exiled Syrian doctors and lawyers, who have documented what happened to them in Syrian President Bashar al-Assad's prisons in a new report.
One pregnant woman, arrested because the government suspected her husband of supplying medicine to rebel forces, describes seeing dead bodies dragged through corridors, leaving them slick with blood. The screams of those being tortured still haunt her.
Another former detainee described being locked in a pitch black cell for six days with a dead body. A razor blade had also been purposefully left there, and she used it to try and kill herself.
The physical and mental scars from detention will affect these women for the rest of their lives. Many feel shame, and their relationships with their families and communities has changed because of the stigma attached to sexual assault and rape.
Their hope is that shedding a light on what happens in Assad's detention centres will amount to international pressure to allow inspectors into the country and thus stop the government acting with impunity.
What their testimony also means, however, is that officials in Syria's government, police and military could be held accountable for their actions in potential future war crimes trials.
In Pictures: The crisis unfolding in Syria
Show all 30
"This might be the most powerful evidence we have, the international lawyers say," one neurosurgeon and founding member of Syrian NGO Lawyers and Doctors for Human Rights (LDHR) said on the phone from Gaziantep, on the Turkish-Syrian border.
"This is one of our best chances to get justice for these crimes against humanity."
There has been precious little in the way of legal redress for any of the victims of Syria's complex six-year-old war so far. There are few avenues open to them.
Carla del Ponte, a distinguished international war crimes prosecutor, resigned from her position on the UN's investigative panel into human rights abuses in the civil war earlier this month because she was so frustrated with its inability to hold criminals to account.
"I give up. The states in the [UN] Security Council don't want justice," she told media when it emerged she had quit.
The Security Council, she said, should have appointed a court similar to those for the Rwanda and Yugoslavian conflicts – a decision vetoed by permanent member Russia, which is a key backer of the Assad government.
While the investigative panel has compiled thousands of interviews and other documentation of possible war crimes committed by all sides in Syria, the work was pointless without a tribunal, she added.
"We have had absolutely no success" holding perpetrators of war crimes in Syria to account, the prosecutor said. "For five years we've been running up against walls."
Faced with a powerless UN and no prospect of an International Criminal Court tribunal, transitional justice and human rights lawyers have begun trying new tactics.
In March, a Spanish court agreed to hear the case of the torture and death of a 43-year-old truck driver at the hands of the Syrian government, because the man's sister, a Spanish citizen, was the plaintiff.
Under international law relatives of victims of crimes against humanity committed elsewhere are also counted as victims – so the Spanish judge's decision to hear it was viewed as an important landmark for potentially prosecuting high-level Syrian officials.
Guernica 37 International Justice Chambers, the Madrid-based legal advocacy group that bought the case, said in a statement it would "specifically allow the courts to investigate the torture and execution of thousands of civilians in the illegal detention centres" operated by the Assad government.
It could also mean international arrest warrants could be issued for the nine Syrian officials named in the complaint – meaning their assets could be seized or they could be charged if they travel abroad.
While the decision was reversed due to a split panel of Spanish judges last month, the case has been appealed. Stephen J Rapp, a former United States ambassador at large for the Office of Global Criminal Justice and current nonresident fellow at The Hague Institute for Global Justice, who helped to file the preceedings, told The Independent if necessary they would fight it to the Spanish Supreme Court.
"The attorneys of Guernica 37 are quite confident regarding the law and of eventual success," he said.
"Given the years of pain that has been visited on tens of thousands family members of persons who have been forcibly disappeared into Syrian government custody this is also a very important issue of principle."
Buoyed by the progress in Spain, Syrian victims and survivors now living in Germany have also filed a prosecution case based on an investigation by the NGO the European Centre for Constitutional and Human Rights (ECCHR).
This represents another type of case – one based on the concept of universal jurisdiction, which allows states to claim criminal jurisdiction over an accused person regardless of where their crimes were committed because of the severity of the allegations.
Muslim women raped by Hindu gang 'for eating beef'
More than 65,000 people are thought to have died in the Syrian regime's prisons over the last six years, and thousands and thousands more have faced abhorrent treatment in detention. The allegations are crimes against humanity - and are thus too serious to tolerate jurisdictional arbitrage, the prosecutor will argue.
LDHR's activists are hopeful that their findings – compiled under the Istanbul Protocol, the UN's methodology on how to recognise and document signs and symptoms of torture so the documentation may serve as valid evidence in court – will be presented as evidence in future cases constructed on the same basis.
"There were too many women to choose from, with horrible stories, when we set about compiling this report," the LDHR doctor said.
"I have often felt powerless during the war. This is documenting our history, no matter how terrible it is, and probably the only way the Syrian people will ever have some justice."
Join our commenting forum
Join thought-provoking conversations, follow other Independent readers and see their replies