Assad: We shot down Turkish jet thinking it was Israeli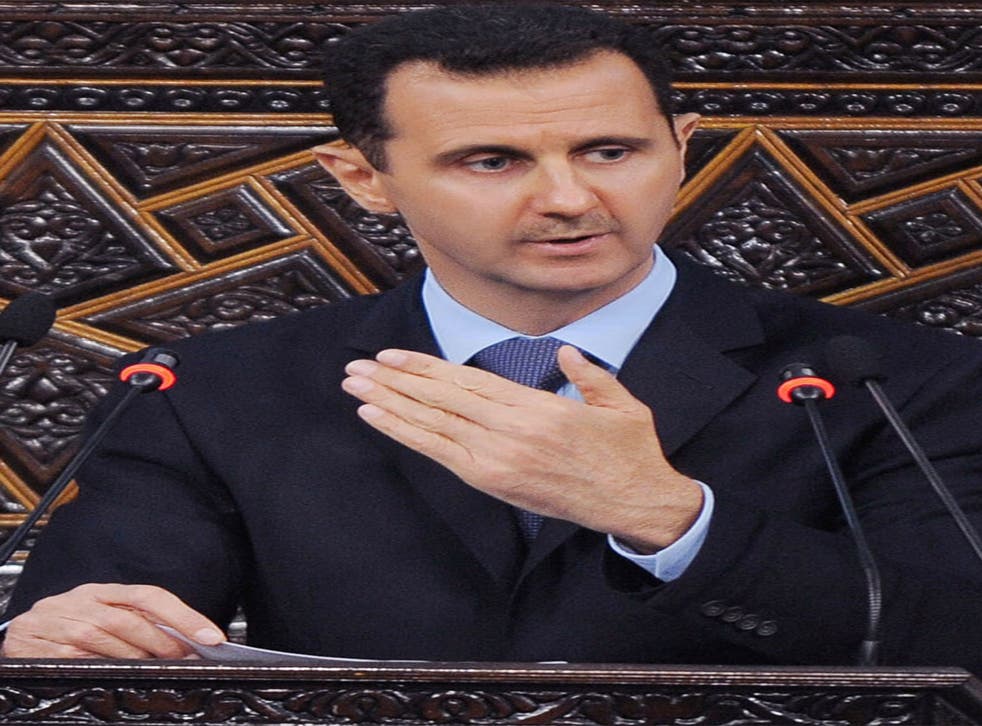 Syrian President Bashar al-Assad tried to diffuse tension with neighbouring Turkey yesterday – or appeared to, at least – as he expressed regret that his forces shot down a Turkish jet last month and said he does not want the relationship between the two countries to spiral into conflict.
Mr Assad's comments, made in an interview published yesterday with the Turkish daily Cumhuriyet, may have on the surface have sounded like a rare act of contrition. But Mr Assad was soon to shift the blame, saying that Turkey's decision to cut channels of communication meant the reconnaissance plane had been mistaken for an Israeli jet.
Meanwhile, Mr Assad faced widespread condemnation and outrage yesterday after Human Rights Watch (HRW) detailed incidents of systematic torture by his regime, accusing it of using methods such as administering electric shocks to the genitals and ripping out fingernails.
"We learned that [the plane] belonged to Turkey after shooting it down. I say 100 per cent 'if only we had not shot it down'," he was quoted as saying. "It's a shame that now we don't even have the telephone number of a single commander in the Turkish army we can call in an emergency situation."
Mr Assad's remarks come as his forces face increasing pressure on the ground. With rebels becoming increasingly better armed and casualties rising among soldiers, it is not surprising that the regime should seek to diffuse any additional conflict with its forces so overstretched.
Turkey scrambled F-16 jets to the Syrian border for a third day on Monday after Syrian helicopters were spotted in the vicinity. "We will not allow [tensions] to turn into open combat between the two countries, which would harm them both," Mr Assad said.
The continuing flow of defections is also adding to pressure on the regime's forces. Some 85 Syrian troops, including a general and five other officers, crossed into neighbouring Turkey with 300 family members on Monday night, according to local media. Such an exodus would mark the biggest single day of military defections since the beginning of the uprising.
Those who do not make it out are often the subjects of horrific torture by state security forces, HRW said yesterday. Prolonged beatings with objects such as batons and cables, stress positions, suspension upside down, electric shocks and the use of acid, sexual assault and humiliation were routinely used by Mr Assad's forces, the report, based on around 200 interviews, said.
Among those interviewed by the rights group was a 14-year-old boy who said he was interrogated three times, subjected to electric shocks and had his fingernails pulled out. Some 27 detention facilities on the ground were identified as being used for torture.
HRW called for those in charge to be referred to the International Criminal Court (ICC), while Foreign Secretary William Hague said yesterday that the UK would work with its EU partners to impose sanctions on those responsible. In Cairo, an Arab League-brokered opposition meeting that has been plagued by infighting concluded yesterday. The Syrian General Revolution Commission pulled out, saying it could not consider a political solution after the Free Syrian Army denounced the meeting. Building the Syrian State, a moderate grassroots opposition group, also said it was not talking part, dismissing any discussions held outside the country.
But a further meeting of Syrian opposition leaders has been scheduled to be held in Moscow next week, further testing relations between Russia and the West over the crisis. Previous talks in Geneva closed with the major nations unable to even agree what the final text meant. Russian Foreign Minister Sergei Lavrov said it did not imply that Mr Assad should step down, but the US Secretary of State Hillary Clinton said "Assad will still have to go".
Join our new commenting forum
Join thought-provoking conversations, follow other Independent readers and see their replies