At least two children among 28 civilians killed by pro-Assad air strikes 'near school' in rebel-held area of Damascus
Video shows people carrying children away from the rubble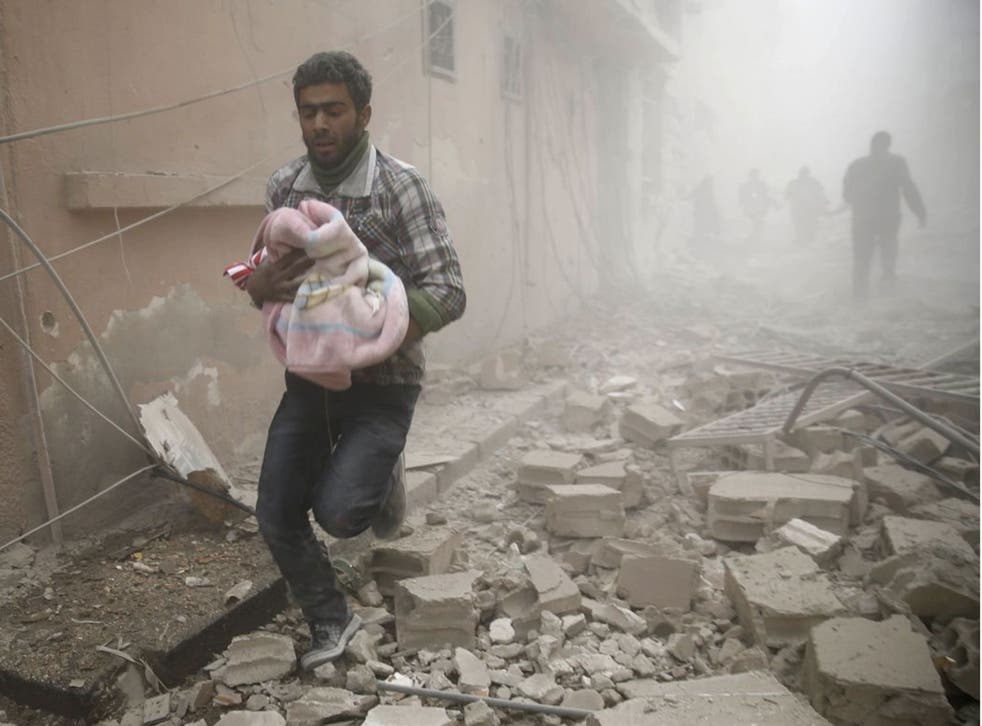 At least 28 people were reported killed, including children and a headteacher, as air strikes were unleashed on rebel-held suburbs of Damascus, in a barrage blamed by some activists on Russia.
One of the air attacks, which pounded the districts of Douma and Saqba, struck near a school, killing at least two children and injuring many more. A photograph taken in the aftermath of the attacks showed a girl of primary school age slumped on a blood-stained pavement, her pink coat covered in dust. Dozens of other people were also wounded.
Government forces regularly bombard Douma and the rest of Damascus's Eastern Ghouta region, while rebel forces entrenched in the area routinely fire rockets and mortar shells into the capital.
The Syrian government news agency Sana said that at least one child was killed and three people were injured when rebel fighters from the district sent mortar shells into residential neighbourhoods in the early hours of the morning. The bombardment of Douma and nearby areas appeared to have been launched in retaliation for those strikes.
The Syria Civil Defence, a rescue group, said that 12 cluster bombs and 53 missiles rained down on the area. It put the death toll at 35, while others said that as many as 60 were killed.
The Local Co-ordination Committees opposition group was among those claiming that the strikes were carried out by Russian warplanes, which have been giving aerial support to the Syrian military since the end of September. Although Syrian air force planes were mostly supplied by Russia they are largely from the Soviet era; Russia is flying more modern SU-34 ground attack jets in its attempt to shore up the Assad regime against Isis and more moderate Syrian rebels.
The Syrian Observatory for Human Rights, another monitoring group aligned with the opposition, said that the aircraft in question were unidentified.
Firas Abdullah, a photographer and media activist who lives in Douma, told The Independent that he was convinced that most of the strikes were carried out by Russian aircraft, saying that locals had learnt to differentiate the sounds. Mr Abdullah, who photographed the aftermath of the attacks, said: "I saw huge destruction and injuries."
Speaking over an internet call, he said that Douma had been under siege for three years and that life there was "too hard". Families were forced to cut down trees as fuel for cooking and heating, he said, while food was so expensive that he recently saw a 1kg bag of rice on sale for $50 (£33). We can't get out of the area," he said. "We are surrounded by regime forces. If you try you will be shot by snipers."
In pictures: Syria conflict

Show all 40
Mr Abdullah said that he despaired at the world's apparent lack of concern for the continuing killings in Douma, pointing to an attack on a busy marketplace in August that left more than 80 dead.
He said: "I feel angry and just want to do everything I can to stop this bloodshed – to stop the killing of civilians and to make the world see our sacrifices and our suffering.
Last month, government forces and rebel fighters tried to strike a 15-day truce in Eastern Ghouta, but the talks failed and the area was once again plunged into a cycle of violence.
Stephen O'Brien, the former Conservative minister who became the head of the UN's humanitarian agency this year, was in Damascus today to asses the impact of intensified fighting on civilians. On Saturday he visited the district of al-Waer in the central city of Homs, where the early stages of a ceasefire were enacted last week. He visited the only hospital for the area's 100,000 residents and said that Syrians needed "critical help".
In a rare interview, the leader of the al-Qaeda affiliate Jabhat al-Nusra attacked the deal in al-Waer, saying such local truces only benefited the government. Abu Mohammad al-Golani also criticised a meeting of opposition groups in Riyadh last week aimed at forging a unified front ahead of planned peace talks.
In remarks that underline the difficulties of bringing more than four years of conflict to a close, the head of the powerful rebel faction said that the deal was "unacceptable" and claimed that the international community wanted to merge more moderate armed fighters with government forces in order to fight extremist groups.
At least eight people were killed yesterday when a car bomb expoloded outside a hospital in Homs.
Register for free to continue reading
Registration is a free and easy way to support our truly independent journalism
By registering, you will also enjoy limited access to Premium articles, exclusive newsletters, commenting, and virtual events with our leading journalists
Already have an account? sign in
Register for free to continue reading
Registration is a free and easy way to support our truly independent journalism
By registering, you will also enjoy limited access to Premium articles, exclusive newsletters, commenting, and virtual events with our leading journalists
Already have an account? sign in
Join our new commenting forum
Join thought-provoking conversations, follow other Independent readers and see their replies