Three Palestinian babies have died in Gaza and no one will accept responsibility
Hamas warns other patients are in danger as militant organisation and rival Fatah trade blame over hold up on medical permits to Israel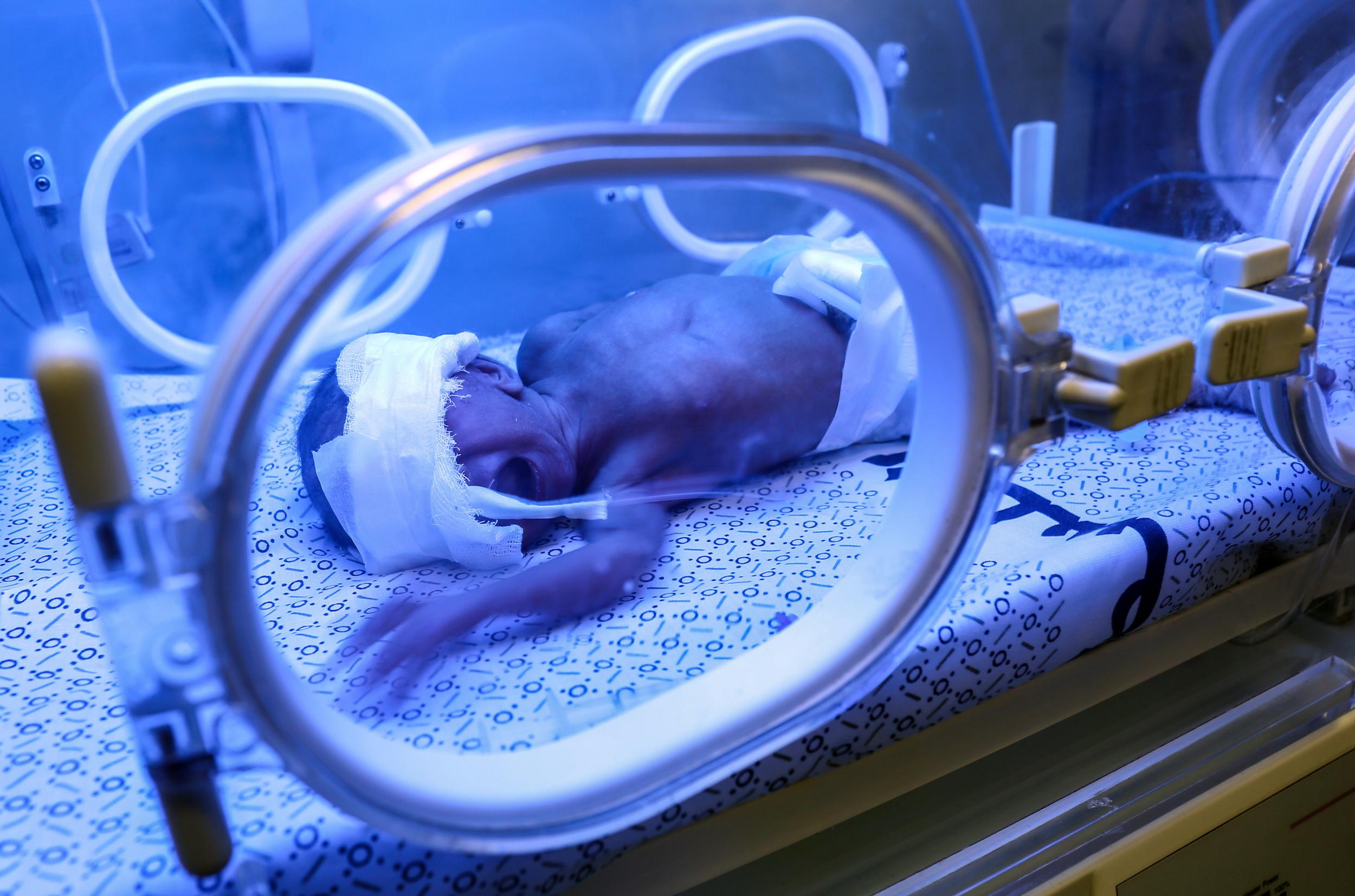 Three seriously ill babies in the Gaza Strip have died this week after permits to grant the children treatment in Israel were denied by the Palestinian Authority (PA), Hamas has claimed.
More patients, including infants, were in danger of the same fate if referrals for treatment outside the coastal enclave were not expedited, Gaza's Deputy Health Minister Yusuf Abu Rish said on Tuesday, adding that a recent spike in referral delays is part of the Fatah-run PA's long term efforts to destabilise the militant organisation.
Bara Ghaben, Ibrahim Tbeil and Mus'ab Araeer were all under the age of one and suffered from congenital heart conditions which could not be adequately treated in Gazan hospitals, where the health care system is on the brink of collapse.
Gaza marks 10 years of Israeli blockade
All medical referrals - including travel permits and payment - for Palestinians to receive medical treatment outside the Gaza Strip are handled by the West Bank's PA. Hamas officials have claimed there has been a decrease in the number of applications passed on to Israel by the PA in recent months, leaving patients in critical need of care.
Hanan Ghaben, who lost her five-day-old baby Bara, told Al Jazeera she and her husband applied three times for a permit without hearing back from the PA before their son died.
The health ministry said this week that 11 Gazans, including five children, have died after not being granted medical referral permits quickly enough, although spokesperson Dr. Ashraf al-Qudra has been quoted in several news outlets as saying there have been nine preventable deaths.
More than 1,600 Gazans are currently waiting for medical referrals to Israel, charity Physicians for Human Rights-Israel (PHRI) said in a statement.
Remembering the Israel-Gaza conflict
Show all 12
In 2016 the average number of requests approved per month was 2,041 - but in May and June 2017, while there were 120 requests made a day, the PA granted on average just 10.
Gaza's sick are being "held hostage to political infighting," spokesperson Dana Moss said.
The PA did not immediately respond to The Independent's request for comment, but has previously denied changing its policy or deliberating delaying referrals.
Relations between Ramallah and Gaza are currently at a historic low. Palestinian Authority President Mahmoud Abbas has been stepping up a quiet war to try and break Hamas' hold on the Strip in recent months, strangling the electricity supply, medical aid and slashing wages for Gaza-based government employees.
Hamas took over the coastal enclave from Mr Abbas' Fatah party by force in 2007. Over the last decade, living conditions for Gazans have greatly deteriorated thanks to Israeli sea and land blockades and sky-high unemployment rates. The economy has effectively collapsed, and thousands have been killed in two brief wars with Israel in 2008 and 2014.
Ms Moss also blamed Israel for the current healthcare crisis. The state prevents Gazan doctors from travelling abroad for training and the blockade prevents essential medical equipment from reaching hospitals, she said.
A spokesperson for Cogat (Coordination of Government Activities in the Territories) denied that Israel stops Gazan doctors from receiving training. "In 2016 alone, 221 crossings of doctors were coordinated for professional training abroad, whilst an additional 43 were coordinated in 2017," the organisation said in a statement.
"The list of doctors is determined by the Palestinian Authority," added the Cogat spokesperson.
The branch of Israel's Defence Ministry which deals with Palestinian civil affairs told The Times of Israel in a statement that the country works to "promote civil policies in order to assist the residents of Gaza."
Join our commenting forum
Join thought-provoking conversations, follow other Independent readers and see their replies