Isis Baghdad hotel bombings: Death toll rises to 15 as police defuse third bomb after night of chaos
Baghdad was rocked by two blasts on one of the busiest nights of the week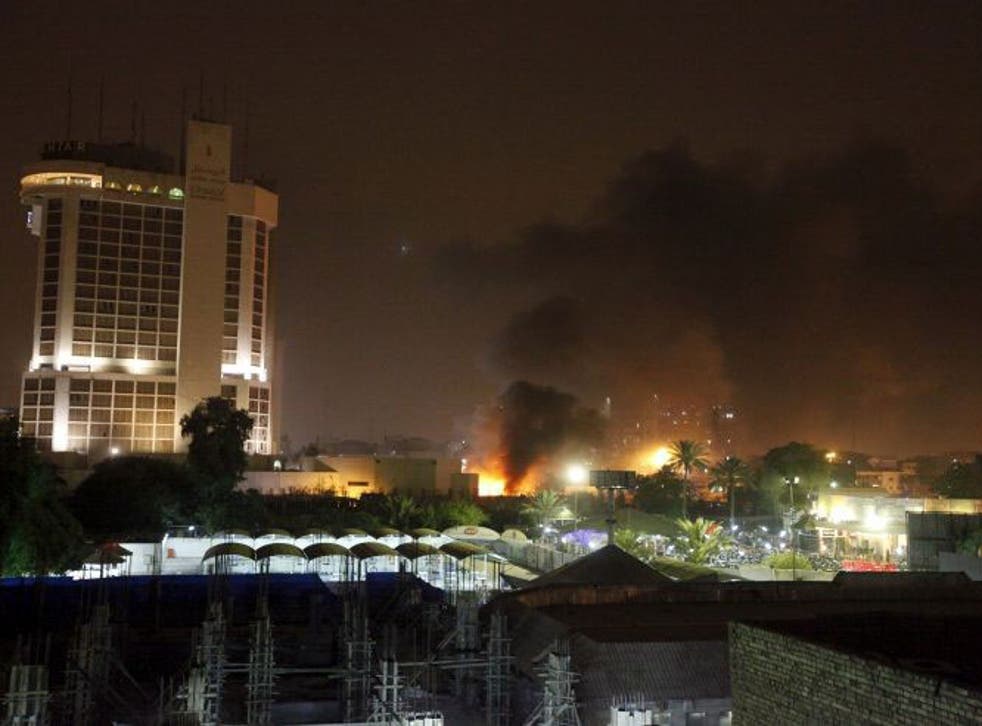 Panic took hold in Baghdad last night as the Iraqi capital was hit by co-ordinated bombings at two luxury hotels, which Isis fighters have claimed responsibility for.
At least 15 people died and dozens more were wounded in the explosions at the five-star Cristal Grand Ishtar and Babylon Warwick hotels.
The first bomb was detonated in the car park of the Babylon, frequently used for government meetings and news conferences, shortly before midnight (10pm BST).
Minutes later, the second blast hit the famous Cristal Grand Ishtar hotel, formerly the Sheraton.
In Iraq, like most Muslim-majority countries, the weekend starts on Friday to allow for Jumu'ah prayers and Thursday is one of the busiest nights for dining and socialising.
Orla Guerin, a BBC correspondent, described how the second blast shook the broadcaster's office and said she heard gunfire and sirens in the aftermath of the explosions.
Windows were blown out at the hotels, where entrances were severely damaged and cars were destroyed, starting huge fires that lit up the night sky and sent smoke over Baghdad.
Police said a third car bomb found near the Babylon was discovered and defused early on Friday before it could explode.
Both five-star hotels are heavily guarded and have security measures in place for vehicles trying to enter.
They are known to be frequented by large numbers of officials, aid workers, journalists and Westerners and the Cristal, while it was still the Sheraton, was one of the most popular hotels in Baghdad before the Gulf War.
After the 2003 invasion of Iraq, it was hit with mortars and rockets as the tallest building in Baghdad and was hit by another bomb attack in 2005 that closed it for a year.
Almost 40 people died in another car bomb explosion outside the hotel in 2010.
Luxury hotels have also been targeted in terror attacks in Pakistan, Jordan and Indonesia in the last decade.
Members of Isis operating in Baghdad have claimed responsibility for the bombings, according to a translation of a bulletin by Charlie Winter, a researcher for the counter-terrorism organisation, the Quilliam Foundation.
The so-called Islamic State, which controls swathes of nearby Anbar province including the cities of Fallujah and Ramadi, frequently uses car bombs and explosives in terror attacks on government strongholds.
Iraqi authorities lifted a decade-long night curfew on Baghdad early this year, seeking to restore a sense of normality to the capital as security forces battle Isis but the rate of bombings has increased.
Additional reporting by AP
Join our new commenting forum
Join thought-provoking conversations, follow other Independent readers and see their replies