Bahrain insists Grand Prix will go ahead despite mounting violence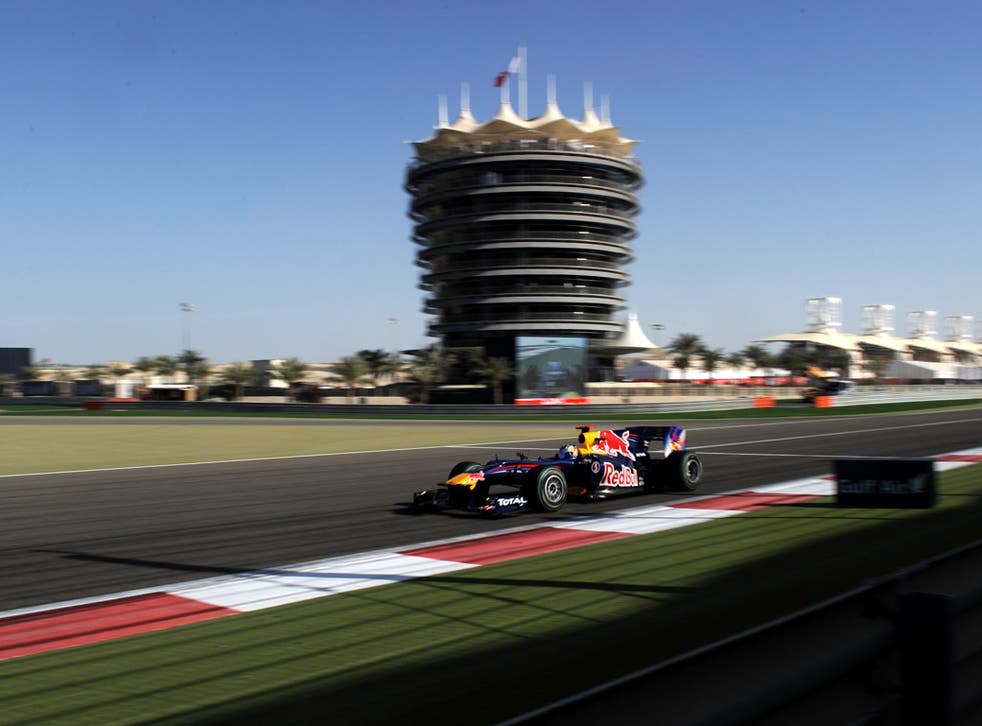 Crowds armed with iron rods and sticks ransacked a supermarket belonging to a large Shia-owned business in Bahrain yesterday as sectarian violence flared in the island kingdom.
The violence will throw further doubts on the likelihood of the Formula One Grand Prix taking place in Bahrain in 10 days. The attack appears to be in retaliation for a bombing on Monday which injured seven members of the overwhelmingly Sunni police force.
Human-rights advocates warn that they expect dangerous clashes between protesters and the security forces if the Formula One race goes ahead. Several teams competing in the race said privately yesterday that they expect it to be cancelled because of the continuing unrest. Earlier in the week, the Formula One boss, Bernie Ecclestone, said it was up to individual teams whether they competed.
Local organisers have insisted that the race will go ahead. Speaking on Tuesday, Bahrain International Circuit chairman Zayed Al Zayani said "armchair observers" had been driving the debate.
"This, combined with the scaremongering tactics of certain small extremist groups on social-networking sites, has created huge misconceptions about the current situation," he said.
"The level of clashes has already trebled in the last week," Nabeel Rajab, who heads the Bahrain Centre for Human Rights, said in an interview with The Independent from Bahrain. He expects the situation to get much more dangerous if Abdulhadi al-Khawaja, another prominent human-rights leader, dies in prison as a result of his prolonged hunger strike.
The Bahraini government is using the return of the Formula One race, after being cancelled last year, as a sign that situation has returned to normal after the pro-democracy protests were crushed last year. A government-sponsored report by the jurist Cherif Bassiouni found that 3,000 people were arrested arbitrarily during the repression and many of them were tortured.
Mr Rajab said that staging the Formula One was an attempt by the Bahraini government "to break out of its isolation". To give credence to its claim that the Grand Prix can be staged safely, the Bahraini Interior Ministry has hired John Yates, the former Assistant Commissioner of the Metropolitan Police in London, as an adviser. He resigned after being linked to the phone-hacking scandal last year. He said this week that Bahrain is "95 per cent" safe and there were only "pockets of violence". He stressed the economic importance of the Grand Prix race to Bahrain.
Mr Rajab, who says he and his family have been targeted because of his human-rights activities, believes that the Shia in Bahrain are being marginalised by the Sunni al-Khalifa monarchy.
Register for free to continue reading
Registration is a free and easy way to support our truly independent journalism
By registering, you will also enjoy limited access to Premium articles, exclusive newsletters, commenting, and virtual events with our leading journalists
Already have an account? sign in
Register for free to continue reading
Registration is a free and easy way to support our truly independent journalism
By registering, you will also enjoy limited access to Premium articles, exclusive newsletters, commenting, and virtual events with our leading journalists
Already have an account? sign in
Join our new commenting forum
Join thought-provoking conversations, follow other Independent readers and see their replies