Ban Ki-moon says wave of violence in Israel and the West Bank 'bred from decades of Israeli occupation'
Israel's ambassador to the UN responded by saying there was 'no justification for terrorism'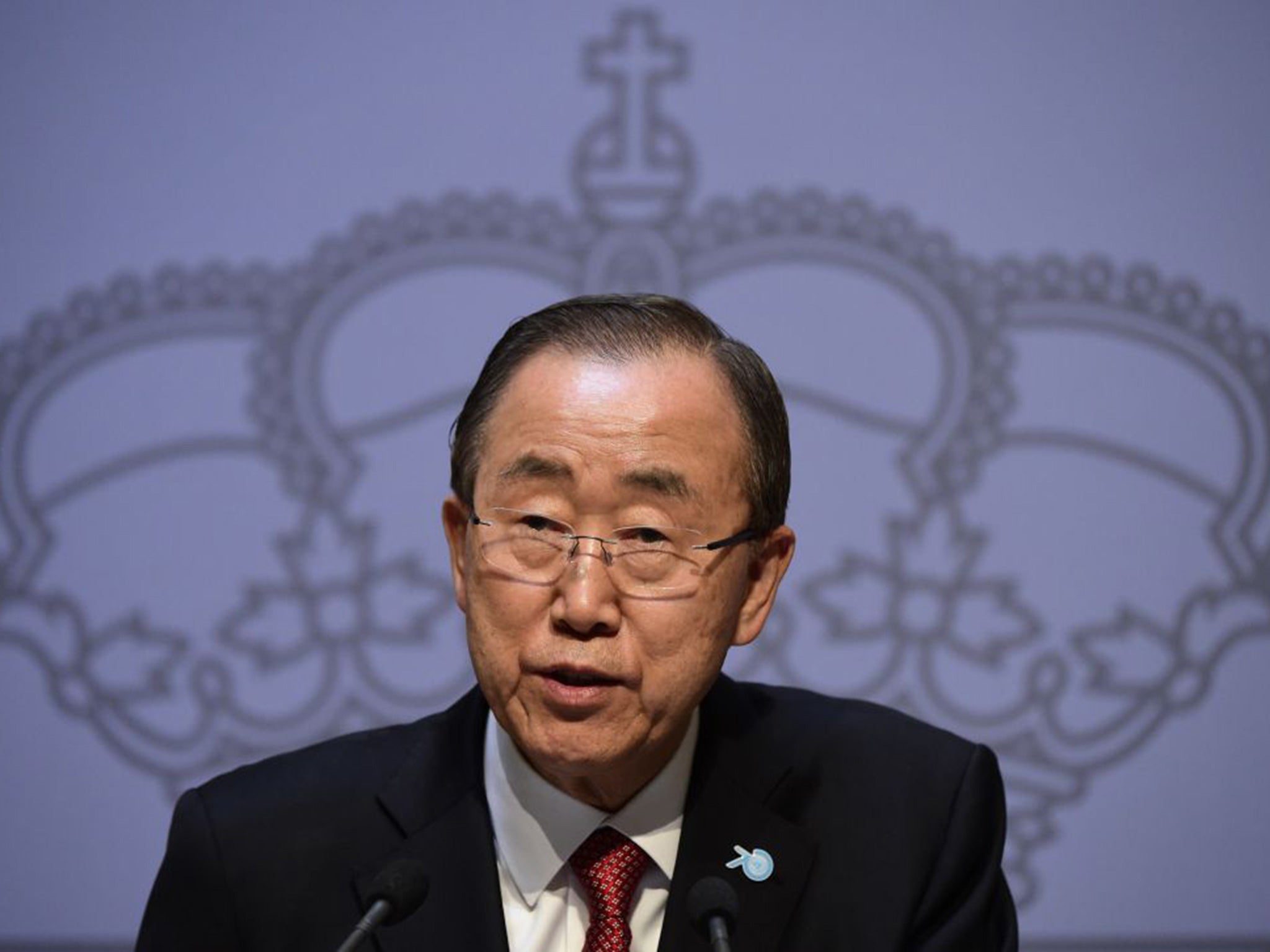 Ban Ki-moon has described the continuing bloodshed in Israel and the West Bank as the result of "nearly five decades of Israeli occupation".
In a message delivered to a United Nations conference on Palestinian issues and Jerusalem, the Secretary-General urged all sides to stop the violence that has left more than 130 people dead in less than three months.
Palestinians have launched almost daily stabbings that have killed 20 Israelis, while Israeli security forces have retailated by killing 116 Palestinians, including 79 said to be carrying out or attempting attacks. Others died in clashes and protests.
In the latest incident on Saturday, police said a Palestinian stabbed three Israelis in the central city of Raanana, seriously wounding one man, before being shot and arrested by security forces.
Mr Ban said the violence cannot be stopped by increased security measures alone and called on Israeli security forces to ensure a "calibrated use of force".
Admitting that the prospect of a two-state solution and end to occupation in the near future looks dim, he added: "The anger we are witnessing is bred from nearly five decades of Israeli occupation.
"It is the result of fear, humiliation, frustration and mistrust. It has been fed by the wounds of decades of bloody conflict, which will take a long time to heal.
"Palestinian youth in particular are tired of broken promises and they see no light at the end of the tunnel.
"This is at heart a political conflict that will require serious negotiations by parties willing to make the necessary compromises."
Mr Ban's statement was met with an angry response from the Israeli government, which dismissed the Jakarta conference held by the UN Committee on the Exercise of the Inalienable Rights of the Palestinian People and the Organisation of Islamic Co-operation on the Question of Jerusalem.
The Israeli–Palestinian conflict intensifies
Show all 10
UN ambassador Danny Danon accused the body of being "detached from reality" in comments reported by the Jerusalem Post.
Saying there was "no justification for terrorism", he added: "Instead of wasting your time trying to rationalise Palestinian terrorism, the United Nations should confront the Palestinian Authority to eradicate incitement coming from its highest echelons, permeating into the education system and social networks."
Mr Ban, who made an emergency visit to the region as violence mounted in October, has called on all parties to stop incitement, as well as condemning "unacceptable" attacks on civilians and rocket fire from Gaza.
While welcoming commitments by the Israeli government not to change access arrangements the Haram al-Sharif/Temple Mount, a holy site revered by both Jews and Muslims, he called for settlement building and house demolitions to immediately cease.
Woman shot after stabbing Israeli security guard
"As the current situation continues to deteriorate, and the settlement enterprise continues to expand, a growing one-State reality threatens to close the window of opportunity to reach the two-State goal, Mr Ban said.
"Settlements in the West Bank, including East Jerusalem are illegal under international law and an obstacle to peace. Demolitions of houses and other measures of collective punishment are in contravention of Israel's obligation to protect civilians.
"Let us empower the voices of all those on both sides who want peace to prevail. Let us stand up against extremists seeking to exploit the bloodshed."
Mr Ban concluded by reaffirming his commitment to bring the conflict to the end and allowing both Israel and a Palestinian state to live side by side in peace and security.
Additional reporting by AP