Barack Obama's drone programme only killed 117 civilians worldwide, US intelligence controversially claims
Toll which does not include deaths in Syria, Iraq or Afghanistan widely criticised by rights groups as 'fraction' of true figure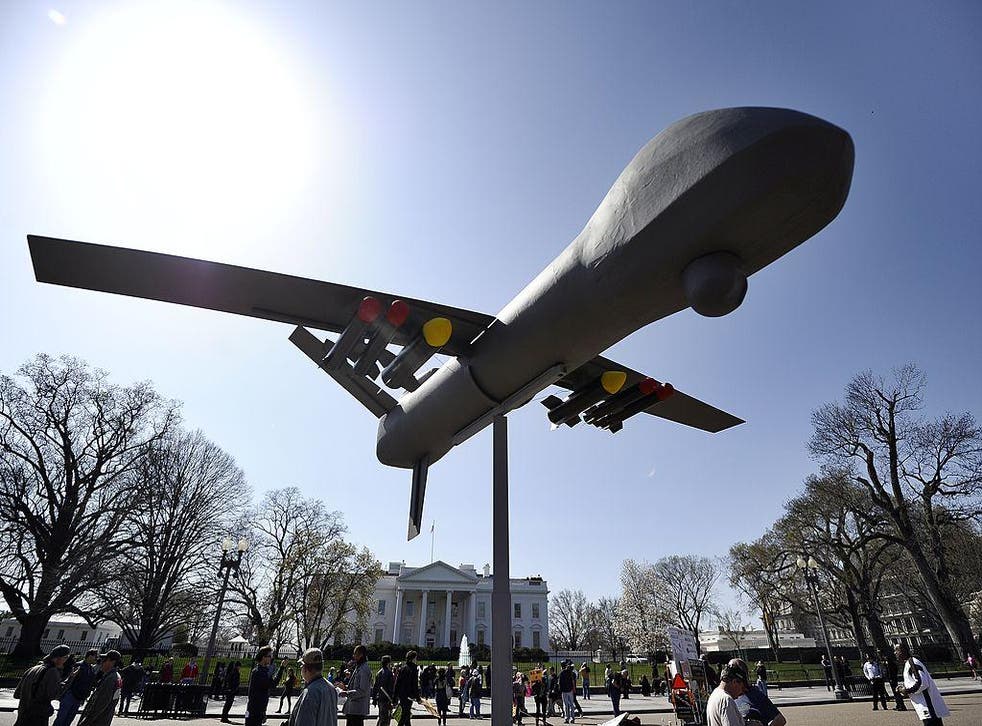 Up to 117 civilians have been killed in drone attacks across the world during outgoing US President Barack Obama's time in office, a new US intelligence report says, a figure which has been widely criticised as a "gross undercount" of civilian casualties.
The deaths occurred as part of Mr Obama's counterterrorism strategy in Pakistan, Yemen, Somalia and Libya, the report, released late on Thursday, said.
The data did not include deaths in Syria, Iraq or Afghanistan, which the CIA lists as 'active' combat zones.
The new report from National Intelligence Director James Clapper reconfirmed earlier findings released in July 2016 when President Obama's administration bowed after years of pressure to release information about deadly US operations abroad.
The July report, as well as Thursday's, both claim that just 64 - 117 civilians worldwide lost their lives in unmanned US drone strikes.
There were 526 counterterror strikes in total between January 2009 - December 2016 which killed between 2,803 and 3,022 combatants, the US intelligence said.
Reports from local journalists, NGOs, leaked government documents and international court papers examined by the Bureau of Investigative Journalism put the tally at between 380 - 801 civilian deaths up to the end of 2015 - up to six times higher than the official US figures.
Air strikes destroy Islamic State drone base in Mosul
US officials have cited several reasons for the discrepancy, including that the government's access to sensitive intelligence means it better able to accurately identify those killed in strikes.
Rights groups have said that the conflicting accounts could be cleared up if the government released more information about when and where drone strikes took place.
During his eight years in office, President Obama greatly expanded the US' use of unmanned drones in international counter-terrorism operations.
In a speech in July last year, he acknowledged the US' drone programmes have shortcomings, but asked critics to consider the alternatives.
Protests grow as civilian toll of Obama's drone war on terrorism is laid bare

Show all 2
"Drone strikes allow us to deny terrorists a safe haven without air strikes, which are less precise, or invasions that are much more likely to kill innocent civilians as well as American service members," he said.
Rights groups are worried that President-Elect Donald Trump will aggressively expand existing drone strike programmes - which are carried out without the need for approval from Congress or the judiciary.
While Mr Trump has not specifically addressed the use of drones, he has said his administration will "take out terrorists."
The Associated Press contributed to this report
Register for free to continue reading
Registration is a free and easy way to support our truly independent journalism
By registering, you will also enjoy limited access to Premium articles, exclusive newsletters, commenting, and virtual events with our leading journalists
Already have an account? sign in
Register for free to continue reading
Registration is a free and easy way to support our truly independent journalism
By registering, you will also enjoy limited access to Premium articles, exclusive newsletters, commenting, and virtual events with our leading journalists
Already have an account? sign in
Join our new commenting forum
Join thought-provoking conversations, follow other Independent readers and see their replies