Barin Kobani: Video of Kurdish female fighter's body prompts outrage
'This kind of behaviour will only serve to reinforce our determination to resist until victory'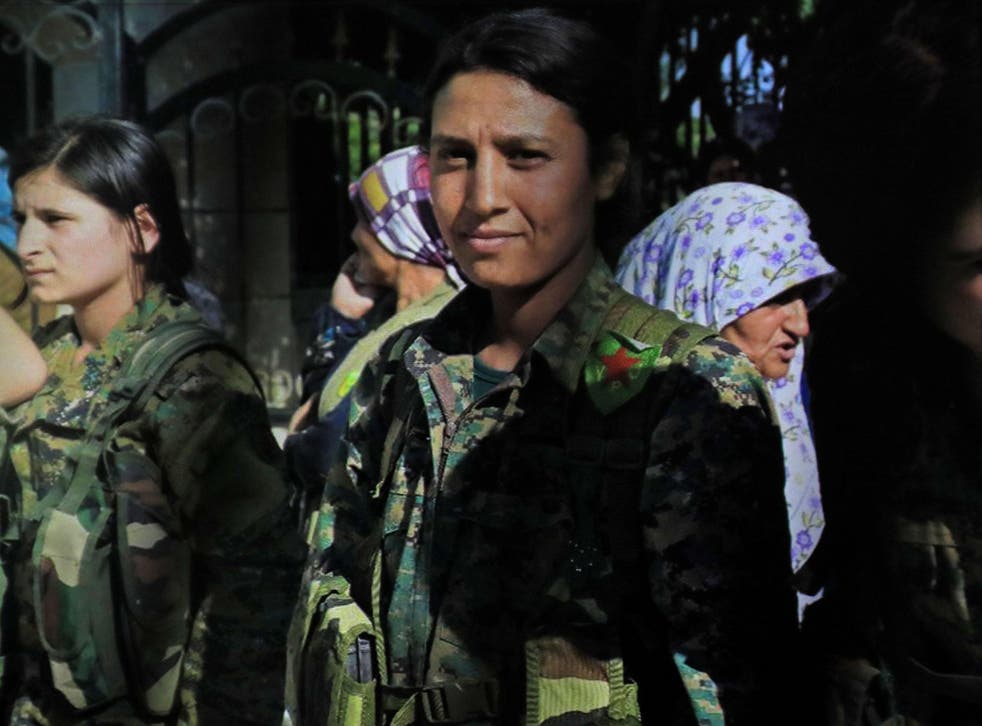 Syrian Kurds have reacted with outrage to a video showing the body of a female Kurdish fighter who was killed in battle during the a Turkish-led offensive.
Barin Kobani, a member of the all-female fighting unit of the Kurdish YPG (People's Protection Units), was killed during fighting earlier this week in the northern Afrin region, reports say.
The footage showed a group of Turkey-backed rebels standing over the mutilated body of a female soldier, later identified as Kobani, in the village of Qurna near the Turkish border.
The Kurdish community has reacted with fury – accusing the men of mutilating the body themselves and social media users shared a portrait of Kobani smiling next to another shot of her body.
Officials blamed the "terrorist allies of the enemy Turkish state" for mutilating her body and said they "hold the Turkish government responsible for this heinous act".
Amad Kandal, an official with the Women's Protection Units of which Kobani was a member, told the Guardian: "Barin did not surrender. She fought to the death.
"This kind of behaviour will only serve to reinforce our determination to resist until victory."
A spokesman for the Syrian Democratic Forces (SDF), which is allied with the Kurds against Turkish forces and Isis, said: "Imagine the savagery of these invaders with the bodies of our daughters. How would they behave if they took control of our neighbourhoods?"
World news in pictures

Show all 50
The Turkish armed forces launched an offensive against the Syrian region of Afrin two weeks ago as part of their bid to help Syrian opposition fighters wrest the area out of the control of the Kurds.
Kurdish forces had recaptured Afrin from Isis in 2016.
Ankara considers the YPG to be the Syrian arm of the PKK (Kurdistan Workers' Party), a Turkish separatist group denounced the state regards as a terror group, and said the Kurds were using their toehold in Afrin as a base to launch attacks on Turkey.
The operation, dubbed "Operation Olive Branch", is attempting to carve out a 30km "safe zone" within Syria to protect the Turkish border.
Turkish President Recep Tayyip Erdogan has vowed to expand the area to include the key city of Manbij.
He said: "Our jets took off and started bombing. And now the ground operation is underway. Now we see how the YPG ... are fleeing in Afrin.
"We will chase them. God willing, we will complete this operation very quickly."
Join our new commenting forum
Join thought-provoking conversations, follow other Independent readers and see their replies