'Being gay in the Islamic State': Men reveal chilling truth about homosexuality under Isis
'If a victim did not die after being hurled off a building, the townspeople stoned him to death'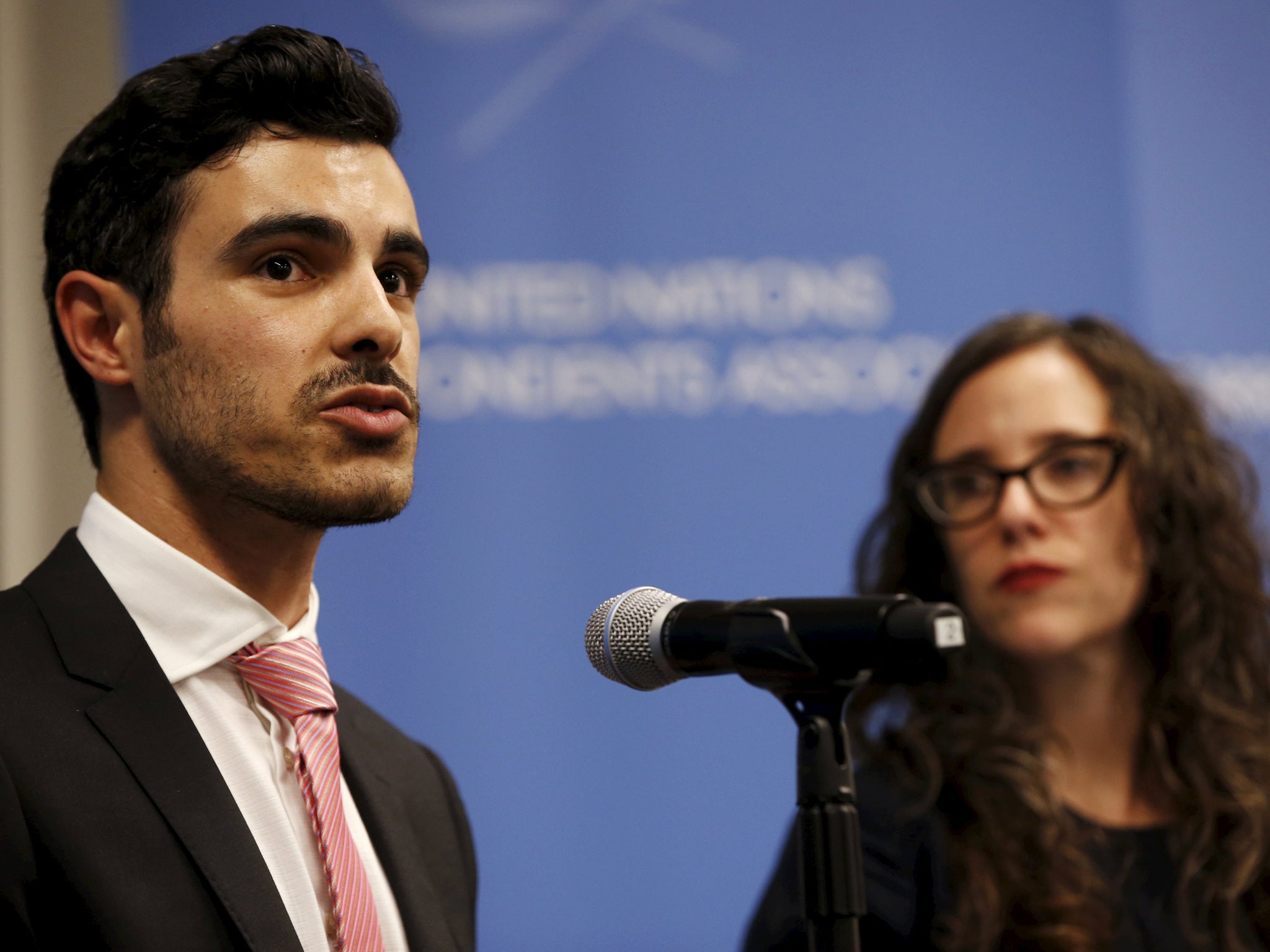 Men who fled war-torn Syria have spoken about the horror of being gay in the so-called Islamic State, in a meeting with the UN Security Council.
Ambassadors heard chilling details of the men's treatment, with one who hid his identity out of fear for his safety telling them: "In my society, being gay means death."
"In my society, being gay means death," said one Iraqi man to the United Nations Security Council, hiding his identity out of fear for his safety.
The other man, Subhi Nahas, spoke of watching on in fear as the group known as Nusra Front, linked to al-Qaeda, took control of his home town of Idlib. He said Nusra Front began the systematic torture and murder of men thought to be gay.
"This was to be my fate, too," he told an informal meeting of the United Nations Security Council.
The assembly was organised jointly by the United States and Chile, in the hope of drawing attention to "brutal attacks" by the militants against LGBT people.
"I was terrified to go out," he said, according to the text of his pre-written speech.
"Nor was my home safe, as my father, who suspiciously monitored my every move, had learned I was gay. I bear a scar on my chin as a token of his rage.
"At the executions, hundreds of townspeople, including children, cheered jubilantly as at a wedding. If a victim did not die after being hurled off a building, the townspeople stoned him to death."
After Mr Nahas fled Syria he went to Lebanon, before heading to Turkey for refuge.
The US Ambassador to the United Nations, Samantha Power, said this was the first time the UN Security Council had discussed LGBT issues.
"It is impossible not to take up the struggle for their rights as our own as we have other great human rights struggles," she is reported to have told the meeting.
"Today, we take a small but important step in assuming that work. It must not be our last step."
Security Council members are not required to attend informal meetings, and diplomats have said Angola and Chad were not present. The meeting was also open to all other UN member states.
Another man, known as Adnan, also told his story to the Security Council. The Iraqi spoke by telephone from an undisclosed location, as he said he was still not safe.
"In my society, being gay means death and when (Isis) kills gays most people are happy because they think we are evil, and (Isis) gets a good credit for that," he said, according to his prepared remarks.
"My own family turned against me when (Islamic State) was after me," said Adnan, who fled his home.
"If (Islamic State) didn't get me, members of my family would have done it."
Adnan said Isis militants hunt down gay people through mobile phone and Facebook contacts of people they capture.
In June this year, Isis executed three gay men by dangling them from a 100ft building and then letting go. Back in March, the chilling story broke of Isis fighters throwing another man, who they say was homosexual, off a tower. When he survived the fall, blindfolded, he was stoned to death.
Join our commenting forum
Join thought-provoking conversations, follow other Independent readers and see their replies