Beirut rubbish protests end in violence as demonstrators face water cannons and tear gas
Police fire tear gas as demonstrators call for country's cabinet to resign over uncollected garbage in Beirut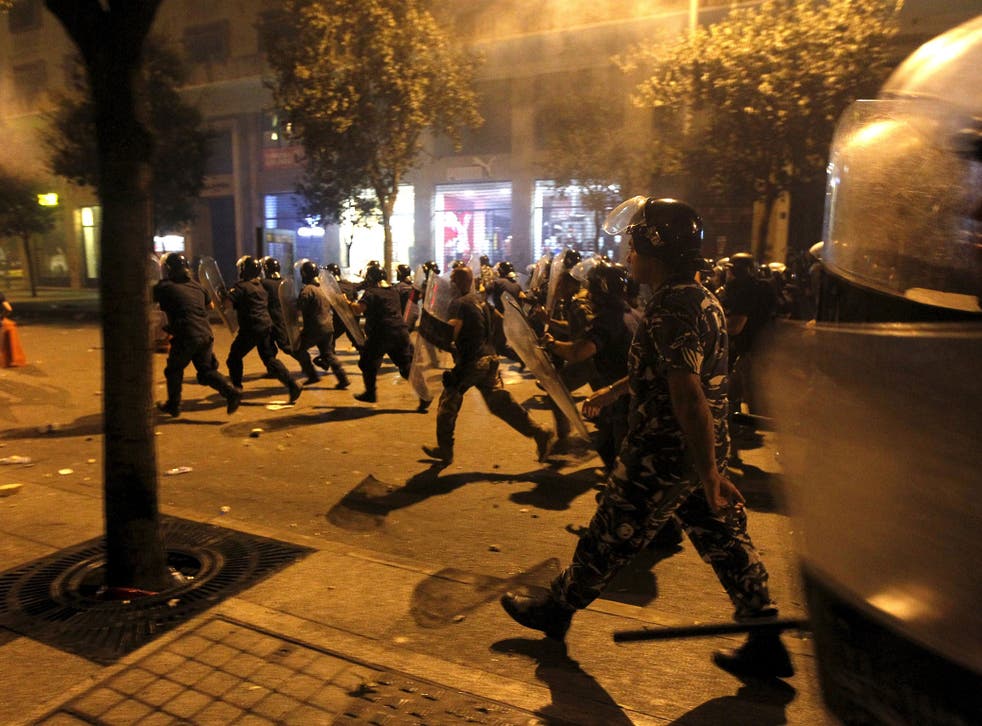 Two days of protests in Beirut ended in violence over the weekend, after thousands of Lebanese citizens who took to the streets to demand better governance were met with water cannons, rubber bullets and tear gas.
It took a crisis over rubbish disposal to prompt the biggest demonstrations the country has seen since 2005, but after years of paralysis in the country's major institutions, discontent has crystallised in recent weeks in the form of a popular protest movement called 'You Stink'.
"We have the most unbearable situation anyone could live with," said Amal Kadado Jazna, a 40-year-old woman at Sunday's protest. "We have no electricity, no water, garbage all over the city, and the government is doing nothing."
The rubbish crisis began in mid-July when residents took it upon themselves to shut down a landfill that had been overflowing for years, leading municipalities to find ad hoc spots to dump rubbish.
Thousands of people of all ages flooded Beirut's central Downtown area on Saturday evening and on Sunday. Although they were chanting slogans familiar from protests elsewhere in the Arab world – 'The people want the fall of the government' and 'Revolution, revolution!' – the demonstrators' actual demands varied from the implementation of a sustainable waste management system, to new Parliamentary elections.
The current Parliament has extended its own mandate twice without a national poll.
Saturday's protest turned violent just after sunset when policemen guarding the central Parliament area used water cannon, dozens of rounds of tear gas and rubber bullets to disperse demonstrators.
Human Rights Watch and Lebanese Prime Minister Tammam Salam condemned the reaction as an "excessive use of force", and the state prosecutor has ordered an investigation into the incident. More than 50 protesters and policemen were wounded, according to the Lebanese Red Cross.
The violence appeared to backfire, however, prompting the 'You Stink' movement – a loose coalition of secular civil society activists – to demand on Sunday that the entire government resign.
"What started as a peaceful protest ended up being a brutal military war between civil people and the civil force," said Eli Jane, who was among the protesters.
Water cannon and tear gas were again used on Sunday night, and although there appeared to be a conscious effort on the part of the police to be more restrained than the previous night, at least 30 wounded protesters were taken to hospital.
Premier Salam on Sunday hinted that he would consider quitting if progress was not made on the rubbish issue. "The trash is the straw that broke the camel's back," he added.
Register for free to continue reading
Registration is a free and easy way to support our truly independent journalism
By registering, you will also enjoy limited access to Premium articles, exclusive newsletters, commenting, and virtual events with our leading journalists
Already have an account? sign in
Register for free to continue reading
Registration is a free and easy way to support our truly independent journalism
By registering, you will also enjoy limited access to Premium articles, exclusive newsletters, commenting, and virtual events with our leading journalists
Already have an account? sign in
Join our new commenting forum
Join thought-provoking conversations, follow other Independent readers and see their replies