Police 'likely to recommend' indictment of Benjamin Netanyahu on corruption charges
Israeli leader expected to be questioned once more as part of investigation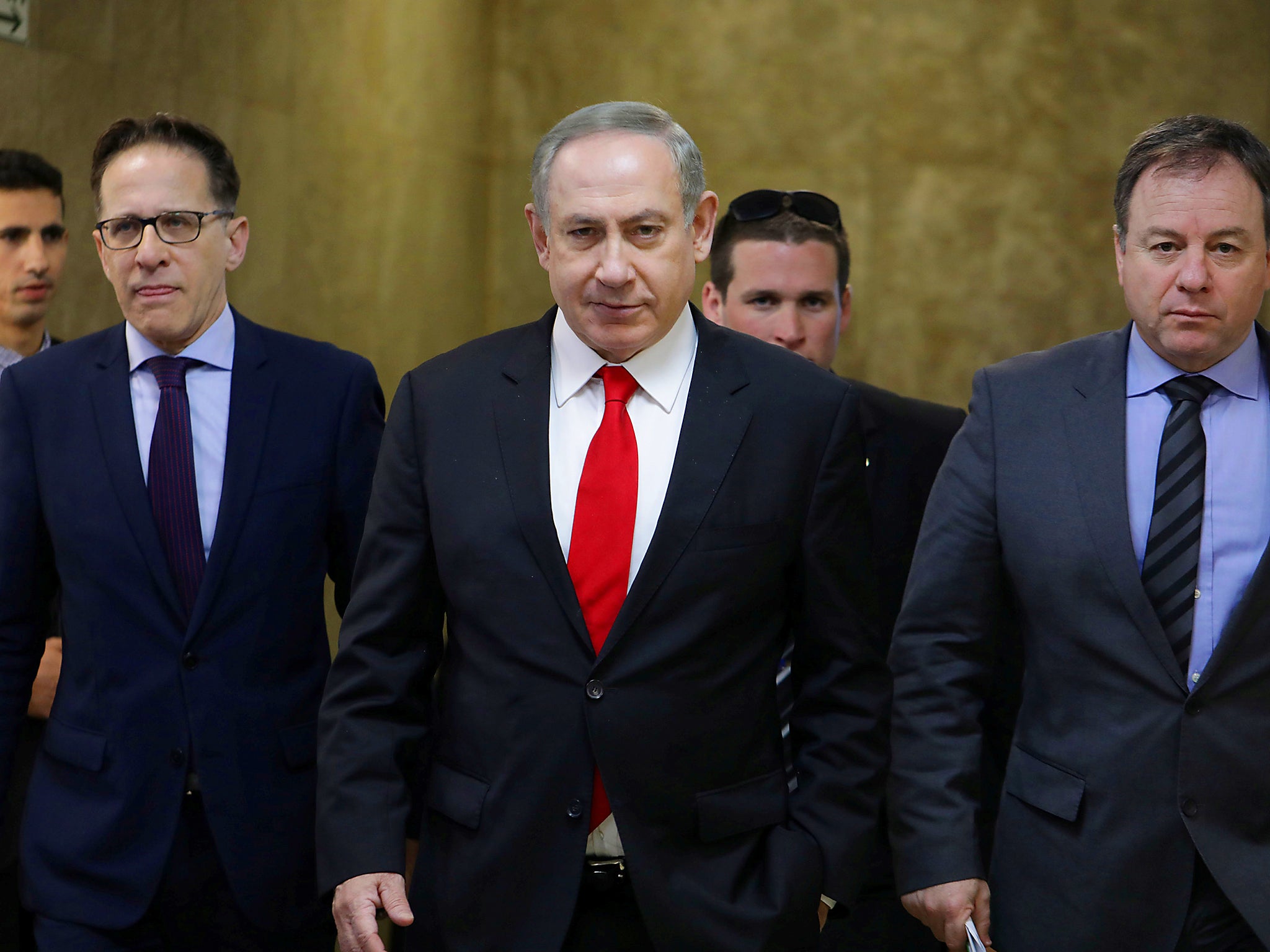 Police are likely to recommend Israeli Prime Minister Benjamin Netanyahu is indicted following an investigation into bribery allegations, national broadcaster Channel 2 has reported.
Multiple investigations into the leader were opened, but Case 1000 – which allegedly involves illegal gifts – was being treated as separate to the other ongoing investigations.
The TV channel reported that Case 1000 was to be closed with a recommendation to indict the Israeli leader in the next six weeks.
Mr Netanyahu was reportedly questioned under police caution three times as part of the inquiry. He is expected to be interviewed once more before the probe closes.
The leader is accused of accepting of tens of thousands of dollars in gifts – including suits and cigars – from wealthy businessmen. He has vigorously denied any wrongdoing.
Details of the probes into Mr Netanyahu have been scarce, and it was reported in June that the Chief of the Israeli Police Roni Alsheikh had demanded they be conducted in total secrecy.
A spokesperson for the Prime Minister told Haaretz: "It's all nonsense.
"Since Netanyahu's victory in the last elections and even before, hostile elements have used heroic efforts to attempt to bring about his downfall, with false accusations against him and his family."
Investigators are also reportedly looking into allegations Mr Netanyahu accepted €1 million (£850,000) from Arnaud Mimran, a French businessman currently serving eight years in prison for committing a large-scale carbon-tax fraud.
During his trial, Mimran claimed to have donated the money to Mr Netanyahu during the 2009 Israeli election campaign — something the politician has consistently denied.
World news in pictures
Show all 50
Earlier this year a spokesperson for the Israeli Prime Minister said: "Mr Netanyahu received no prohibited contribution from Mimran. Any other claim is a lie."
The Prime Minister did, however, admit accepting $40,000 (£33,000) from him in 2001.
Mr Netanyahu and his family have been plagued by corruption allegations throughout his time in office.
It was reported in June that the Attorney General, Avichai Mandelblit, was planning to close three cases of fraud against Mr Netanyahu's wife, Sara, against the recommendation of police.
Investigators had reportedly recommended Ms Netanyahu be charged with three incidents of fraud after allegedly using public money for personal use.
She is accused of spending state funds on patio furniture and gourmet dinners made by private chefs.
Join our commenting forum
Join thought-provoking conversations, follow other Independent readers and see their replies