Benjamin Netanyahu to crack down on Israeli human rights groups
It comes after the Prime Minister called for the dismantling of a UN agency that aids millions of refugees, accusing it of anti-Israeli incitement
Samuel Osborne
Monday 12 June 2017 09:25 Comments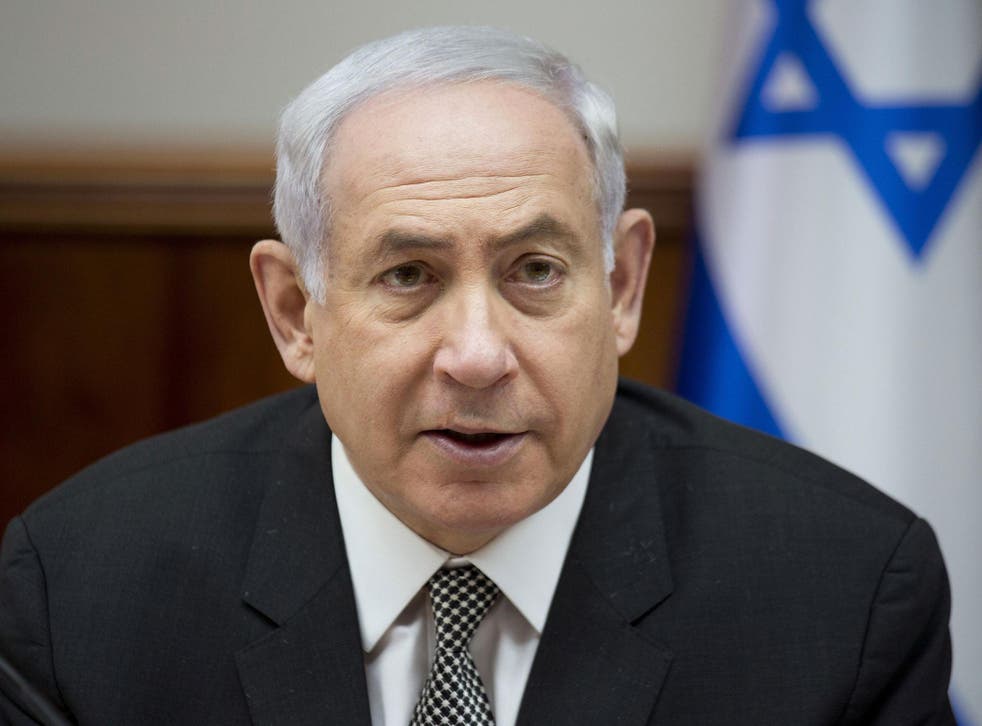 Benjamin Netanyahu has said there is a need to tighten Israel's laws to prevent foreign governments from funding Israeli human rights organisations.
The Prime Minister said the current law requiring some non-profit groups to disclose the funding they receive from foreign governments was not strong enough, Haaretz reported.
Mr Netanyahu said he had managed to stop funding from the Norwegian government, an apparent reference to Norway's decision to withdraw funds from a Palestinian women's organisation named after Dalal Mughrabi, who was part of the 1978 Coastal Road massacre that killed 38 civilians, including 13 children.
He said the move was part of "Israel's decisive foreign policy."
Trump: Israelis and Palestinians are 'reaching for peace'
The current law, which requires Israeli organisations receiving a majority of their financial support from overseas governments to disclose their funding, mainly targets human rights groups.
There are only 27 Israeli organisations that receive more than half of their funding from foreign governments, according to the Justice Ministry.
Of those, 25 are human rights organisations.
The Israeli–Palestinian conflict intensifies

Show all 10
It comes after Mr Netanyahu called for the dismantling of a UN agency that aids millions of refugees, which he accused of anti-Israeli incitement.
He accused the United Nations Relief and Works Agency (UNRWA) of perpetuating, rather than solving, the Palestinian refugee problem and said anti-Israeli incitement was rife in its institutions, which includes schools.​
"It is time UNRWA be dismantled and merged with the United Nations High Commissioner for Refugees," Mr Netanyahu said.
Ben Jamal, director of the Palestine Solidarity Campaign, said: "There is only one reason that the UNRWA provides crucial humanitarian support to 5 million Palestinian refugees – the continuing illegal occupation of Palestinian land by the Israeli military and state and the denial of the right of return.
"Netanyahu's notion that the UNRWA 'perpetuates' Palestine's refugee problem suggests a break with reality. Netanyahu's defence minister Avigdor Lieberman said that disloyal Palestinian citizens of Israel should be beheaded, and his justice minster Ayelet Shaked described Palestinian children as 'little snakes'. Let's take his complaints about incitement with a pinch of salt."
UNRWA was established by the UN General Assembly in 1949 after hundreds of thousands of Palestinians fled or were expelled from their homes in the 1948 war that followed Israel's creation.
It says it currently aids five million registered Palestinian refugees in the Middle East.
Additional reporting by Reuters
Register for free to continue reading
Registration is a free and easy way to support our truly independent journalism
By registering, you will also enjoy limited access to Premium articles, exclusive newsletters, commenting, and virtual events with our leading journalists
Already have an account? sign in
Join our new commenting forum
Join thought-provoking conversations, follow other Independent readers and see their replies