Benjamin Netanyahu takes unexplained 'two hour detour' to avoid Indonesian airspace en route to Australia
Israeli prime minister's plane takes longer route from Singapore to Sydney to completely avoid Muslim country with which Israel has no diplomatic ties
Wednesday 22 February 2017 10:03 GMT
Comments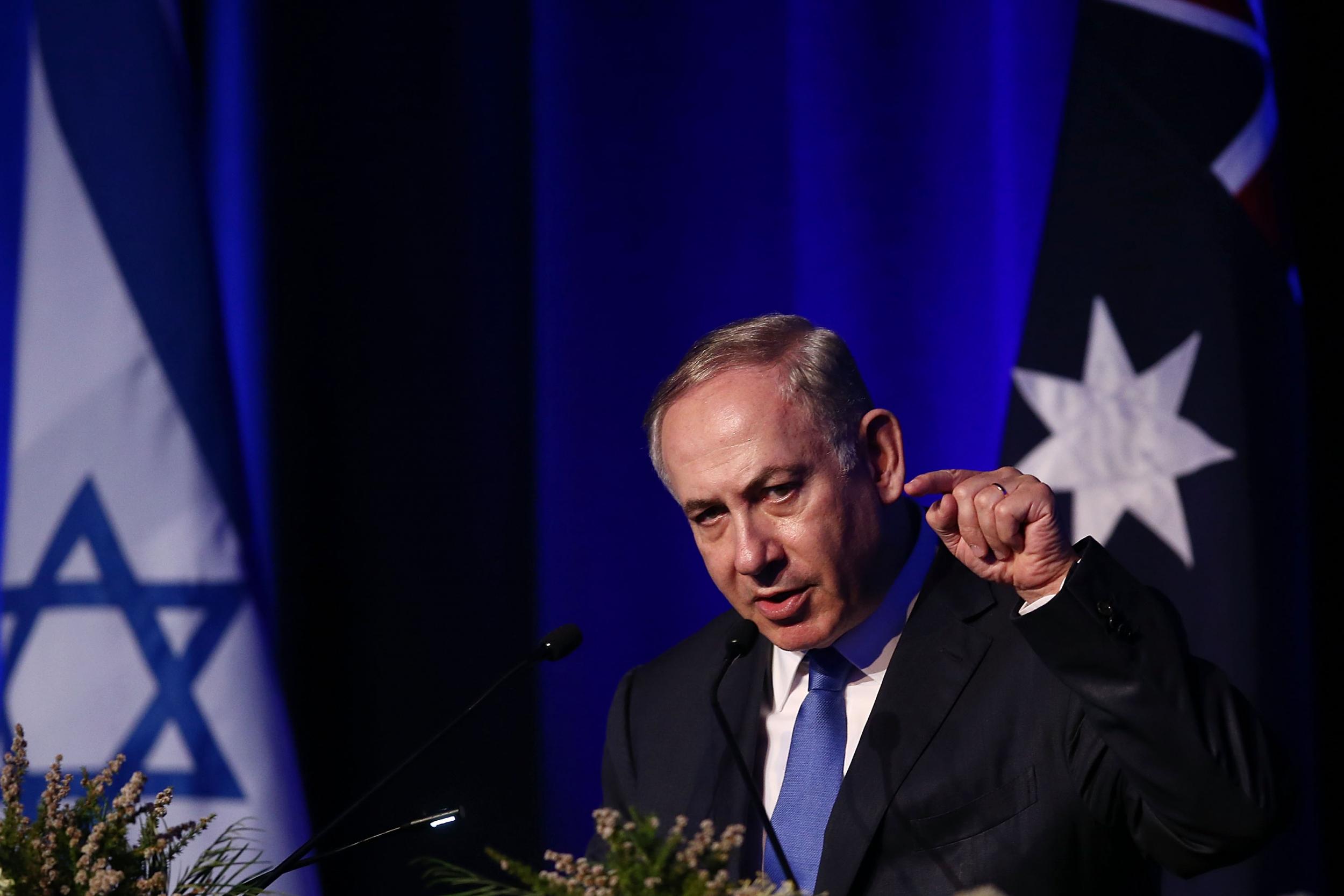 Israeli Prime Minister Benjamin Netanyahu has apparently taken a two-hour long flight detour en route to an official visit to Australia in order to avoid entering Indonesian airspace.
While the journey from Singapore to Sydney normally takes eight and a half hours, Mr Netanyahu's El Al flight took just over 11. Flight tracking sites showed that the plane's path took a sharp detour in order not to fly over Indonesia.
When asked by the Guardian, a representative for Mr Netanyahu confirmed the aircraft's flight path, but did not elaborate on why the plane had taken the unusual route.
Settlers who went too far - even for Netanyahu
Show all 2
El Al, Israel's national carrier, does not use the airspace of several majority Muslim countries, although Indonesia is not thought to be on the barred list.
Israel and Indonesia have no formal diplomatic ties, and the populous Asian country is a strong supporter of an independent Palestinian state. Indonesia was one of four sponsors of a controversial UN resolution condemning settlement building in the West Bank and Jerusalem which the US allowed to pass in December.
Netanyahu: Friends don't take friends to the Security Council
There is some travel and trade between the two states, and in recent years efforts have been made to normalise relations. In March 2016 Mr Netanyahu told Indonesian journalists that their respective countries were allied against terrorism, and called for the establishment of formal diplomatic ties.
The response from Jakarta was lukewarm, however. Cabinet secretary Pramono Anung said at the time that Palestinians must be given independence before any such steps could be taken.
Mr Netanyahu arrived in Sydney for a four-day visit to Australia on Wednesday in what marks the first ever time a sitting Israeli premier has visited the country.
In a media conference, Australian Prime Minister Malcolm Turnbull offered a staunch defence of his ally, criticising the UN's "one-sided resolutions" calling for an end to Israeli settlement building on occupied land.
Mr Turnbull also reiterated Australia's support for a two-state solution to the Israeli-Palestinian conflict.
Join our commenting forum
Join thought-provoking conversations, follow other Independent readers and see their replies