Benjamin Netanyahu accused of offering newspaper owner commercial favours in return for positive coverage
Israeli Prime Minister already being investigated for accepting gifts of champagne and cigars but denies any wrongdoing
Benjamin Kentish
Sunday 08 January 2017 18:12 Comments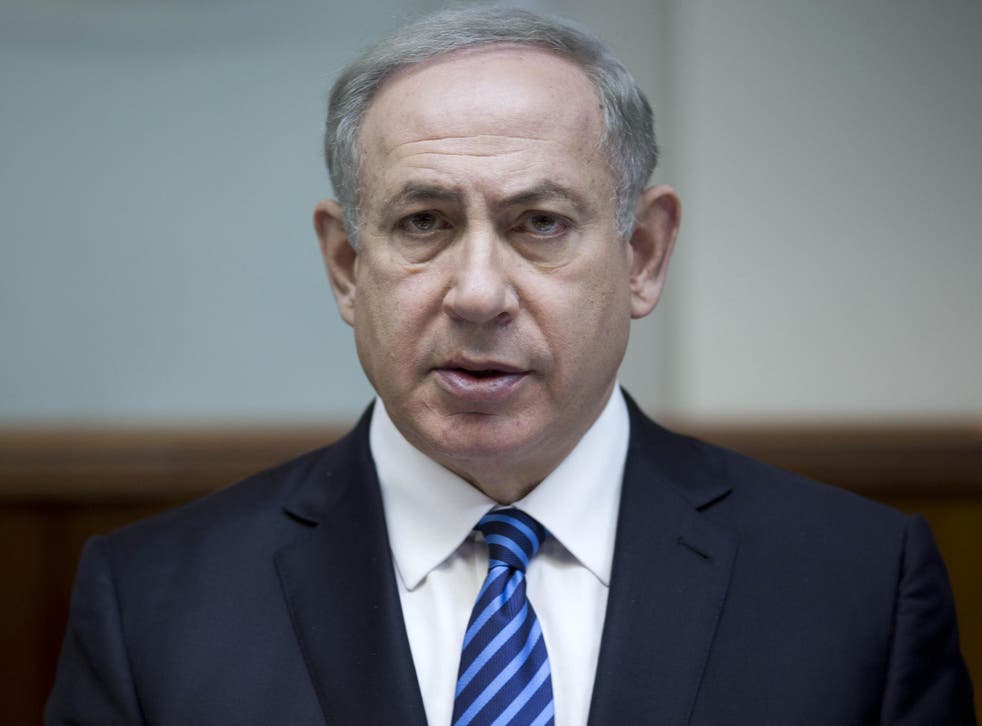 Benjamin Netanyahu has been caught on tape offering commercial favours to an Israeli newspaper owner in return for more positive coverage, reports suggest, in a development commentators are describing as an "earthquake" in the police investigation.
The Israeli Prime Minister, who is being investigated for alleged corruption offences, is said to have been recorded proposing a commercially beneficial deal to Arnon Mozes, the owner of one of Israel's biggest newspapers, Yedioth Ahronoth.
He has denied any wrongdoing.
Israel's Channel Two television station claimed Mr Netanyahu had offered to reduce the circulation of Israel Hayom, a pro-Netanyahu newspaper that is owned by U.S. billionaire and Republican Party donor Sheldon Adelson, if Mozes instructed Yedioth Ahronoth to be more favourable towards the Prime Minister.
Cutting the circulation of Israel Hayom, which is distributed free of charge, would be of clear benefit to Mr Mozes because it is the main competitor of his newspaper in the battle for advertising revenues.
The conversation is reported to have taken place several months ago, although the precise date is unknown. Reports suggest the recording was made by Mr Mozes.
Mr Netanyahu is already under investigation for alleged corruption relating to receiving illegal gifts and donations. He has disputed the allegations and his lawyer said receiving gifts from friends is not illegal.
The Prime Minister is accused of accepting thousands of pounds worth of gifts, including cigars and champagne, from Israeli billionaire Hollywood producer Arnon Milchan. Reports suggest Mr Netanyahu lobbied US Secretary of State John Kerry on Mr Milchan's behalf while the producer was attempting to acquire a new US visa.
Mr Netanyahu has denied the allegations. Sources said he told his ministers: "This is wrong, incessant pressure from the media on law enforcement. They release balloons and the hot air comes out of them time after time. That will be the case here too."
Israel: From independence to intifada

Show all 7
Israeli news outlets quoted Mr Netanyahu's lawyer, Yaakov Weinroth, as saying: "Any reasonable person knows that there is nothing remotely criminal involved when a close friend gives his friend a gift of cigars."
The Israeli Prime Minister has been interviewed twice by police in the last week and is reported to have been surprised by the evidence against him.
"He didn't expect it", a source who knows the Prime Minister well told website Haaretz.
The evidence of the conversation between Mr Netanyahu and Mr Mozes is said to have been passed to the Israeli Attorney General, Avichai Mandelblit, by investigators early last year. It is unclear what caused the delay in interviewing Mr Netanyahu, although there are suggestions state prosecutors were not clear whether a deal of the nature allegedly proposed by the Prime Minister was actually illegal.
The conversation between the pair was reported by Israeli media to have been initiated by Mr Netanyahu in an attempt to convince the newspaper publisher not to print a story about his son, Yair. The nature of the story is unclear.
Israeli Prime Minister Netanyahu Calls UN 'Joke' and 'Moral Farce'
Mr Netanyahu is also accused of having accepted a accepted €1 million (£850,000) from Arnaud Mimran, a French businessman currently serving eight years in prison for committing a huge carbon-tax fraud. Mimran claimed during his trial that he had given the money to Mr Netanyahu during the 2009 Israeli election campaign - something the politician has consistently denied.
Last year a spokesperson for the Israeli Prime Minister said: "Mr. Netanyahu received no prohibited contribution from Mimran. Any other claim is a lie."
The Prime Minister did, however, admit accepting $40,000 (£33,000) from Mimran in 2001.
Following reports last month that investigators had been given permission by Mr Mandelblit to open a formal investigation into Mr Netanyahu, a spokesperson for the Prime Minister told Haaretz the allegations were "all nonsense".
He said: "Since Netanyahu's victory in the last elections and even before, hostile elements have used heroic efforts to attempt to bring about his downfall, with false accusations against him and his family.
"[The allegation] is absolutely false. There was nothing and there will be nothing."
Mr Netanyahu is not the first Israeli prime minister to be accused of corruption and his allies have pointed out that such accusations have often come to nothing. Other charges have been proven, however: Ehud Olmert, for example, is currently serving an 18-month prison sentence after being convicted of breach of trust and bribery. Mr Olmert held office from 2006 to 2009 before giving way to Mr Netanyahu.
Register for free to continue reading
Registration is a free and easy way to support our truly independent journalism
By registering, you will also enjoy limited access to Premium articles, exclusive newsletters, commenting, and virtual events with our leading journalists
Already have an account? sign in
Join our new commenting forum
Join thought-provoking conversations, follow other Independent readers and see their replies