Benjamin Netanyahu says he will build a fence around the whole of Israel to keep out 'the wild beasts'
The new fence would cost 'many billions', Netanyahu says, but was necessary 'to defend ourselves in the Middle East as it is now, and as it is expected to be'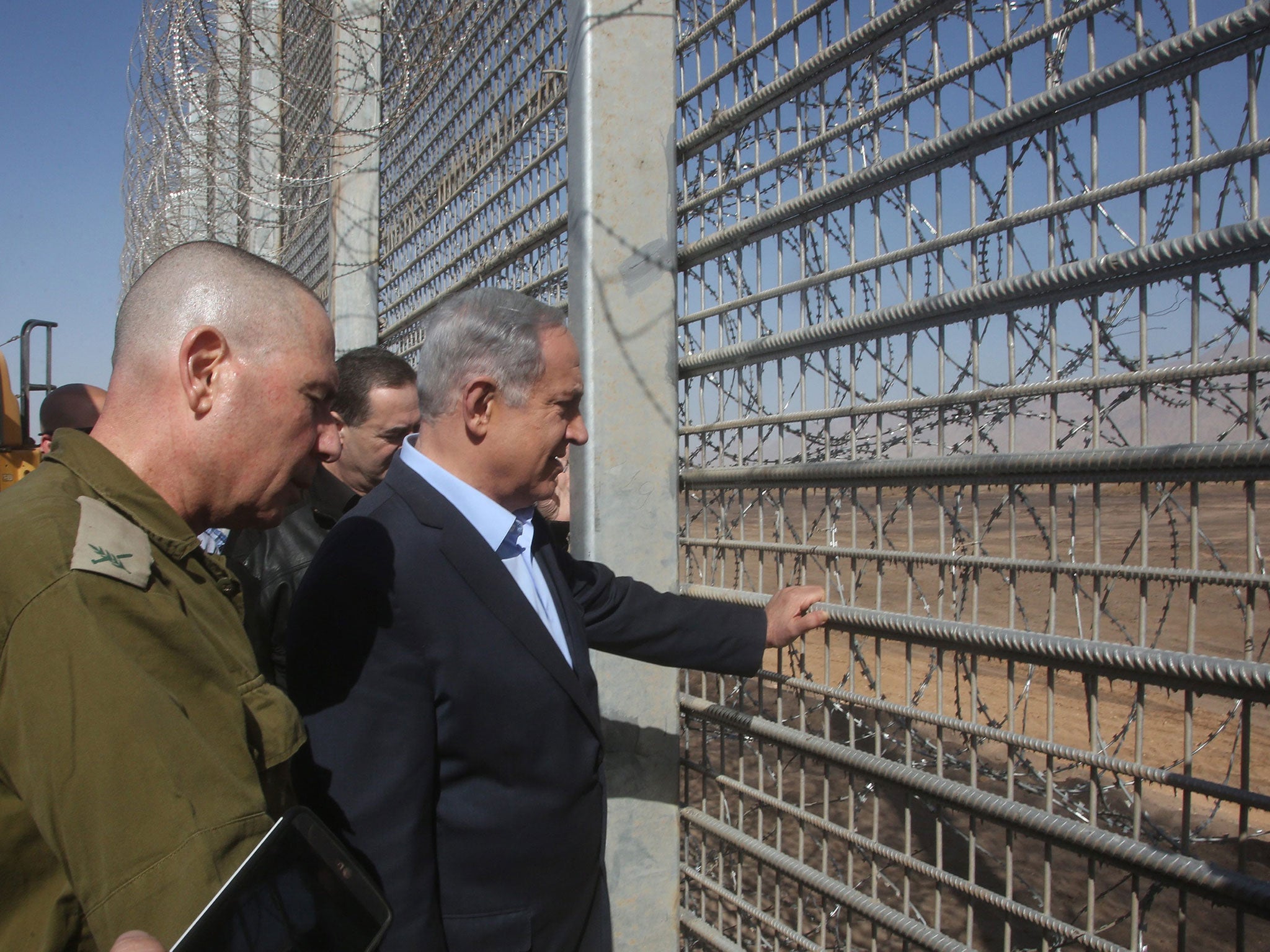 Benjamin Netanyahu has vowed to build a 15ft fence to surround the whole of Israel, saying that the country must "protect itself from wild beasts".
The Israeli Prime Minister appeared to use the extraordinary phrase – which has also been translated as "predators" – to describe both Palestinians and the people of neighbouring Arab states.
Mr Netanyahu was speaking during a tour of a newly-completed security fence along the border with Jordan near the southern Red Sea city of Eilat.
"In the end in Israel, as I see it, there will be a fence like this that surrounds the whole country," he said.
"I'll be told, 'this is what you want, to protect the villa?' The answer is yes. Will we surround all of the State of Israel with fences and barriers? The answer is yes," he said.
"In the environment we live in, we need to protect ourselves from wild beasts."
Last year, Mr Netanyahu was forced to apologise for offending Israeli Arabs in the run-up to the country's elections, when he warned his supporters that "the Arabs are voting in droves".
Yet he himself took issue with Donald Trump's comments about keeping Muslims out of America, releasing a statement saying he "rejects [Trump's] recent remarks" and "respects all religions".
During his walkabout on the Jordanian border on Tuesday, Mr Netanyahu was asked about the feasibility of extended the security fence to span the whole country.
The 18-mile stretch he was visiting, between Eilat and a new airport being built by Israel, is costing around £53 million. Scaling that up for the estimated 663-mile length of all Israel's borders, such a project would cost something like £1.9 billion.
The Prime Minister admitted the fence would cost "many billions", but said it was a "multi-year plan" that was necessary "to defend ourselves in the Middle East as it is now, and as it is expected to be".
The Israeli–Palestinian conflict intensifies
Show all 10
Speaking as Mr Netanyahu made his visit, Israel's military chief Lt General Gadi Eisenkot identified countering the threat of militants entering the country from Gaza as the number one defence priority for Israel in the coming year.
He said the current calm along the Israel-Gaza border was deceptive, and that Hamas has been rebuilding the sophisticated network of underground tunnels that cut under its own fence with Israel, and which Israel targeted during the 2014 conflict.
"Hamas is diverting great resources to restore what it considers a pattern that allows it to enter Israel discreetly and carry out attacks," Lt General Eisenkot said at an event at the Interdisciplinary Center in Herzliya, a college north of Tel Aviv. "We have the most advanced abilities in the world and still this is a major challenge."
Join our commenting forum
Join thought-provoking conversations, follow other Independent readers and see their replies