Netanyahu slams 'false, trumped up' charges against him during first session of landmark corruption trial
Israel's prime minister accuses prosecutors and police of trying to 'depose' him as he becomes the country's first serving prime minister to stand trial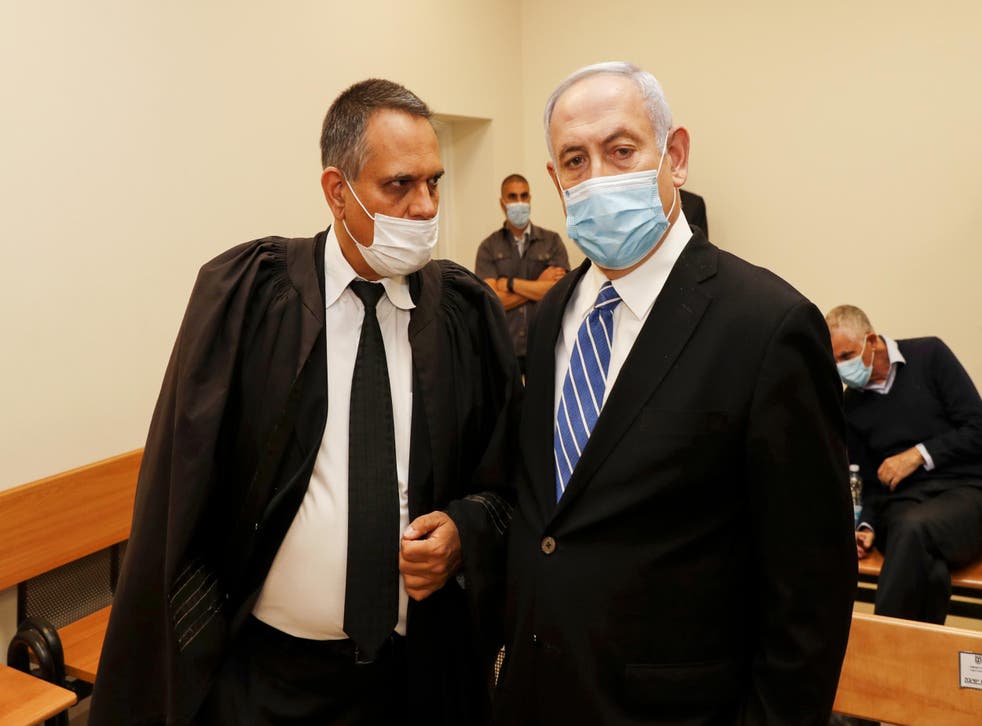 Benjamin Netanyahu lashed out at Israel's judicial system as he appeared in court on charges of bribery, fraud and breach of trust, accusing prosecutors and the police of trying to "depose" him.

The embattled prime minister, who is the country's first leader to stand trial while in office, had been ordered to attend the much-anticipated session at the Jerusalem District Court on Sunday.
The landmark trial has bitterly divided the country and locked Mr Netanyahu, and those who back him, in a battle with the judiciary.
Police deployed additional personnel in the expectation of rival demonstrations. Hundreds of supporters gathered outside the courthouse, chanting "Netanyahu, you are not alone", while across town at his official residence, hundreds of protesters held placards reading "crime minister".
Inside the courtroom, Mr Netanyahu, who was wearing a surgical mask in line with coronavirus health restrictions, quickly launched into a tirade against the legal proceedings and claimed that evidence was "contaminated" and exaggerated.
"The objective is to depose a strong, right-wing prime minister, and thus remove the nationalist camp from the leadership of the country for many years," he said, adding that police and had conspired to "tailor" a case against him.
"While the media continues to deal with nonsense, with these false, trumped up cases, I will continue to lead the state of Israel and deal with issues that really matter to you," he continued.
Mr Netanyahu said he would resuscitate the economy and "continue to save the lives of thousands of Israelis ahead of the possibility of a second wave of coronavirus".
He refused to sit down in the sparsely occupied courtroom – where the three-judge panel, also wearing surgical masks, were seated behind a glass screen – until the TV cameras left.
During the session, Mr Netanyahu sat silently as his lawyers said they would need two to three months to respond to the arraignment and complained of the incomplete and late arrival of the evidence against their client. They added that they needed additional funds for their defence's legal team.
The judges said Mr Netanyahu and the other defendants will not be required to attend future hearings that may stretch over several years. The next steps in the trial will be announced in the coming days.
The closed-door hearing took place just one week after the prime minister was sworn into office for a record fifth term, as part of a controversial unity deal with his main electoral rival, Benny Gantz.
Mr Netanyahu had managed to strike the agreement, despite being indicted in November on corruption charges across three cases, known as "1000", "2000" and "4000".
They focus on accusations that he received lavish gifts from millionaire friends and that he secured regulatory favours for media tycoons in return for favourable coverage.
If convicted of bribery, he could face up to 10 years in jail. If found guilty of fraud and breach of trust, he faces a maximum three-year prison sentence.
Mr Netanyahu, who leads the right-wing Likud party, has dismissed the proceedings as a "political witch-hunt" spearheaded by leftist opponents.
Even before the opening session, his allies set about discrediting the proceedings.
The education minister, Yoav Galant, in an interview with the public broadcaster Kan-Reshet Bet, likened the court session to a "field trial".
"It should never have happened. I trust the judges, but it is important that they know what the public thinks. We will need to see transparency and criticism [of the judges]," he said.
Several of Mr Netanyahu's Likud party ministers, including the newly appointed internal security minister, who oversees the police, backed him by attending the courtroom session.
Outside the courthouse, the transportation minister, Miri Regev, who is one of Mr Netanyahu's most vocal supporters, addressed the raucous crowd of supporters: "Today is a sad day for Israel democracy. The prime minister does not stand alone."
She told The Independent that her message to the judges was that "they should conduct a fair and true trial".
Mr Netanyahu faces charges in three cases.
In Case 4000, Mr Netanyahu is accused of granting regulatory favours to media mogul Shaul Elovitch – former owner of leading telecommunications company Bezeq – in return for more positive coverage on Walla, a news website that Mr Elovitch also owned.
Mr Elovitch and his wife, Iris, have been charged with bribery and obstruction of justice. The couple deny wrongdoing.
Case 2000 focuses on suspicions that Mr Netanyahu negotiated a deal with Israeli daily newspaper Yedioth Ahronoth for better coverage in return for promises to limit the circulation of rival newspaper Israel Hayom.
Yedioth Ahronoth's publisher, Arnon Mozes, has been charged with offering a bribe and denies wrongdoing.
In Case 1000, Mr Netanyahu and his wife, Sara, are alleged to have wrongly received expensive gifts, such as cigars and champagne, from Arnon Milchan, a Hollywood producer and Israeli-American citizen, and Australian billionaire businessman James Packer.
Prosecutors allege that Mr Netanyahu helped Mr Milchan with his business interests. Neither Mr Packer nor Mr Milchan face charges.
The trial and its outcome promise to reverberate throughout the Middle East and beyond, determining whether Mr Netanyahu's decade of hawkish, hard-right rule will continue.
It has also torn the country in two, with the prime minister's support base believing that the trial is part of a concerted effort to force him from office, as he becomes Israel's longest-serving prime minister.
His opponents say he cannot run the country while distracted by the trial.
Opposition leader Yair Lapid, who has repeatedly accused Mr Netanyahu of fomenting violence and trying to intimidate the judges, told YNet website: "Netanyahu is trying to drag us into a civil war to save himself from trial."
Israel's Supreme Court confirmed earlier this month that, as prime minister, Mr Netanyahu is under no legal obligation to resign.
Mr Netanyahu has repeatedly maintained that his court battle will not affect his ability to do his job.
Mr Gantz, his former electoral rival and now his coalition partner, who has come under fire for joining forces with Mr Netanyahu, issued a carefully worded statement that like all Israeli citizens, Mr Netanyahu is "innocent until proven guilty".
"I am confident that our justice system will give him fair trial ... Now, perhaps more than ever, we must move towards unity and conciliation, as a country and as a society, for the state of Israel and all of its citizens."
Thousands rally in 'social distancing' protest accusing Netanyahu of destroying democracy
Left-wing observers and politicians have said that Mr Netanyahu did not follow the normal practice of resigning in order to fight the charges, claiming that his posture poses dangers to Israeli democracy.
Yuval Shany, vice-president of the Israel Democracy Institute, argued there was a conflict of interest: "His status as head of the executive responsible for key decisions and his status as a criminal defendant are incompatible. He is fighting to weaken the bodies that are prosecuting him."
Israel media was also split.
Gidi Weitz in the left-leaning daily Haaretz, wrote that the prime minister has "waged a multi-pronged war", including against law enforcement agencies, during the lead up to his indictment and will likely take aim at the three judges who will hear his case.
However, Amnon Lord, in the free, pro-Netanyahu paper Israel Hayom, described the trial as "attempting to commit national suicide", adding that "Benjamin Netanyahu has proved that he has doubled Israel's power".
The overall duration of the trial is not known, but Israeli media estimated it could take as long as three years. Either side can then appeal the verdict.
Register for free to continue reading
Registration is a free and easy way to support our truly independent journalism
By registering, you will also enjoy limited access to Premium articles, exclusive newsletters, commenting, and virtual events with our leading journalists
Already have an account? sign in
Register for free to continue reading
Registration is a free and easy way to support our truly independent journalism
By registering, you will also enjoy limited access to Premium articles, exclusive newsletters, commenting, and virtual events with our leading journalists
Already have an account? sign in
Join our new commenting forum
Join thought-provoking conversations, follow other Independent readers and see their replies