Bethlehem residents face 'real challenge' of celebrating Christmas at the birth place of Christianity
Elsewhere on the West Bank, celebrations have been cancelled – and in the Aida refugee camp, windows are covered with wooden planks to prevent Israeli army tear gas canisters from entering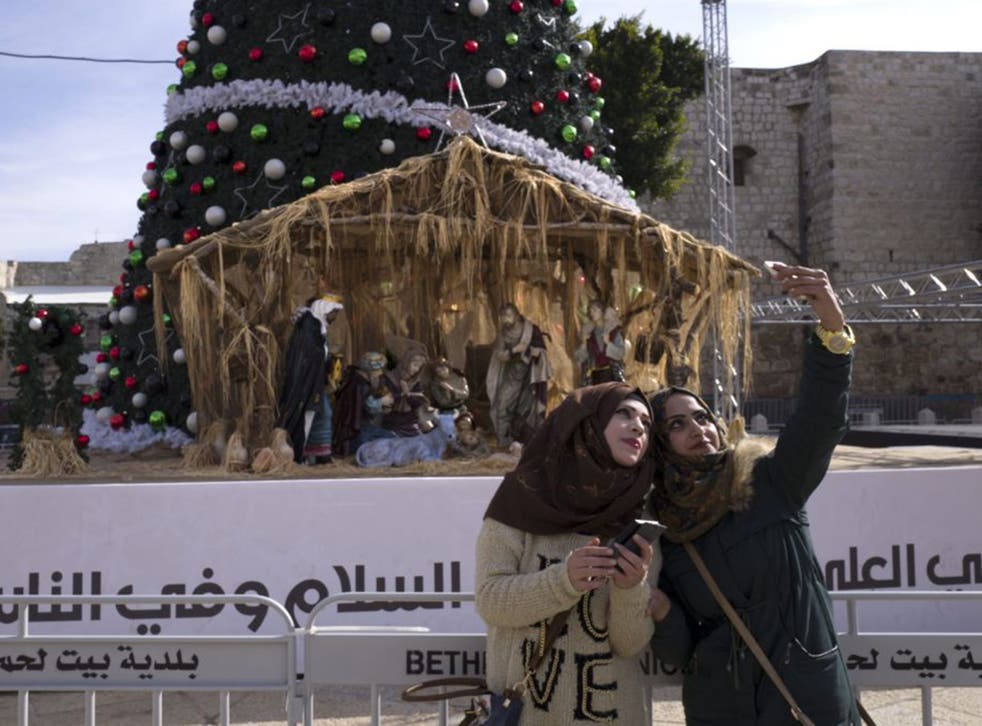 The lights on Bethlehem's Christmas tree have been lit and on Christmas Eve a Mass will be celebrated at the Church of the Nativity, built on the site where shepherds are said to have visited a new-born baby some 2,000 years ago.
Tourists have finally begun to arrive in greater numbers, with hotels fully booked for the next few days, and Bethlehem's mayor, Vera Baboun, insists that it is right to celebrate in the traditional way.
"Christmas is Bethlehem," she told The Independent. "Lighting the tree, and the annual procession of the patriarchs from Jerusalem to Bethlehem is part of the identity of Christians."
Being joyful is a way of defying occupation, she said, even thought it was a "real challenge" to celebrate this year. "Even joy is a right for children. We want to bring them a moment of hope."
But elsewhere on the West Bank, Christmas has been cancelled – including in Ramallah, the Palestinian Authority's de facto capital. And in Bethlehem's Aida refugee camp, a new decoration adorns some of the homes this holiday season: wooden planks placed over windows to prevent Israeli army tear gas canisters from entering.
Aida, wedged between Israel's daunting, grey concrete West Bank separation barrier and an army checkpoint, is only two miles from Nativity Church. It is home to 5,000 refugees, mostly descendants of those expelled or who fled during Israel's creation in 1948. The elaborate, colourful graffiti on its walls call for return to long-lost homes and villages.
Aida has been a flashpoint during the recent months of violence in which 17 Israelis, an Eritrean, a US citizen and 125 Palestinians have died, according to a tally by Agence France Presse. Most of the Palestinian fatalities were assailants or attempted assailants, Israeli officials say. Five Palestinian dead were from the Bethlehem area and two from Aida camp, including 13-year-old Abdul Rahman Shadi Obeidallah, who camp residents say was killed by a sniper as he stood in the street with friends. A senior army officer said the boy was killed "unintentionally".
"Every activity in the camp is done in his memory," said Mustafa al-Araj, a counsellor at the camp's youth centre. "People still visit his family to comfort them."
In the heart of the camp, on the spot where he was shot on 5 October, is a haunting, larger-than-life picture of a smiling Obeidallah.
"What people talk about here these days is that someone was arrested last night, or that someone is about to be released," Mr Araj said. In such an atmosphere, the marking of Christmas by Bethlehem's Christians should be modest, without big celebrations, he says. "Last year there was a big festival with lots of people in Manger Square enjoying music and having fun. Doing this isn't respectful for the people who died. It should be only religious activities."
Last month, a tear gas canister fired by Israeli troops smashed through the window of a home, starting a fire, Mr Araj said. This is why windows are now boarded up.
At a shoe shop just inside the camp, salesman Mohammed Mashtayeh, 19, had Father Christmas slippers on display, but no customers. He says the violence has often forced him to close or scared people away.
An elderly Christian resident of the camp, Fuad Huzainah, enters the store to buy new shoes for the holiday. Business is so bad that Mr Mashtayeh is willing to drop the price of the shoes by nearly 50 per cent. But Mr Huzainah still feels bad about spending money. "It's a critical situation," he explains. "We're being cautious about everything, even buying food."
Few tourists were visible in Manger Square and guides stood idly in front of Nativity Church. Shehu Danjura, a pilgrim from Nigeria, said: "I was advised to be very careful. I will stay with the group."
In the Manger Square Hotel, only two of the 220 rooms were occupied when The Independent visited last week; at the same time last year the occupancy rate was 60 per cent, according to the reservation manager, Luna Sahouri. "Everyone's been afraid to come," she said. "Of course this affects our mood. There's no work and we're just sitting here." She said the hotel was fully booked from Christmas Eve but that reservations drop off again in January.
Sami Qumsiyeh, who owns a small travel agency, said his business was hard hit because many Arab citizens of Israel who normally visit Bethlehem have stopped coming.
"I'll celebrate at home," he said. "We are Christians and this is deep in our hearts; it is the birth of life. But celebrating outside? I doubt it."
Register for free to continue reading
Registration is a free and easy way to support our truly independent journalism
By registering, you will also enjoy limited access to Premium articles, exclusive newsletters, commenting, and virtual events with our leading journalists
Already have an account? sign in
Register for free to continue reading
Registration is a free and easy way to support our truly independent journalism
By registering, you will also enjoy limited access to Premium articles, exclusive newsletters, commenting, and virtual events with our leading journalists
Already have an account? sign in
Join our new commenting forum
Join thought-provoking conversations, follow other Independent readers and see their replies