Blow for Bashar al-Assad as Arab League gives Syrian President's chair chair to opposition
Coalition leader steps up efforts to win international support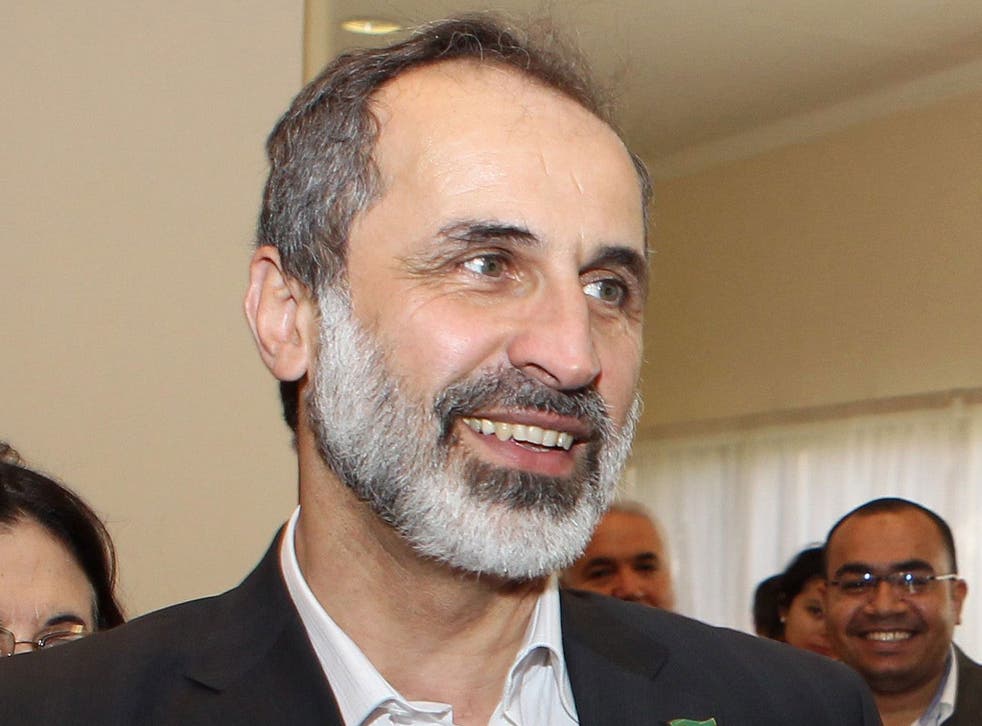 It is a seat that has been occupied by Bashar al-Assad for more than a decade, but the Syrian President's chair at the Arab League was handed to those seeking to oust him, in a historic moment for the opposition.
The three-starred flag of the Syrian revolution replaced the two-starred flag of the regime marking Syria's place at the two-day summit of the 22-member Arab League in the Qatari capital Doha. Moaz al-Khatib, the moderate Damascus cleric who has steered the coalition since November, took the chair, making an impassioned call for assistance to end the two-year-long cycle of violence.
The symbolic move followed a tumultuous week for the Syrian National Coalition, fraught by resignations and infighting. Mr Khatib was introduced to the assembled Arab leaders as the head of the opposition coalition, despite dramatically quitting his post at the weekend.
Taking centre-stage he did not give the appearance of someone about to step aside from a leadership role, and opposition sources said Mr Khatib has agreed to return to his post if the organisation is made more representative – an apparent attempt to counteract Muslim Brotherhood domination.
In a statesman-like speech, he called for the US and Nato to provide Patriot missiles to protect rebel-held northern areas and drew on personal experience as he described the plight of a former student who was driven mad by torture and later killed by the regime. He also touched on foreign interference in the coalition – a barbed jibe at countries like Qatar and Saudi Arabia which are accused of trying to assert their influence over the opposition.
Damascus, which was suspended from the Arab League in November 2011 after it rejected a proposed peace plan, reacted with fury to the decision. Its former ambassador to the bloc, Yousef Ahmad, said a legitimate sovereign state had been replaced by a "monstrosity", in a brazen violation of the Arab League's charter.
Mr Khatib finished his address yesterday with a frank plea to the assembled Arab leaders to release their own political prisoners and break the chain of oppression.
"As your youngest brother, I tell you: fear God while dealing with your people, reinforce your country with fairness and justice," he said.
Register for free to continue reading
Registration is a free and easy way to support our truly independent journalism
By registering, you will also enjoy limited access to Premium articles, exclusive newsletters, commenting, and virtual events with our leading journalists
Already have an account? sign in
Register for free to continue reading
Registration is a free and easy way to support our truly independent journalism
By registering, you will also enjoy limited access to Premium articles, exclusive newsletters, commenting, and virtual events with our leading journalists
Already have an account? sign in
Join our new commenting forum
Join thought-provoking conversations, follow other Independent readers and see their replies