Bombs both sides of the border, but it's Gaza that's been reduced to rubble
Israel's air strikes have dismantled the infrastructure of the under-siege city with precision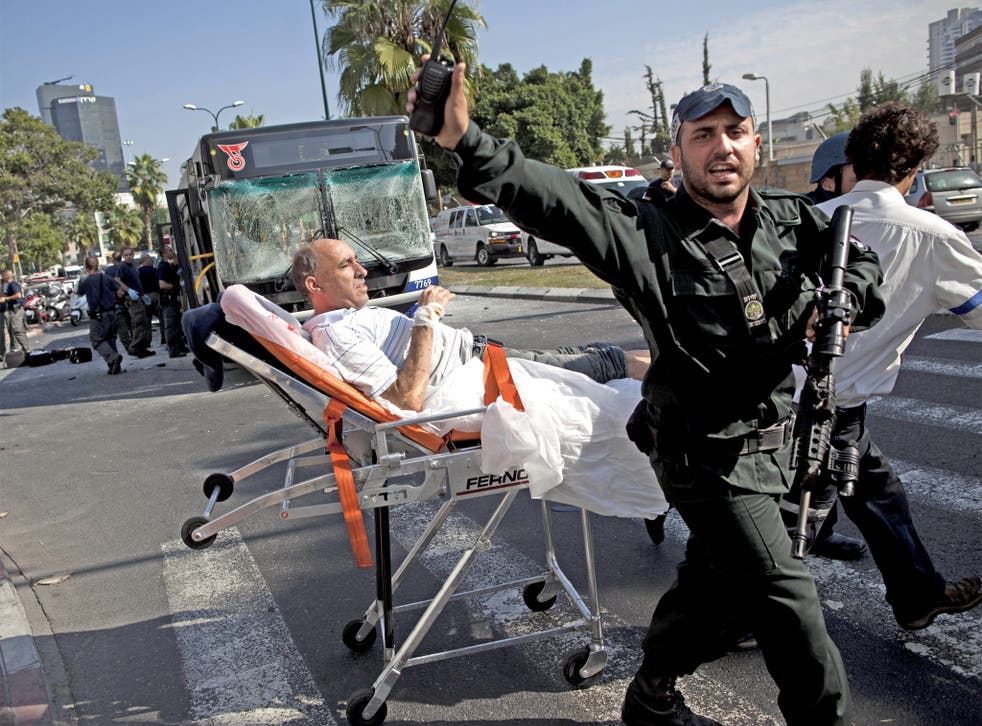 The air strikes have been surgical to avoid collateral damage, the Israeli military have insisted since this campaign began; an assertion not totally borne out by the mounting toll of casualties.
What is happening with precision, however, is the dismantling of the infrastructure of Gaza. Many of the institutions affiliated to Hamas were destroyed in the first rounds of air strikes. The latest assaults have focused on municipal buildings, the Palestine Legislative Council, the main bridge, a bank, a media centre and a sports complex.
There has been ancillary damage; a set of legal chambers, the city's main travel agency, a shopping mall have all been hit. As a ceasefire deal is finally struck in Cairo, what is left of civic society here continues to crumble. Abu Khadra, the biggest government complex, essential for almost every aspect of official business here, was the biggest wreckage site in Gaza, a mass of burnt and twisted metal and broken buildings still smouldering six hours after being hit by six missiles. Acres of documents on computers and paper have been incinerated, with little or no chance of the contents being retrieved. Abu Khadra was one of several targets in central Gaza City on Tuesday night. A few hours previously the Israeli military had dropped leaflets on border villages stating: "For your safety we demand you evacuate your houses immediately and move towards the centre of Gaza City."
Razai Abdelkarem Abu-Shaban, whose family home across the street was wrecked in the blast, asked: "Why do you think they did that? There have been people who have arrived here from those areas. Are they all right? You can see for yourself what the Israelis have done to the centre."
The Khadra buildings were was used by the Israelis while they ran Gaza and have had the same role after control passed to the Palestinians. Some of the ministries have moved out, but it remained an administrative hub. Haitam Ahmed Al-Naasri had left his desk at 4.30pm as waves of air strikes hit the city on Tuesday afternoon. He heard about the attack and turned up yesterday morning to see if anything was left. "I never thought I would see it like this, never. They have attacked this before, but now there is nothing left," Mr Al-Naasri, 48, said, shaking his head.
"We dealt with everything here. You wanted to buy a house you came here, you wanted to travel outside you came here, you wanted to get married, the same.
"Everything to do with the public sector in Gaza had to go through here. We shall have to start work somewhere else, but we won't get all the information again."
The private sector was having its own problems, some of a similar kind. The office of Saadi Abdullah, a lawyer, was blown up in the same area. "All my files have gone, case papers, legal histories, everything. None of it was political, it was to do with buying property, commercial matters, some of it from outside Gaza. It is such a mess," he said.
"Look, I am a lawyer. I want to see our cause as Palestinians taken forward the diplomatic way. We all want a peace agreement. But the Israelis are making sure that the only ones the people in Gaza can turn to are the men with guns."
The travel agency nearby was established by Wasim Mushtaha's grandfather and was in business for an uninterrupted 46 years – until yesterday. Mr Mushtaha had helped many local people chart the logistical and bureaucratic maze to travel abroad.
"We arranged holidays, people who had to go for medical treatment, for the Haj, they have destroyed this," an angry Mr Mushtata said, waving a piece of what was once his shopfront. "We employed 20 people, each one of them had maybe six in their family. It is very difficult for people to find jobs here. What will happen to them? Who's going to feed their children?"
Register for free to continue reading
Registration is a free and easy way to support our truly independent journalism
By registering, you will also enjoy limited access to Premium articles, exclusive newsletters, commenting, and virtual events with our leading journalists
Already have an account? sign in
Register for free to continue reading
Registration is a free and easy way to support our truly independent journalism
By registering, you will also enjoy limited access to Premium articles, exclusive newsletters, commenting, and virtual events with our leading journalists
Already have an account? sign in
Join our new commenting forum
Join thought-provoking conversations, follow other Independent readers and see their replies