Libyan parliament demands Theresa May formally apologise for Boris Johnson's 'dead bodies' comment
Foreign Secretary faces called for sacking over 'cruel and unacceptable' quip
Benjamin Kentish
Thursday 05 October 2017 20:33 Comments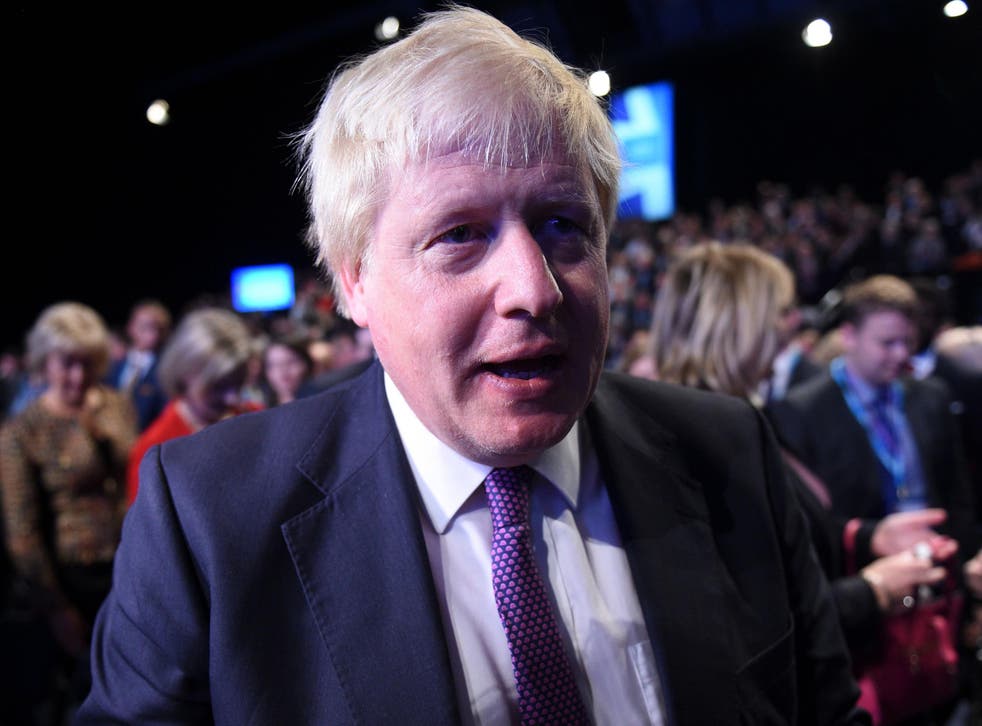 A key committee in Libya's parliament has condemned Boris Johnson for joking about "dead bodies" preventing the country's business growth.
The Foreign Secretary was widely criticised for controversially suggesting that the Libyan city of Sirte only had to "clear the dead bodies" before it could become the next Dubai.
He was speaking at a fringe event at the Conservative Party conference in Manchester.
The Libyan House of Representatives' foreign affairs committee demanded an apology from Theresa May over the "unacceptable" comments.
"The committee demands a clarification from the British Prime Minister and an apology to the Libyan people," it said in a statement.
Mr Johnson's comments about British businessmen investing in Libya were a "violation of Libyan sovereignty", the committee added.
The Foreign Secretary had told Tory activists: "There's a group of UK business people, wonderful guys, who want to invest in Sirte, on the coast – near where Gaddafi was actually captured and executed, as some of you may have seen."
Tory conference 2017 – in pictures

Show all 23
"They literally have a brilliant vision to turn Sirte – with the help of the municipality of Sirte –into the next Dubai. The only thing they've got to do is clear the dead bodies away and then they'll be there."
Earlier another member of Libya's House of Representatives called the joke "cruel and unacceptable".
Members of Mr Johnson's own party called for him to resign over the comments, while fellow Cabinet ministers queued up to distance themselves from the remarks.
Tory backbencher Heidi Allen wrote on Twitter: "100% unacceptable from anyone, let alone Foreign Sec. Boris must be sacked for this. He does not represent my party."
Another, Sarah Wollaston, added: "Demeaning jokes about real people murdered in Libya would be crass even from a stand up; appalled to hear this from our Foreign Secretary."
Conservative ministers also criticised their cabinet colleague, who has ruffled feathers in recent days with a string of outspoken interventions on Brexit.
Damian Green, Ms May's deputy, said the comments were "not acceptable", while Amber Rudd, the Home Secretary, admitted Mr Johnson's remarks were sometimes "ill-judged".
Theresa May asked if Boris Johnson is unsackable
However, the Foreign Secretary refused to back down or apologise, accusing his critics of "playing politics" over the issue.
He wrote on Twitter: "Shame people with no knowledge or understanding of Libya want to play politics with the appallingly dangerous reality in Sirte."
"The reality there is that the clearing of corpses of Daesh [Isis] fighters has been made much more difficult by IEDs and booby traps.
"That's why Britain is playing a key role in reconstruction and why I have visited Libya twice this year in support."
Sirte was a key battleground during Libya's civil war, which followed the fall of Muammar Gaddafi in 2011. It was later captured by Isis and was the scene of a bloody six-month battle last year as US-backed Libyan forces tried to oust the militant group. Hundreds of civilians were killed in the violence.
Register for free to continue reading
Registration is a free and easy way to support our truly independent journalism
By registering, you will also enjoy limited access to Premium articles, exclusive newsletters, commenting, and virtual events with our leading journalists
Already have an account? sign in
Join our new commenting forum
Join thought-provoking conversations, follow other Independent readers and see their replies