'Smiling at Iran won't do it': Richard Ratcliffe urges Boris Johnson to do more to secure his wife Nazanin's release
'I have asked the government to be tough and say that hostage-taking is not acceptable, and I hope this is what is said behind closed doors,' says husband of detained British national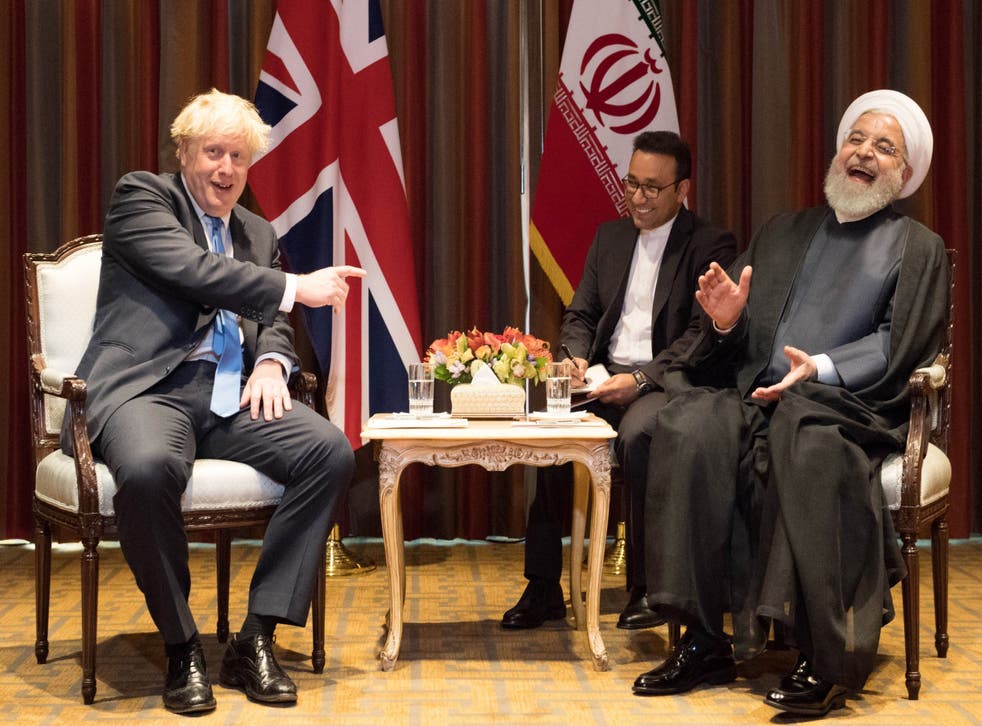 The husband of Nazanin Zaghari-Ratcliffe has urged Boris Johnson to lobby harder for her release from a Tehran jail after the prime minister met the Iranian president.
Richard Ratcliffe, whose British wife has been held in since April 2016 on espionage charges, said the crisis "will not be solved by smiling".
Mr Ratcliffe said she was "utterly desolate and cannot cope much longer."
He spoke from New York where he was meeting a number of officials on the sidelines of the United Nations General Assembly, hoping to encourage a more "robust and coordinated criticism of Iran".
Mr Johnson met president Hassan Rouhani earlier in the day at the summit. The prime minister joked with the Iranian leader, who was seen laughing and clapping.
Mr Ratcliffe, a Hampstead-based accountant, called on the premier to take a tougher line with Tehran.
"I have asked the government to be tough and say that hostage-taking is not acceptable, and I hope this is what is said behind closed doors," Mr Ratcliffe told The Independent.
"There has been an increasing pattern of more and more [foreigners] being arrested and held. Iran must be told they cannot continue, and they need to start releasing people."
He said that Jeremy Hunt, Mr Johnson's predecessor as foreign secretary and one-time rival for the Conservative leadership, had been clearer in his message demanding the government lead a coalition of allies at the UN against "diplomatic hostage-taking".
He expressed concern that Mr Johnson would be less forthright – even though taking action could make amends for his comments as foreign secretary in 2017, when he said Ms Zaghari-Ratcliffe was in Iran teaching journalism, inadvertently bolstering Iran's charges against her.
The family insisted she was on holiday when she was arrested. The government later clarified that there was "no doubt" this was the case.
"I have seen Johnson call for her immediate release, but I have not seen him say hostage-taking is unacceptable. States need to be more robust and coordinated in their criticism of Iran," Mr Ratcliffe continued.
"There are British citizens right now sitting in solitary confinement, some for almost a year even though they have not done anything. This is unacceptable.
"This will not be solved by smiling at Iran," he added.
A number of dual nationals has been detained over recent years mostly on trumped-up espionage charges. Rights groups have reported a worrying spike in detentions this year. In August, Iranian judicial officials reported that Anousheh Ashouri, a British-Iranian dual national, was sentenced to 10 years in prison, again on spying charges.
A few weeks later, the Iranians arrested two British-Australian women, Kylie Moore-Gilbert, a Middle East politics specialist at Melbourne University, and travel blogger Jolie King, together with Mark Firkin, an Australian man – on unknown charges. They are all reportedly being held in Evin prison, where Ms Zaghari-Ratcliffe is detained. There are thought to be several other dual nationals also languishing in prison.
Mr Johnson repeated his call for the immediate release of Ms Zaghari-Ratcliffe and other dual nationals during Wednesday's meeting with President Rouhani. He also apparently invited the Iranian leader back to London, calling this "progress" on the cases of British citizens detained in Tehran.
The prime minister's meeting came amid soaring tensions with the Islamic republic. Mr Johnson, along with France and Germany, blamed Tehran for recent attacks on Saudi Arabian oil facilities. He also called a 2015 Iranian nuclear pact a "bad deal", echoing US president Donald Trump, Iran's arch-foe. Mr Johnson stressed support for a "successor" to the Iran nuclear deal and the need for dialogue, Downing Street said.
No 10 said that in his meeting with President Rouhani, Mr Johnson also "raised our deep concern about Iran's destabilising activity in the region, including the attacks on the Aramco oil facilities, and insisted this must stop."
Join our new commenting forum
Join thought-provoking conversations, follow other Independent readers and see their replies