British commandos training Bahraini armed forces to use sniper rifles
Exclusive: Human rights campaigners outraged after accusing regime of targeting protesters during Arab Spring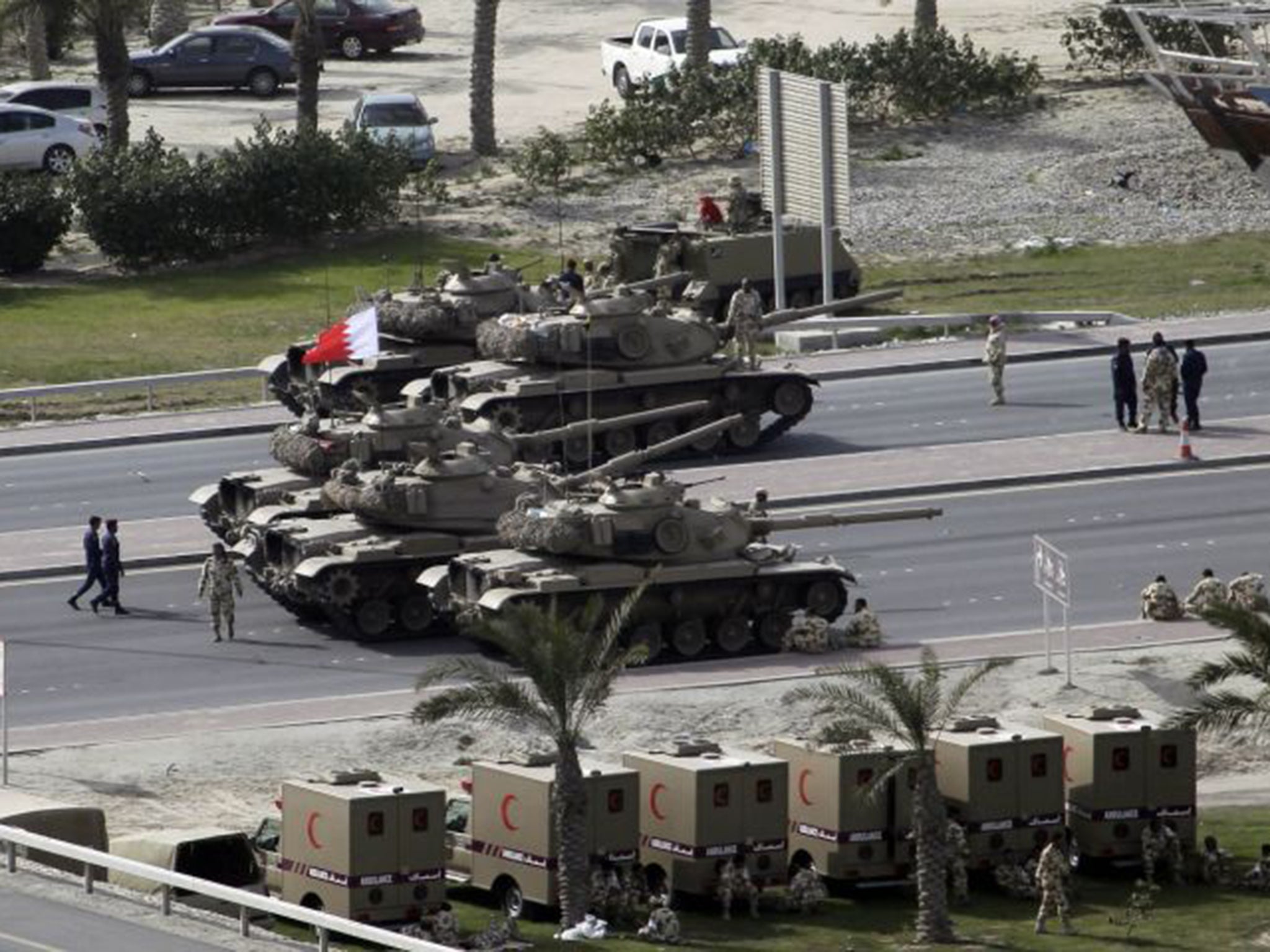 British commandos are training Bahrain's armed forces – which violently put down pro-democracy protests during the Arab Spring in 2011 – in the use of sniper rifles, The Independent can reveal.
The revelation that elite Royal Navy commandos are running week-long training courses for Bahraini personnel has outraged human rights campaigners, who accuse the regime of using snipers to target protesters during anti-government protests in 2011.
Pro-democracy activists in Bahrain say the military training by elite troops from the Royal Navy's 43 Commando Fleet Protection Group proves that the British Government is "turning a blind eye" to abuses in the country.
The Independent can reveal that the most recent training took place when specialist commandoes visited Bahrain in January on board the Royal Navy frigate HMS St Albans.
The warship docked at HMS Juffair, Britain's new naval base in Bahrain, and Royal Marines marksmen trained "multiple groups" of Bahraini personnel and were "awarded" Bahraini sniper badges in return. Bahraini authorities have already requested that the elite snipers return to run the course for a new batch of recruits.
Britain has taken the lead internationally in arguing that Bahrain has reformed its security forces since its violent crackdown on dissent during the Arab Spring, but a Human Rights Watch report released last November found that torture and illegal detention are still common in the country.
Labour's shadow Defence Secretary, Emily Thornberry, demanded guarantees about how sniper training would be deployed in future. She said: "People will be rightly concerned to discover that our elite commandos have been tasked with training sniper units in Bahrain, which risk being deployed against the civilian population of the country."
Shadow human rights minister Andy Slaughter MP, added that he was "dismayed" that the British government appears to be holding Bahrain to a lower standard than other countries over human rights.
He said: "It seems there is a completely different level of scrutiny for Bahrain compared to other repressive regimes. This can only be linked to our very strong military ties."
The latest figures show that the British government has approved more than £45m of arms sales to Bahrain since the 2011 Arab Spring, including sniper rifles, machine guns and assault rifles.
Andrew Smith, of pressure group Campaign against Arms Trade, said: "Despite the on-going crackdown, the UK charm offensive in Bahrain is continuing unabated. It's not just arms and training that are a major cause of concern; it's also the uncritical political back-scratching and military integration that has gone with it. This is yet another symptom of that toxic relationship. If the government really cares about the human rights of Bahraini people then it must finally stop arming and supporting the regime that is oppressing them."
Sayed Ahmed Alwadaei, director of advocacy at the Bahrain Institute for Rights and Democracy, said: "As repression in Bahrain intensifies, the UK is helping the regime by providing training to brutal and unaccountable security services."
The revelation over military training for Bahraini security services comes two week after the prominent human rights activist Zainab al-Khawaja was arrested and imprisoned with her 15-month-old daughter on charges of insulting the Kingdom's monarchy.
In a letter smuggled out of jail, which is published on Indy Voices, she wrote: "There are governments willing to turn a blind eye to our suffering and shake hands with those who oppress us, but I also believe there are also enough good people in the world who can't stand silently in the face of oppressions. I hope this letter finds its way out of this prison and into the heart and hands of all those freedom loving people."
An MoD spokesperson, said: "The UK enjoys close links with Bahrain, spanning 200 years, which reinforce our commitment to the Gulf region. We don't shy away from raising issues of concern, including human rights, at all levels within the Government of Bahrain in all our Defence discussions."
Join our commenting forum
Join thought-provoking conversations, follow other Independent readers and see their replies