Egypt prosecutors insist British couple not killed by 'poisonous gas' at hotel
Authorities still waiting for full medical report on deaths of John and Susan Cooper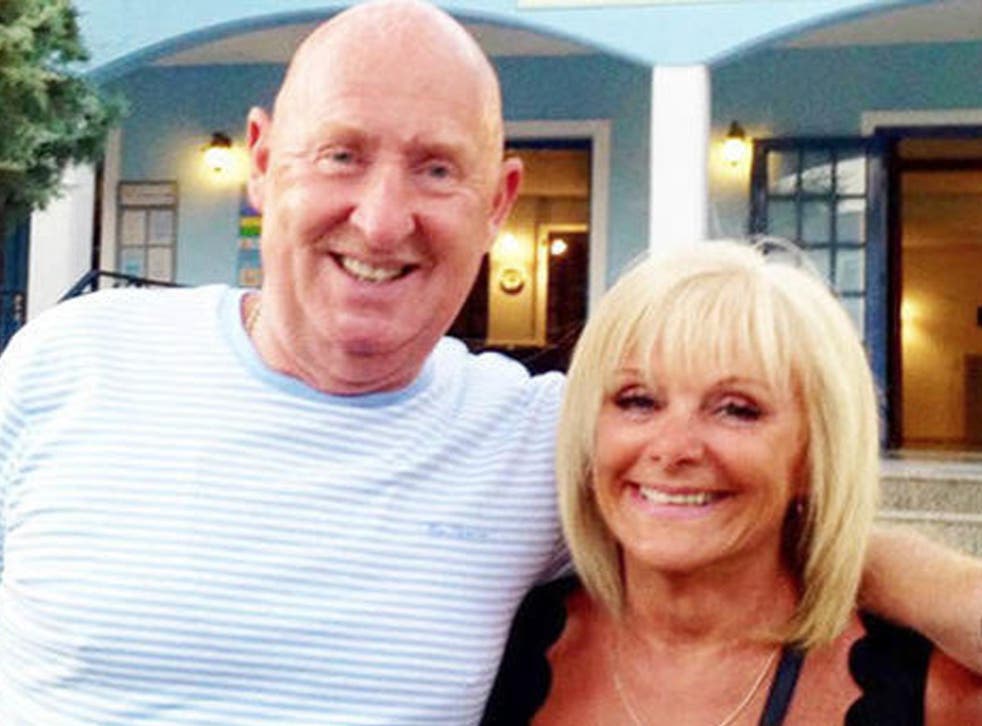 Egypt's top prosecutor has rejected claims that a poisonous gas leak caused the deaths of a British couple at a hotel in the Red Sea resort of Hurghada.
Attorney-general Nabil Sadeq said in a statement that the air conditioning in the room used by John and Susan Cooper, from Burnley, Lancashire, was "working properly and had no faults".
The authorities are still awaiting the results of further tests before issuing a detailed medical report but officials have previously claimed they both died of heart failure.
Tour operator Thomas Cook said on Friday that the circumstances of the Cooper's deaths was unclear but stated there was no evidence to support carbon monoxide poisoning.
The couple's room at the Steigenberger Aqua Magic Hotel has now been checked by engineering experts, according to the prosecutor's office.
"All equipment was sound and that there was no leakage or emission of any poisonous or harmful gases," Mr Sadeq said in a statement. "All equipment was working properly and had no faults."
The couple's daughter, Kelly Ormerod, has described the deaths of her previously-healthy parents as "suspicious".
"They had no illness, no stomach upset, no vomiting, no illness whatsoever – they were in perfect health when they went to bed," she told Sky News.
"When we woke up, my mum hadn't come down to sit on the sunbeds, so I went to knock on the door and saw that they were both very unwell.
"It was about 11am when I went to the bedroom. They said they were extremely ill and need help. I watched them die before my very eyes and they had exactly the same symptoms.
"I believe something suspicious has gone on ... something has happened in that room and caused them to be taken away from us."
Thomas Cook removed its 300 customers from the hotel as a precautionary measure after receiving reports of a "raised level of illness".
The travel agency said its last audit of the Aqua Magic Hotel in July awarded it an overall score of 96 per cent.
Dozens of guests have since arrived back in the UK, with several complaining of vomiting, diarrhoea and stomach cramps during their stays at the hotel.
Alison Cope, 44, from Moseley, Birmingham, said she had been at the hotel for two weeks and five out of seven of her family members have been ill for around 10 days.
She said: "The food is just disgusting, it's undercooked. I know so many people have been ill. Half the time we don't know what it is and can't eat it because it's raw in the middle."
Dale Watson, 38, from Newcastle, told reporters: "Five of us fell ill, we thought it was food poisoning, but no one really knows the truth."
The hotel denies there has been a rise in illness there and general manager, Dieter Geiger, dismissed the claims as "rash speculation".
However Nick Harris, a partner at law firm Simpson Millar, said at least 20 people had brought legal claims against the hotel over alleged illness.
Initial tests revealed "no criminal suspicions" over the deaths of the couple, according to the local governor's office.
Mr Cooper, 69, died in his hotel room on Tuesday morning of "sudden failure in the heart muscle and respiratory failure", according to the judgement of a Hurghada mortuary official.
His 64 year-old wife was taken to hospital five hours later and died after suffering "a drop in blood circulation and respiratory function", it was claimed.
World news in pictures

Show all 50
Egypt's minister of tourism Dr Rania Al-Mashat said: "Initial medical reports indicate that the two died from natural causes but we wait formal autopsy results in the days ahead.
"We will take every precaution to make sure other tourists are safe and a senior working group will shortly conduct a detailed investigation to eliminate any other possible concerns about the health and wellbeing of other holidaymakers in the Steigenberger Aqua Magic Hotel."
Additional reporting by Reuters, Press Association and Associated Press
Register for free to continue reading
Registration is a free and easy way to support our truly independent journalism
By registering, you will also enjoy limited access to Premium articles, exclusive newsletters, commenting, and virtual events with our leading journalists
Already have an account? sign in
Register for free to continue reading
Registration is a free and easy way to support our truly independent journalism
By registering, you will also enjoy limited access to Premium articles, exclusive newsletters, commenting, and virtual events with our leading journalists
Already have an account? sign in
Join our new commenting forum
Join thought-provoking conversations, follow other Independent readers and see their replies