British human rights investigators disappear in Qatar, after being followed by plain clothes police
Two men vanished on Sunday afternoon following increasingly frantic texts to colleagues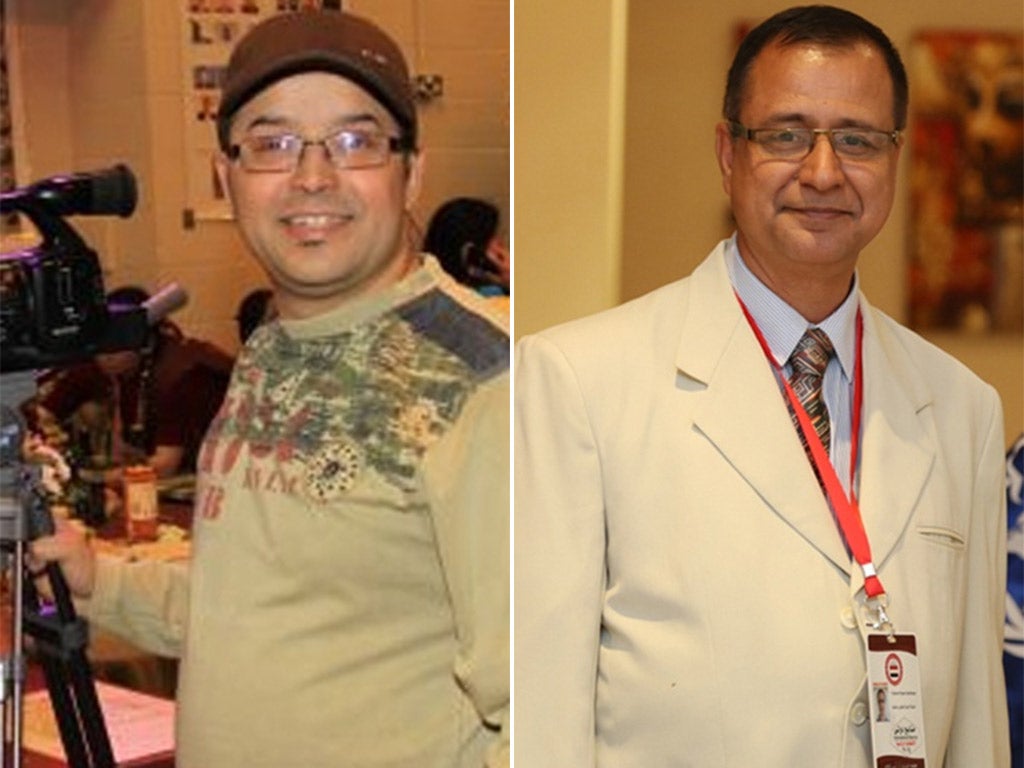 Two British human rights workers investigating the plight of migrant labourers constructing facilities for Qatar's 2022 World Cup have disappeared and are feared to be held incommunicado by the Gulf state's security forces.
Krishna Upadhyaya and Ghimire Gundev vanished on Sunday afternoon after sending texts to colleagues saying they were being followed by plain clothes police officers and feared they arrest as they tried to leave Qatar on flights that day.
The two men, who are of Nepalese extraction and both carry British passports, had been in the Qatari capital Doha to record interviews with Nepali labourers and investigate conditions in accommodation camps. They were working in cooperation with Nepalese diplomats in the city.
Qatar has been strongly criticised for the working conditions of its 1.4m migrant labourers as it races to spend £123bn on new infrastructure ahead of the 2022 World Cup. More than 400 Nepalese, the vast majority of them in Qatar to work on construction projects, died in the Gulf state between January 2012 and this May - a death rate of one worker per day. Qatar has insisted that none of the deaths occurred on World Cup sites.
The Norwegian charity employing the men told The Independent it had heard nothing from them for three days and received no information from the Qatari authorities despite multiple requests to officials in Doha to establish their whereabouts.
In a statement, GNRD said: "We are deeply concerned that our employees, both British citizens, may have been subjected to enforced disappearance and are currently at risk of torture.
"GNRD has zealously fought to eliminate abuse of Nepalese migrant workers in Qatar. We hold the Qatari authorities responsible for the safety of our employees. In the event that they are subjected to any kind of physical or psychological harm, GNRD is prepared to take all necessary legal action."
Mr Upadhyaya, 52, who moved to Norway recently from London, travelled to Doha last week to film material with Mr Gundev, 36, for a forthcoming report on living conditions for Nepalese workers. But after being advised it would be impossible to gain access to the camps he arranged to work from the Nepalese embassy to interview workers collecting visas.
GNRD told The Independent that while accompanied by a Nepalese diplomat this weekend, Mr Upadhyaya realised he was being followed by undercover police, forcing the envoy to intervene and warn the officers to cease because of his diplomatic status.
The Briton then later sent a series of increasingly frantic texts to friends and colleagues warning that he remained under surveillance. In one message sent on Saturday night, he said: "I am being followed by the police here. Looks like they will give me troubles now."
On the day of their departure, the two men checked out of the Grand Hyatt hotel but were increasingly concerned at the police presence and decided to stay in the reception area until their flight that night back to Norway, the charity said.
A message to the charity from a friend who was receiving texts from Mr Upadhyaya said: "He was feeling unsafe to leave the hotel premises and according to him there were many police, most likely undercover ones, coming in very close to him every time he spoke to anyone on the phone. He expressed that he felt very insecure about what might happen when he left the hotel for the airport."
Qatar has been criticised for routinely holding detainees incommunicado for weeks or months at a time. Amnesty International has described the tactic as "standard practice" and said it can be followed by lengthy further detention without charge or trial.
The treatment of migrant workers has become a major embarrassment for Qatar, the richest country in the world by per capita income because of its huge gas reserves, after reports of abuse under labour laws which effectively tie labourers to an employer and criticised by human rights groups as akin to modern slavery.
The country has since embarked on a reform of the laws and agreed to overhaul construction safety legislation following the deaths of hundreds of labourers recruited to work on building sites.
The Qatari embassy in London did not respond to a request to comment on the disappearance of the two Britons.
A Foreign Office spokesman said: "We are aware of reports of two British nationals being missing in Qatar. We are looking into them."
Join our commenting forum
Join thought-provoking conversations, follow other Independent readers and see their replies