British tourists 'tortured' in Dubai
Anger grows over trial of three young Londoners who face death penalty after drug confessions that they say were extracted by electric shocks and gun threats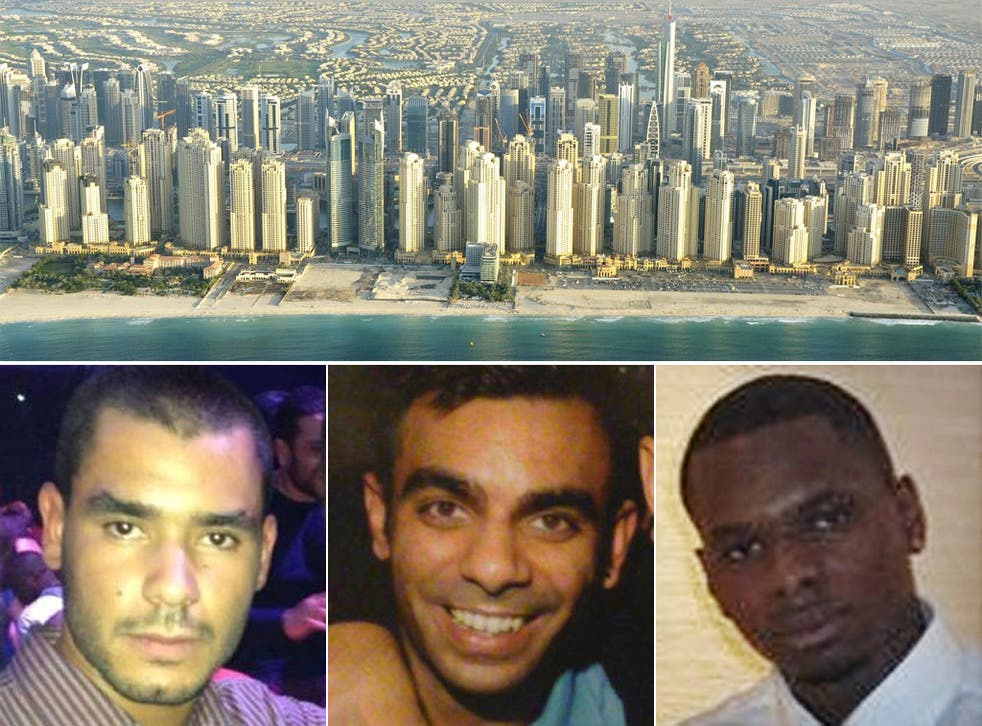 Three British men have claimed they were beaten and electrocuted after being imprisoned in Dubai for possession of a cannabis substitute, the latest in a string of expatriates and holidaymakers to fall foul of the law in the United Arab Emirates.
Grant Cameron and Karl Williams, from London, and Suneet Jeerh from Essex, were arrested during a holiday to the country seven months ago. The men, all aged 25, say they were threatened and beaten before being forced to sign documents in Arabic – a language that none of them understands – while one told the UK charity Reprieve that security officers administered electric shocks to his testicles. Dubai Police denied the allegations.
Britons are more likely to be arrested in the UAE than anywhere else in the world as bars, all-day champagne brunches and beach clubs belie strict laws forbidding public drunkenness or displays of affection.
The country's drugs legislation is draconian, with possession of a banned substance often carrying a four-year minimum sentence and dealing convictions carrying the possibility of death by firing squad.
In his testimony to a lawyer for the charity, Mr Williams claims that he was tortured in a hotel room. He said a towel was placed over his face so that he could not see.
"They kept telling me I was going to die. I was so scared," he said. "Once I had been knocked to the ground, the police picked me up and put me on the bed. They pulled down my trousers, spread my legs and started to electrocute my testicles. It was unbelievably painful." After the electric shocks were administered, Mr Williams claims that a gun was pointed at his head. "All I could think was that the gun in my face could go off if the policeman slipped, and it would kill me. I started to believe that I was going to die in that room," he said.
A source in Dubai police said that a "neutral party" was appointed to investigate if any torture had taken place, but had found the claims to be untrue, adding that the police has been dealing with the British consulate with regards to the case.
The torture allegedly took place after the men were found in possession of the synthetic cannabis substitute "Spice", which was banned last summer. On the first day it was outlawed 35 British nationals were detained for possession of the drug, prompting the British embassy to send out a circular to schools warning that Dubai Police had been "relentless" in their arrests as they try to stamp out its use.
Claims of mistreatment in prisons in the UAE not uncommon and though Mr Williams' are unusual in their severity they are not without precedent. In April 2011 the Foreign Office demanded an investigation after Lee Brown, a 39-year-old from Dagenham in east London, died while under detention in Dubai. He had been arrested for assault and swearing while on holiday at the iconic seven-star Burj al Arab hotel. His family claimed he had been badly beaten, though authorities contended that he died of natural causes.
"The idea that young British tourists on holiday can find themselves arrested and tortured in this way is truly appalling," said Reprieve lawyer Marc Calcutt. "Being electrocuted in the testicles is about as brutal a torture as can be imagined. The Dubai authorities need to immediately drop the charges against the men and conduct an independent investigation. If they do not, I am sure this story will linger in people's memories – particularly when it comes to booking their holidays."
The men, were arrested in July last year after being found in possession of just over a kilo of "Spice" in their BMW as it was parked in Dubai Marina, a cluster of sky rises and hotels popular with Western expatriates. Two have been charged with intending to supply the drug - which carries a minimum 15 year prison sentence, while one has been charged with possession. They deny the charges.
Before it was banned, five grams of Spice had a street price of up to Dh2,000 (£350) and as a legal alternative to cannabis was popular among young expatriates, according to The National newspaper. Mandy Smith, the British vice consul in Dubai, told newspaper in September that she had met with public prosecutors office who had told her that "they will make examples of anyone caught."
Register for free to continue reading
Registration is a free and easy way to support our truly independent journalism
By registering, you will also enjoy limited access to Premium articles, exclusive newsletters, commenting, and virtual events with our leading journalists
Already have an account? sign in
Register for free to continue reading
Registration is a free and easy way to support our truly independent journalism
By registering, you will also enjoy limited access to Premium articles, exclusive newsletters, commenting, and virtual events with our leading journalists
Already have an account? sign in
Join our new commenting forum
Join thought-provoking conversations, follow other Independent readers and see their replies