Brutal civil war has left Syrians desperate for basic, everyday healthcare, says doctor
Half of Syria's doctors have fled, according to Physicians for Human Rights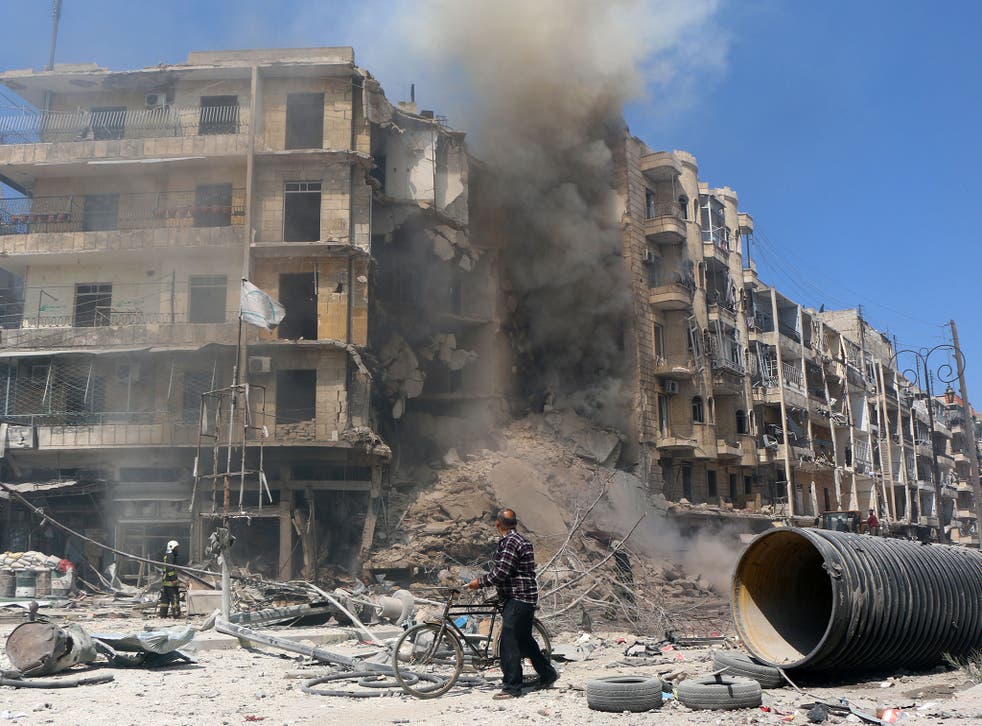 Shelling is a greater impediment to medical work than armed Islamist groups, a Syrian doctor working in opposition-held Idlib has said.
"The main risks are the shelling, the bombing and the explosions," Abdulkarim (his name has been changed) told The Independent on a visit to London.
Operating across Idlib, now almost entirely in opposition hands, means negotiating the various armed groups, Abdulkarim said, working through local channels to gain trust on the ground.
But there is no way of stopping the air strikes, Abdulkarim said. "Some security threats we are not able to manage at all, we have no warnings or control, are not able to mitigate at all."
Abdulkarim was part-way through a residency in Aleppo when major fighting broke out in 2012. He worked for four weeks straight, performing two or three emergency surgeries a day.
But it was when he moved to Idlib in 2013, after pitching in with a vaccination campaign, that he realised the true scale of Syria's growing public-health crisis.
From this point he decided to highlight the dire situation facing Syria's healthcare system. "It's not just about emergency trauma," said Abdulkarim. "For the people who were displaced and are in safer areas, they still need basic healthcare."
Half of Syria's doctors have fled, according to Physicians for Human Rights (PHR). Only 45 per cent of public hospitals are functioning. In areas such as Idlib, where fighting has been fierce, that figure is much lower. Government forces have killed more than 600 medical staff, according to PHR, including 139 who were tortured or executed.
"After I saw the collapse of the health service in Syria and how important it is to contribute and build up the health service again, I realised it was critical to focus on the public-health issues, more than the emergencies."
He now oversees healthcare projects throughout northern Syria on behalf of Save the Children. This means anything you might expect a GP to provide: natal care for some of the roughly 1,500 babies born daily, and vaccinations. "Still now, the most important issue is the lack of vaccines," he said. But emergencies often become a priority. When Idlib fell to the opposition last month, Abdulkarim oversaw Save the Children's medical response, a few miles from the front line.
"We imagined something like 100,000 would be displaced. There were more than 300,000."
Last week Human Rights Watch said the Syrian government had, once again, used chemical weapons in Idlib. Abdulkarim saw patients with symptoms consistent with the attacks. He says no illness would cause similar respiratory symptoms.
Working for his fellow Syrians motivates him. But being so close to the situation also brings personal pain – his parents stayed in Idlib after the war broke out.
For more than two-and-a-half years he was separated from them by just a few miles and unable to cross into regime-held territory.
Register for free to continue reading
Registration is a free and easy way to support our truly independent journalism
By registering, you will also enjoy limited access to Premium articles, exclusive newsletters, commenting, and virtual events with our leading journalists
Already have an account? sign in
Register for free to continue reading
Registration is a free and easy way to support our truly independent journalism
By registering, you will also enjoy limited access to Premium articles, exclusive newsletters, commenting, and virtual events with our leading journalists
Already have an account? sign in
Join our new commenting forum
Join thought-provoking conversations, follow other Independent readers and see their replies