Campaign uses London 7/7 bombing image as it urges tourists to support Tunisia
Other photographs used show the 9/11 attacks in New York and one representing the Charlie Hebdo killings in Paris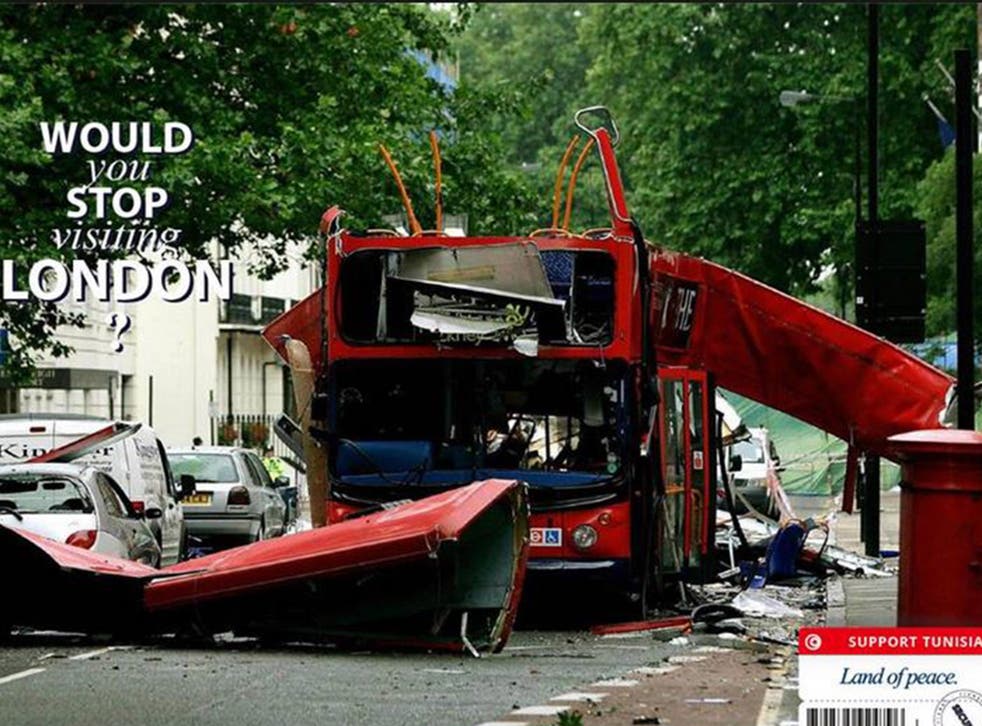 A provocative advertising campaign featuring images of terror attacks in Western capitals urges tourists not to abandon Tunisia in the wake of its own terror attack.
The campaign, launched by a Tunisian communications firm, asks "would you stop visiting" alongside images of London during the 7/7 bombings, New York during the 9/11 attack on the World Trade Centre and a placard signifying the Charlie Hebdo massacre in Paris.
A caption reads "Support Tunisia, land of peace".
Tunisia suffered its own terror attack just over a week ago when an Islamist gunman opened fire on tourists at a beach resort in Sousse, killing 39 people.
Selim Ben Hadj Yahia posted the campaign images on Facebook saying he created them in the wake of "the shock and sadness" of the Sousse attack, and that he hoped they spoke to "Tunisia's friends around the world".
The campaign has been praised by some, but criticised by others who said the attack in Sousse was different as it targeted tourists.
Tourism is an important part of the Tunisian economy, contributing about 7 per cent of Tunisia's GDP.
The industry nearly ground to a halt in the wake of the revolution that toppled Tunisia's former president Zine El Abideine Ben Ali in 2011 and sparked the region's so-called Arab Spring, but it picked up quickly in the following years.
In 2014 nearly 425,000 British tourists travelled to Tunisia.
Thirty of the 38 people killed in the Sousse attack were British holidaymakers.
Register for free to continue reading
Registration is a free and easy way to support our truly independent journalism
By registering, you will also enjoy limited access to Premium articles, exclusive newsletters, commenting, and virtual events with our leading journalists
Already have an account? sign in
Register for free to continue reading
Registration is a free and easy way to support our truly independent journalism
By registering, you will also enjoy limited access to Premium articles, exclusive newsletters, commenting, and virtual events with our leading journalists
Already have an account? sign in
Join our new commenting forum
Join thought-provoking conversations, follow other Independent readers and see their replies