Christmas in Gaza: A season without hope as fears grow that conflict with Israel will soon reignite
The services and celebrations of the tiny group of Christians in Gaza have been overshadowed by a deep sense of foreboding. Kim Sengupta, in Gaza City, on fears right across the community that a bad situation is about to get even worse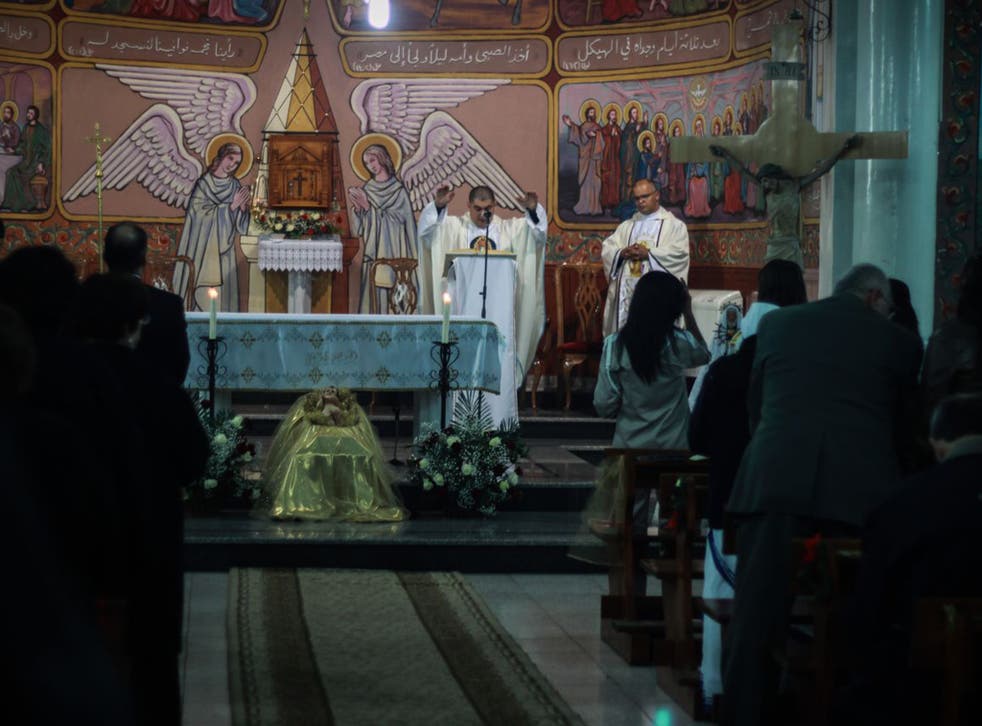 The sermons were about the sacrifice made by the Saviour, an affirmation of faith and belief in redemption, as befits a service on Christmas Day. But this is Gaza and there were also reminders of shared suffering and sorrow, the need for unity at a time of turbulence – a message reaching out to all fellow Palestinians.
Those gathered at St Thomas's Catholic Church had gone through a bloody and brutal war in the summer. They gave thanks for their survival through the dark times and, afterwards, they spoke about the hardship inflicted by living in a state of siege.
Ever present was the feeling that the conflict will reignite soon, an apprehension reinforced by border clashes on Christmas Eve involving warplanes and tanks, which left a Hamas fighter dead and an Israeli soldier injured. It followed another exchange at the weekend in which a rocket attack on Israel was followed by air strikes in Gaza, the first since the ceasefire of four months ago.
There are just over 2,200 Christians left in Gaza: the church was filled with around 700 people for the Christmas Eve service which was followed by a show at the church hall and excited games of bingo that went on until three in the morning. There were fewer people attending on Christmas morning.
In pictures: The children of Gaza

Show all 30
There was stringent security in place: Father George Hernandes, the resident priest at the church, said there had been "trouble" in the past, but refused to elaborate. There had been reports of a hand grenade being thrown into the courtyard of St Thomas's several months ago and, more recently, in an apparent attack on a Western target, an explosion at the French cultural centre, the second there in three months. But people were extremely wary of talking about these matters; sectarian strife added to this bitter and combustible scenario is too frightening a prospect to contemplate.
Members of the Greek Orthodox community, whose Christmas service will be held on 7 January according to the Gregorian calendar, were present in the congregation at St Thomas's. Their church, St Porphyrios in Zaytun, became a refuge for more than 2,000 people fleeing their homes during the worst period of the summer's fighting.
The task of accommodating the refugees was supposed to have been shared with a mosque, Katib Weleyat, next door. But most of those gathered refused to move there because a number of Muslim places of worship had been hit by air strikes. The Israeli military insisted that the targeting was because the buildings were being used by Hamas fighters. After missiles had reduced al-Farouq mosque, near the Nuseirat refugee camp, to rubble, leaving just the minaret standing, Israel produced aerial photos which showed, it claimed, that rockets were being stored there.
St Porphyrios was also hit by tank shells, blowing up water tanks, damaging a neighbouring house and damaging some tombs. Archbishop Alexios of Tiberias and Gaza, who I met at the time as he tried to bring order out of a chaotic spread of families in the church courtyard, presided over a Christmas lighting ceremony at St Porphyrios earlier in the week. "They were very dangerous days weren't they? I am just very glad that there weren't any casualties with all those people there," he said.
"The problem is that the situation continues to be very bad, for Christians and Muslims both, with the blockade by Israel. There has been hardly any reconstruction, there are no jobs, so people are desperate. But it is not just the war – people here have had to face this now for a long while now. It is times like these that the devil does his work."
Mufid al-Hassaina, the Minister for Public Works and Housing in the Palestinian Authority, who is based in Gaza, said: "I have sent Christmas greetings to the Christian community in my Facebook page. We cannot have religious divisions. The Islam most of us believe in is a tolerant and welcoming religion. Just personally, my wife was a Christian, although she later converted. But it is true, we have 65 per cent unemployment. When you have so many young men out of work, living effectively in a prison, extremists will take advantage."
Sheikh Ahmed Yousouf, a senior Hamas leader, too, insisted that there was no religious intolerance in Gaza: "We are People of the Book, we have lived side by side for hundreds of years. Mainstream Islam certainly does not approve of what those like Daesh [Isis] is doing in Syria. I will be sending the churches my Christmas greetings."
Not all in the Christian community agree about the supposed tolerance. Some have become more guarded about speaking about their religion so as not to "provoke" Muslim hardliners: Christmas celebrations this year have been markedly more muted.
Daoud, a businessman who did not want his family name made public, talked of increasing nervousness about what may lie ahead. "We hear of acts here and there, we hear Daesh are in Gaza. There are warnings, we avoid some places. Some hotels which had Christmas trees last year have not done so this year because they are worried. We wonder what will happen, when times are bad, people want scapegoats."
Many of the younger generation want to leave. Jessica Mattas, 17, is among them. She is one of five students out of 1,200 at high school who do not wear a hijab. "There is a group of Muslim girls who daily ask me to convert and say I should cover my head," she said. "I am careful not to get into a religious discussion with them. It is not intimidation, but it is pressure. I would love to live in a country where everyone just accepted each other's religion. That would be wonderful."
Register for free to continue reading
Registration is a free and easy way to support our truly independent journalism
By registering, you will also enjoy limited access to Premium articles, exclusive newsletters, commenting, and virtual events with our leading journalists
Already have an account? sign in
Register for free to continue reading
Registration is a free and easy way to support our truly independent journalism
By registering, you will also enjoy limited access to Premium articles, exclusive newsletters, commenting, and virtual events with our leading journalists
Already have an account? sign in
Join our new commenting forum
Join thought-provoking conversations, follow other Independent readers and see their replies