Jerusalem's Church of the Holy Sepulchre closes in protest at Israeli 'persecution'
'This reminds us all of laws of a similar nature which were enacted against the Jews during dark periods in Europe,' say Christian leaders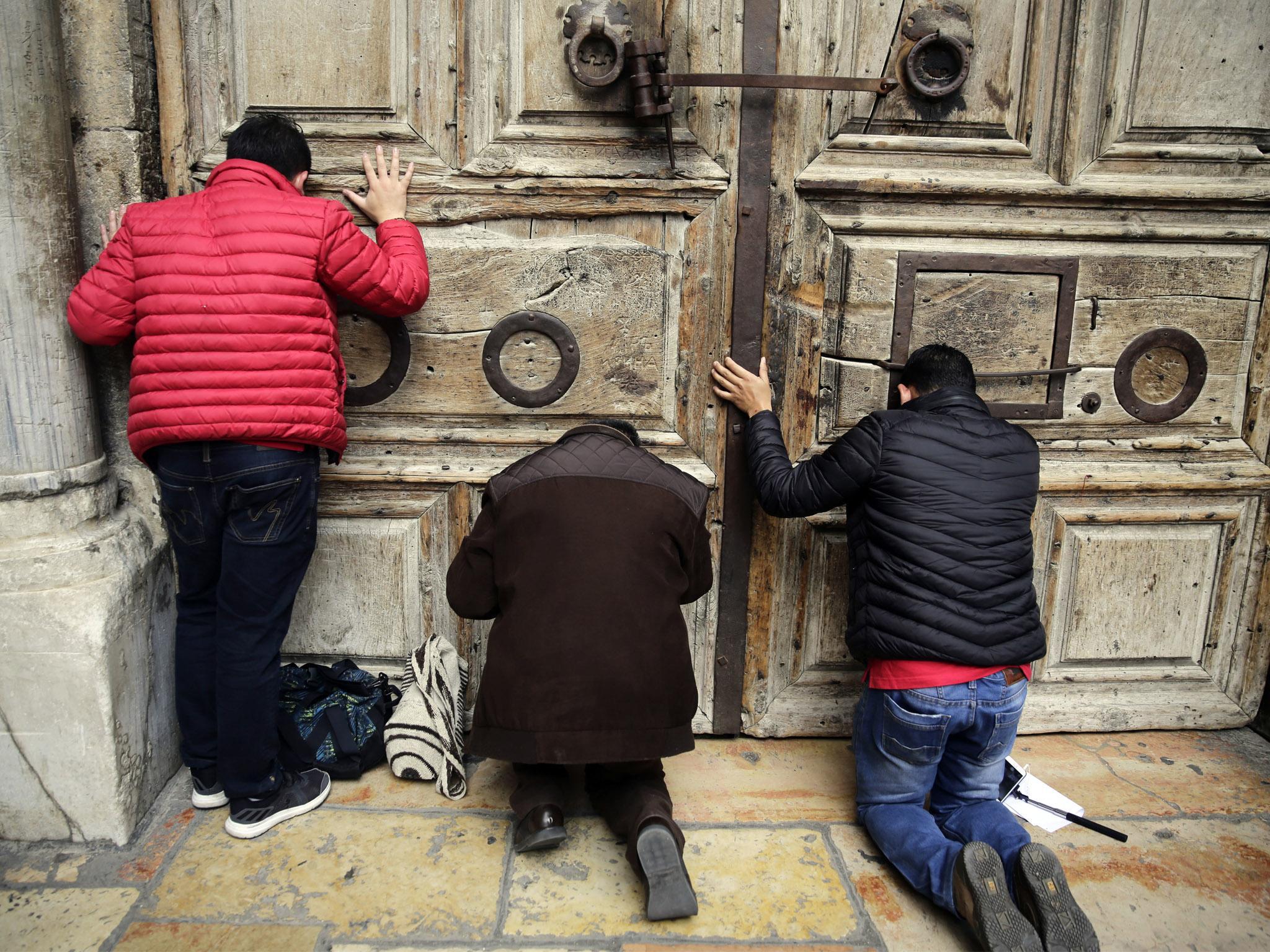 One of the holiest sites in Christianity has been shut down indefinitely in protest at new Israeli laws seemingly likened by religious leaders to Nazi persecution.
Tourists and worshippers were locked out of the Church of the Holy Sepulchre in Jerusalem "until further notice" from Sunday, over proposals to tax property and seize land sold to private buyers.
The Greek Orthodox patriarch joined forces with the Armenian patriarch and the Catholic custodian of the Holy Land to issue a statement attacking what they called "a systematic attack" and "an attempt to weaken the Christian presence in occupied Jerusalem."
Theophilos III, Nourhan Manougian and Francesco Patton said in a statement: "As a measure of protest, we decided to take this unprecedented step of closure of the Church of the Holy Sepulchre.
"This abhorrent bill... would make the expropriation of the lands of churches possible. This reminds us all of laws of a similar nature which were enacted against the Jews during dark periods in Europe."
Banners reading: "Enough is Enough – Stop the Persecution of Churches" were also unfurled near the church, built on the traditional sites of Jesus's crucifixion and resurrection.
The protest led an Israeli cabinet committee to delay for a week its consideration of the bill to allow expropriation of land sold by churches to real estate firms and foreign companies.
Rachel Azaria, the former deputy mayor of Jerusalem who sponsored the legislation, said the committee wanted to "work with the churches" to resolve the dispute.
Politicians said the bill will protect homeowners if private companies decide not to extend leases on the land – but the churches say it will make it harder to generate the sales that cover their costs.
The other dispute centres on attempts by the City of Jerusalem to force the churches to pay a debt of 650 million shekels in relation to a municipal tax on commercial buildings.
Jerusalem Mayor Nir Barkat refused to back down on the issue and tweeted: "We will no longer require Jerusalem's residents to subsidize this huge debt".
"Let me make it clear: we are not talking about houses of worship, who will still be exempt from property tax, according to law," he added.
The Jordanian government said it was in "full solidarity" with the Christian churches in Jerusalem and accused the Israelis of violating "international and humanitarian laws".
Join our commenting forum
Join thought-provoking conversations, follow other Independent readers and see their replies