Coronavirus: Fears of 'second wave' in Iran as deaths leap to two-month high
Tehran's ministry of health warns of 'incremental growth' of virus in rural areas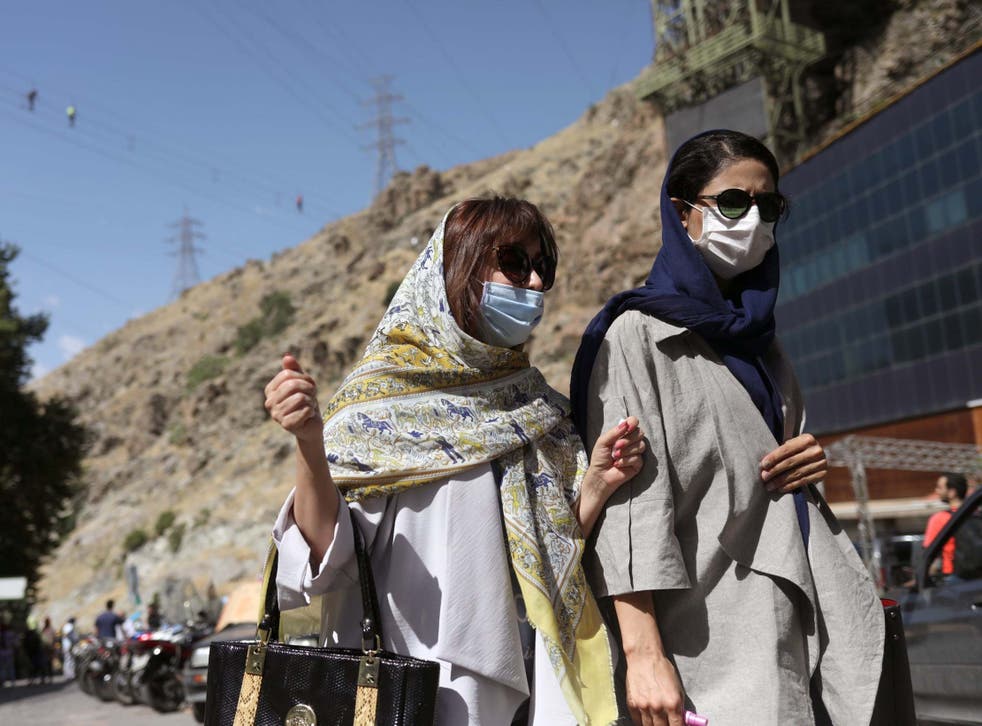 The daily number of deaths attributed to Covid-19 spiked above 100 in Iran for the first time in two months amid signs of a resurgence of the coronavirus following an easing of lockdown measures.
Over the last 24 hours, at least 107 people in Iran died with the disease, the highest number since 13 April, according to official statistics provided by the health ministry in Tehran.
Iran is the Middle Eastern country that has been worst affected by the pandemic, with a total death toll of 8,837.
After implementing lockdown and curfew measures to combat the outbreak, which flooded hospitals with sick patients and killed medical personnel and senior politicians, Iran brought down both the rate of deaths and reported new cases in May.
However, despite warnings from some public health officials of a second wave of cases, Iranian authorities chose to reopen public and commercial life.
How coronavirus lockdowns changed the world's most polluted cities

Show all 6
Iran's economy is under intense pressure because of United States sanctions that target almost any company or country that does business with Tehran, and the Iranian president, Hassan Rouhani, said he was eager to allow economic activity.
Officials have warned that the capital, which is the centre of Iran's commercial and cultural life, remains a high-risk area, and they have begun to criticise residents of the city of 8.7 million for ignoring social distancing guidelines.
The ministry of health has also warned of "incremental growth" of the coronavirus in rural provinces, and that a "second wave" of the disease may soon begin.
"The observance of health protocols has declined to 20 per cent from 80, which causes us concern," Mr Rouhani said in a speech on Saturday that was broadcast on television, urging the public to wear masks and regularly wash their hands.
Iran's handling of the coronavirus crisis has come under intense scrutiny, especially in the first weeks of the pandemic. Some international public experts, domestic critics and exiled activists have questioned the government's official numbers and decisions.
Controversial moves included holding parliamentary elections in February, declining to quarantine shrine cities, and allowing passenger flights to and from China, even after most countries had barred them.
On 9 June, Iran's health ministry replaced spokesperson Kianoush Jahanpour two months after he came under fire for a social media post in which he publicly questioned China's official coronavirus statistics as a "bitter joke".
Iran has reported more than 187,000 cases of coronavirus, with at least 2,000 new infections reported daily since 27 May as it continues to ramp up testing. Neighbouring Turkey, with a population of similar size and demographics to Iran, has reported more than 176,000 cases and 4,792 deaths.
In a speech on Sunday, Mr Rouhani addressed the task of balancing economic needs and public health.
"The honourable people of Iran know that while we are dealing with the economic effects of the coronavirus, our country is under the most severe and inhumane sanctions," he told government officials in a speech posted to his website.
"Although economic experts believe that the economic effects of the coronavirus are more permanent and more harmful than the coronavirus itself, the government has tried to prevent serious complications and damage to the people and to the country's economy."
Register for free to continue reading
Registration is a free and easy way to support our truly independent journalism
By registering, you will also enjoy limited access to Premium articles, exclusive newsletters, commenting, and virtual events with our leading journalists
Already have an account? sign in
Register for free to continue reading
Registration is a free and easy way to support our truly independent journalism
By registering, you will also enjoy limited access to Premium articles, exclusive newsletters, commenting, and virtual events with our leading journalists
Already have an account? sign in
Join our new commenting forum
Join thought-provoking conversations, follow other Independent readers and see their replies