Coronavirus: Israel bans all visitors entering country unless they can self-quarantine for two weeks
Israel 'seals off country' ordering all Israelis returning from abroad to self-quarantine for 14 days and banning all foreign visitors who cannot self-isolate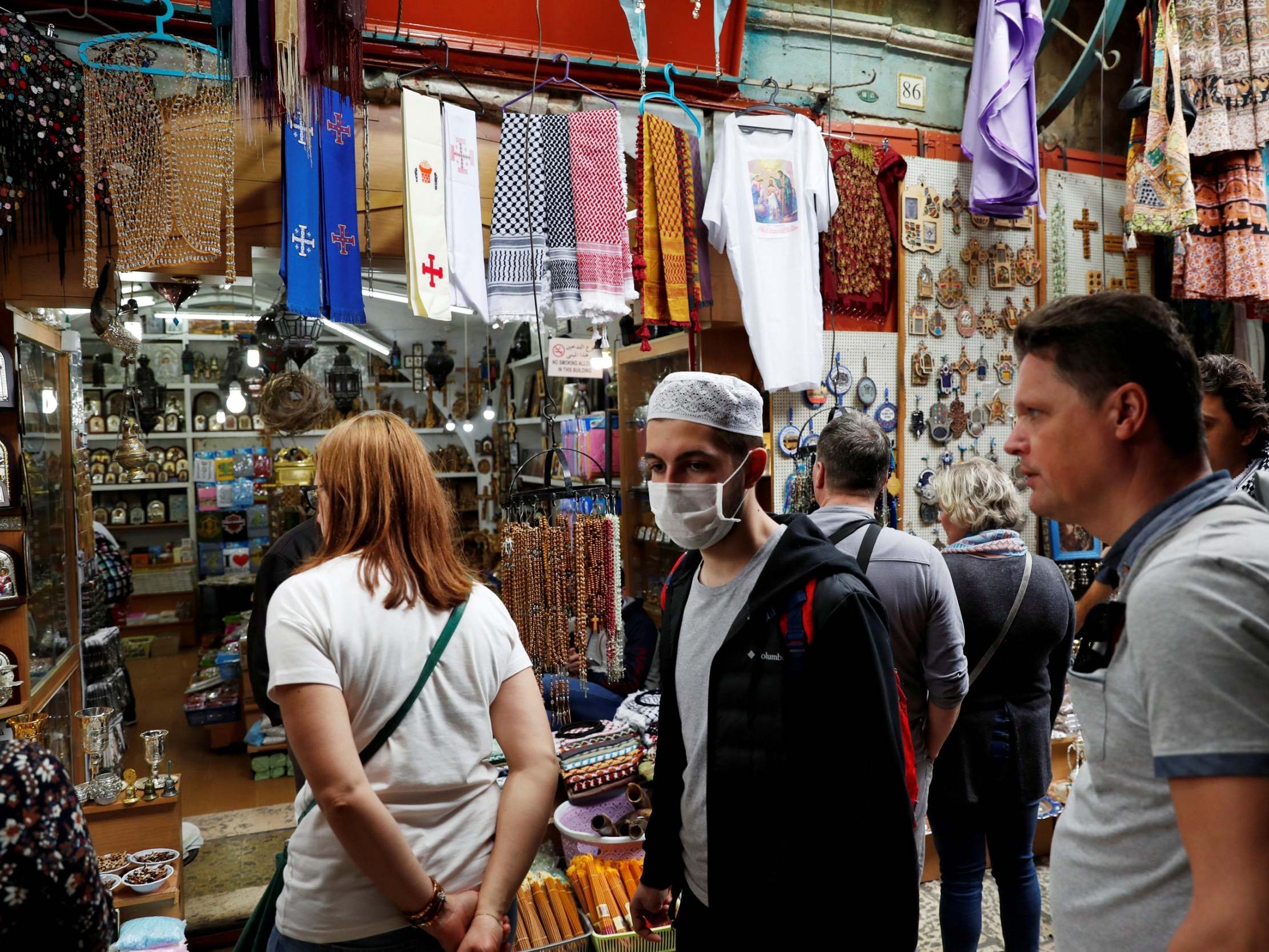 Israel will bar all visitors from entering Israel unless they can quarantine and order all returning Israelis into self-isolation to counter the spread of the coronavirus: an unprecedented move which effectively seals off the country.

The new measures come as the Palestinian authorities put the West Bank on lockdown amid a spike in cases there.
So far 39 people have been infected in Israel and 25 in the West Bank, according to the World Health Organisation (WHO), prompting both Israel and the Palestinian authorities to impose some of the world's most strict measures.
But both sides fear that the crumbling Palestinian health systems, in particular, will not be able to cope with an extended outbreak.​

On Monday Israeli prime minister Benjamin Netanyahu announced entry constraints had been extended to all countries and ordered all Israelis to self-quarantine for 14 days upon returning home.
Israeli media said that, as of Thursday, foreigners would be admitted to the country only if they can prove they have the means to quarantine as well.
"Anyone who arrives in Israel from abroad will enter a 14-day isolation," Mr Netanyahu said in a video statement, adding that the measure would be in effect for two weeks, initially.
"This is a difficult decision. But it is essential for safeguarding public health, and public health comes first."

Over 80,000 people in Israel are already believed to be in home quarantine, the new measures will impact 300,000 in total.
The Israeli military released a statement Monday saying that 1,237 of its soldiers, who had travelled abroad and returned to Israel, are also currently self-isolating.

The Palestinian authorities, meanwhile, have banned all foreign tourists to the West Bank for two weeks, and have completely sealed off Bethlehem for the foreseeable future, where 24 of the 25 cases are located.
Among those in quarantine in the Christian holy city were 13 American pilgrims, who tested negative and left for the US on Monday evening.
In the blockaded enclave of Gaza, where no case has been registered yet, health ministry officials told The Independent that just one person infected with the deadly virus would end in "complete disaster", as they lack 42 per cent of the essential drugs list, and have no way of isolating the ill or preventing spread of the disease.
WHO officials said that the Gaza authorities, with the help of donors, were building isolation and quarantine centres in preparation.
Neighbouring Jordan has also expressed concern about the transmission of the disease.

The United Nations' access coordination unit confirmed on Monday that Allenby Bridge crossing between Jordan and the West Bank is closed for everyone bar Palestinians and East Jerusalem ID holders, as well as some diplomatic and UN passport holders.
The Independent witnessed scenes of chaos at the border as tour groups, who regularly cross between Israel, the Palestinian territories and Jordan, were turned away amid the shifting regulations.
At Angel Hotel in Beit Jala, near Bethlehem, the epicentre of the West Bank outbreak, meanwhile those under quarantine told The Independent that residents of the city were "panicking".
"We have seen bigger governments with the most sophisticated health systems in the world crumble, how will we cope?" asked Antwan Sacha, 35, who is volunteering to help look after those in quarantine in Hotel Angel where seven staff members tested positive for coronavirus alongside the 13 American pilgrims.
The infected caught the virus from a visiting Greek tour group who returned home and tested positive.
The tour group's bus driver, a resident of East Jerusalem, is in critical condition at an Israeli hospital after being diagnosed with covid-19.
Airports empty as Coronavirus affects aviation industry
Show all 11
"People are really scared, there is panic, particularly when you look at the reality of how we can deal with this," Mr Sacha added.
He said that those quarantined have received help via Skype from doctors abroad and have completely scrubbed down the entire hotel, isolating those who tested positive on their own floor.
Doctors in full protection gear have so far visited three times, but there is no clear answer to how long the infected will have to stay there.
"It caught the authorities completely off guard, they didn't know they would have to deal with the virus right here in Bethlehem, a popular tourist destination," he added.
The WHO told The Independent that the Palestinian authorities are trying their hardest to contain the outbreak, in particular trying to prevent any cases in Gaza which would be disastrous.
"There are chronic problems of shortage of pharmaceuticals and supplies in Gaza, the health system will be overwhelmed," said Dr Gerald Rockenschaub head of the WHO's Palestinian office.
"We are working with the donor community to address that at the moment.
"For the time being there are isolation and quarantine facilities being built, " he added.
For the rest of Israel and the Palestinian Territories, he said so far "the situation is under control, but work is undergoing to keep it that way".
"We hope that it is going to be containable and everything is done to make that happen," he added.
The Gaza health ministry meanwhile said they would not be able to cope if the coronavirus were to infect the blockaded strip, which is just 25 miles long but home to some two million people.
"42 per cent of the essential drug list is missing, Gaza is one of the most densely populated places on earth, our health system is on its knees already. If we have just one case it will be transmitted rapidly," Dr Yousef Abu El-Reesh, a health ministry official told The Independent.
"We have tried to get people to self-isolate who have returned from Egypt or Israel, but we cannot enforce it," he added.
"If we get a case here, we have no isolation units, we will not be able to separate those infected with coronavirus from cancer patients or anyone else with suppressed immune systems. Many will die."
Join our commenting forum
Join thought-provoking conversations, follow other Independent readers and see their replies