David Amos: Gun-wielding gang of Israeli settlers attack British volunteer in West Bank
'A man stood no more than four feet from me and threw this rock which hit me on the back of the head', Mr Amos told The Independent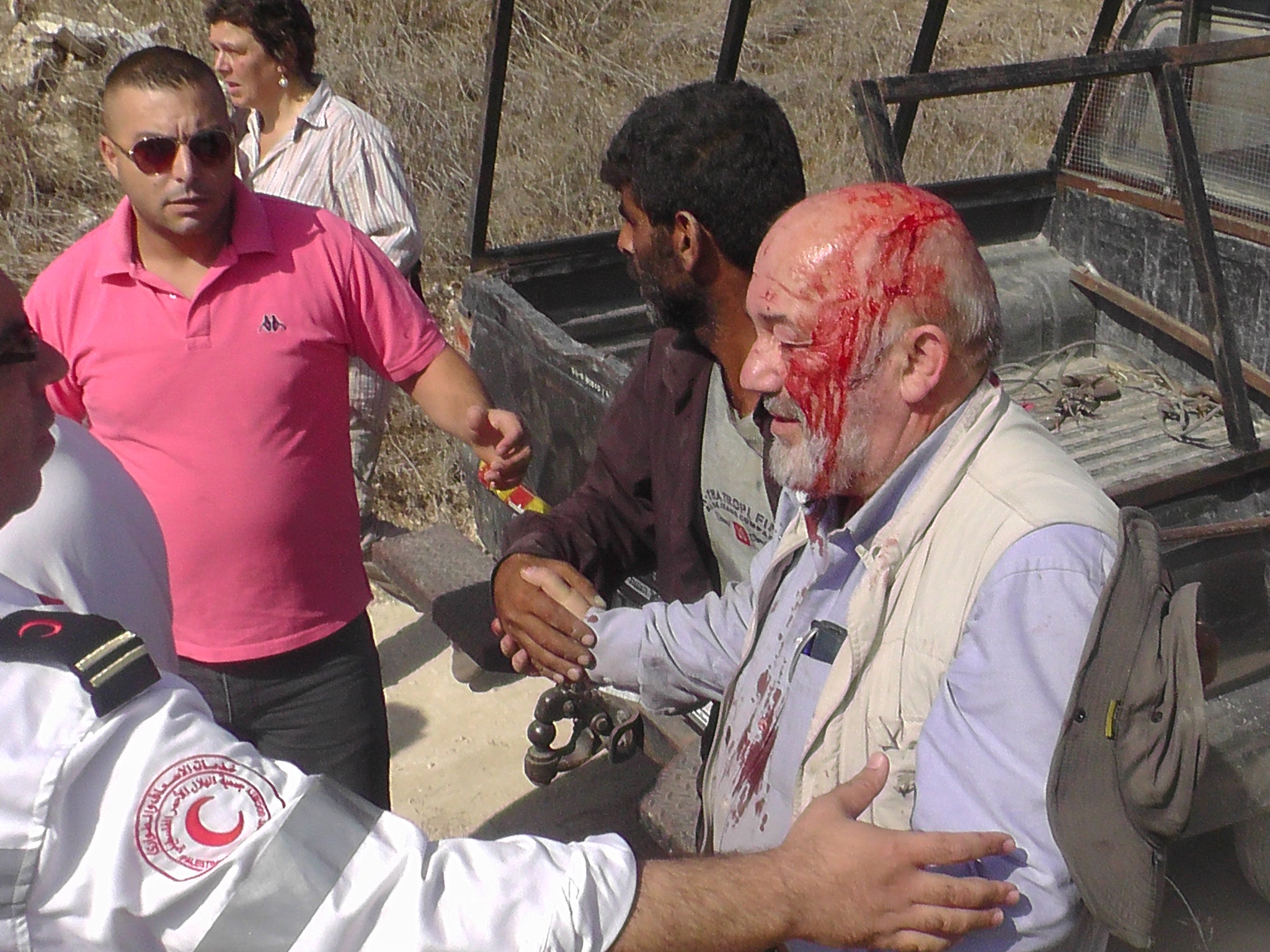 A 66-year-old British man volunteering in the West Bank received emergency treatment after being attacked by a gang of gun-wielding Israeli settlers hurling rocks at him.
David Amos, a retired publishing company worker, was struck in the head by a rock as he tried to protect Palestinian farmers during the olive harvest.
He was evacuated from the area by ambulance and taken to a hospital in Nablus, where he received five stitches.
He told The Independent the group of settlers came down a hill from the direction of the Yizhar settlement towards Palestinian farmland near the village of Burin where he and two other British women. ''There were eight or nine of the settlers, all masked and they were carrying large rocks.''
Mr Amos said that the settlers fired gunshots as they approached, causing him to sit on the ground and yell to his colleagues to take cover. ''They were shouting at us 'go' in English and also shouting in Hebrew. A man stood no more than four feet from me and threw this rock which hit me on the back of the head. I was sitting upright and I fell over on my side and then he and two others kicked me. The women were shouting 'we are British' so they knew we were British before the rock was thrown.''
Watch the video below filmed after the incident, showing the settlers attacking the car belonging to a Palestinian farmer
Burin Stone Throwers Attack
Mr Amos said the settlers also set fire to undergrowth. ''There was already a fire burning by the time they threw the stone at me. They set fire to more trees and undergrowth as we made our way away from the olive grove. They pursued us but they didn't come and attack us again.'' A Palestinian farmer was also wounded by stone throwing in the same incident, Mr Amos said.
Mr Amos said he would file a complaint with Israeli police even though such complaints very rarely lead to indictments. Mr Amos, a Quaker, came to the West Bank with the British group, the Olive Harvest Trust, which he says is an organisation committed to nonviolence and to protecting Palestinian olive farmers.
Palestinian eye-witnesses claimed that the group of farmers was attacked and had stones thrown at them.
According to a police statement, the Israelis claimed that the altercation began after stones were thrown at a car belonging to an Israeli woman.
Ziv Stahl, Research Department Director, Yesh Din said: "We are in the midst of the olive harvest season, and Burin is a known friction area, where Yesh Din has documented numerous violent incidents against Palestinian farmers. During this period of high tension, we would expect that the Israeli security forces would be present on the ground in order to prevent any escalation of violence and to protect the local population, as they are obliged by law.
According to Israeli police, four Israeli citizens were arrested for disturbing the peace after an altercation between them and Palestinian farmers who were harvesting olives in Burin.
13 October was the worst day of violence in Israel and the Occupied Palestinian Territories since tensions erupted last month.
Three Israelis and three Palestinians, including two attackers, were killed and many more were injured in stabbings, shootings, rock-throwing and clashes with security forces.
Hundreds of soldiers are being deployed in Jerusalem and across Israel as tensions continue to increase.
Eight Israelis have died in a string of stabbings, shootings and the stoning of a car, while 29 Palestinians - including 12 identified by Israel as attackers - have been killed in the last two weeks.
Join our commenting forum
Join thought-provoking conversations, follow other Independent readers and see their replies