Death of al-Qaeda leader Nasser al-Wuhayshi in US drone strike in Yemen a 'major blow' to Aqap, says White House
The group's former military chief, Qasim al-Raymi, has been named as Wuhayshi's successor
Alistair Dawber
Tuesday 16 June 2015 18:16 Comments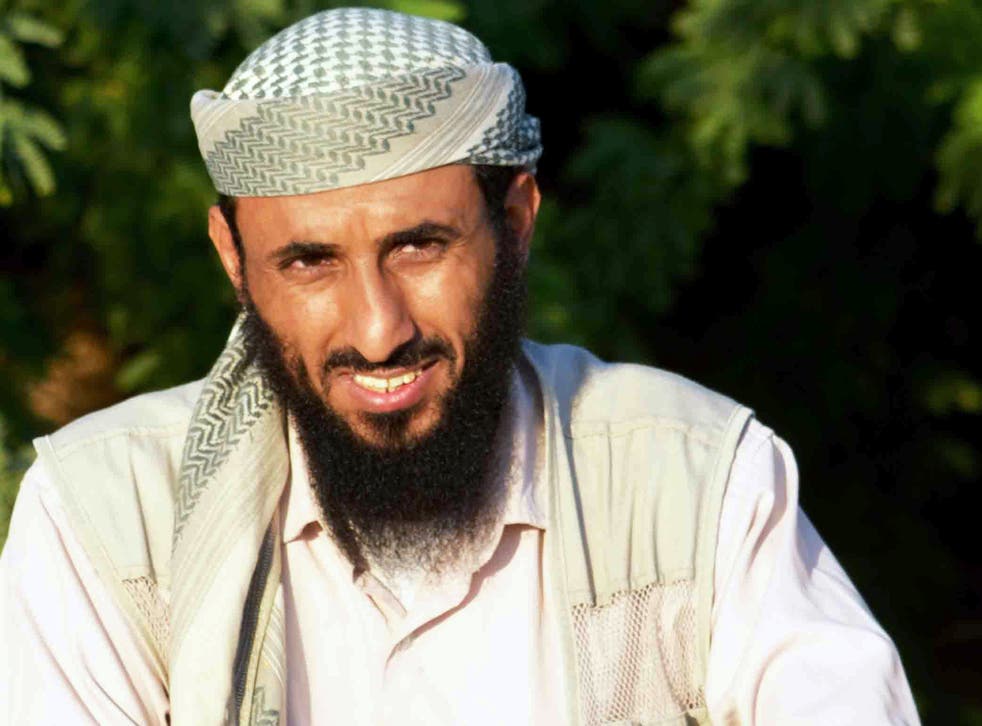 One of al-Qaeda's leading figures, Nasser al-Wuhayshi, has been killed in a US air strike in Yemen.
Wuhayshi was the group's overall number two and head of its affiliate in Yemen, known as Al-Qaeda in the Arabia Peninsula (Aqap). His death was confirmed in an Aqap video in which another senior operative, Khaled Batarfi, said that Wuhayshi, a Yemeni citizen, "passed away in an American strike which targeted him along with two of his mujahideen brothers, may God rest their souls". Confirming the death, the White House said his killing was a "major blow" to Aqap.
The strike apparently took place on Thursday or Friday last week. Various news agencies reported that US intelligence officials had not denied that an American drone had carried out the attack. "If confirmed, the death of Aqap's leader is a major blow to Islamist terrorists who are plotting daily to attack America," said Michael McCaul, a Republican who chairs the House of Representatives' homeland security committee.
Wuhayshi, who was once on Osama bin Laden's personal staff, was one of al-Qaeda's longest serving leaders. He escaped from a Yemeni prison in 2006, before becoming leader of Aqap in 2009. Two years ago, al-Qaeda's leader, the Egyptian, Ayman al-Zawahiri, named Wuhayshi as his deputy and heir apparent. Aqap's former military chief, Qasim al-Raymi, has been named as Wuhayshi's successor in Yemen.
With al-Qaeda's influence waning since the death of Bin Laden in 2011, and the emergence of more radical Islamist groups such as Isis, Aqap has become of its most effective units. In January, brothers Saïd Kouachi and Chérif Kouachi, who attacked the offices of the French satirical newspaper Charlie Hebdo, claimed to be members of Aqap.
In videos published online, Wuhayshi intimated that his ambitions for Aqap stretched beyond Yemen. "We must eliminate the cross... The bearer of the cross is America," he declared in one tape posted in April last year.
Washington had placed a $10m bounty on Wuhayshi's head, and he becomes the latest in a line of operatives to be killed. Mokhtar Belmokhtar, a Libyan militant, was apparently killed in an air-strike earlier this week, while Saeed al-Shehri, another leading figure in Aqap, died in a drone strike in 2013.
The death of Wuhayshi comes at a critical moment for Aqap. Yemen is in the midst of a civil war between the Sunni Muslim government, backed by Saudi Arabia, and the Houthis, a rebel Shia group supported by Iran. Aqap has sought to capitalise on the instability and in recent months has seized vast amounts of territory in the large Hadramaut province, including parts of the regional capital, Al Mukalla. The war escalated in March when a Sunni coalition, led by the Saudis, began air strikes on Houthi targets in Yemen.
Peace talks have begun in Geneva after the arrival of the Houthi delegation. There has been little willingness to end the violence, which has led to acute shortages of food and medicine in large parts of Yemen. UN spokesman Ahmad Fawzi said the start of Ramadan on Wednesday could affect the length of the talks.
"It is a golden opportunity to try to resolve this crisis," he said. "Whether they will agree to extend their stay beyond the beginning of Ramadan is anybody's guess."
Register for free to continue reading
Registration is a free and easy way to support our truly independent journalism
By registering, you will also enjoy limited access to Premium articles, exclusive newsletters, commenting, and virtual events with our leading journalists
Already have an account? sign in
Join our new commenting forum
Join thought-provoking conversations, follow other Independent readers and see their replies