How Donald Trump's travel ban has hit Iran's tourism renaissance
Trump's repeated threat to withdraw the US from the nuclear agreement, achieved through years of painstaking negotiations, is creating concern that Iran will be pushed back towards isolation
Kim Sengupta
Isfahan, Iran
Tuesday 15 August 2017 17:32 Comments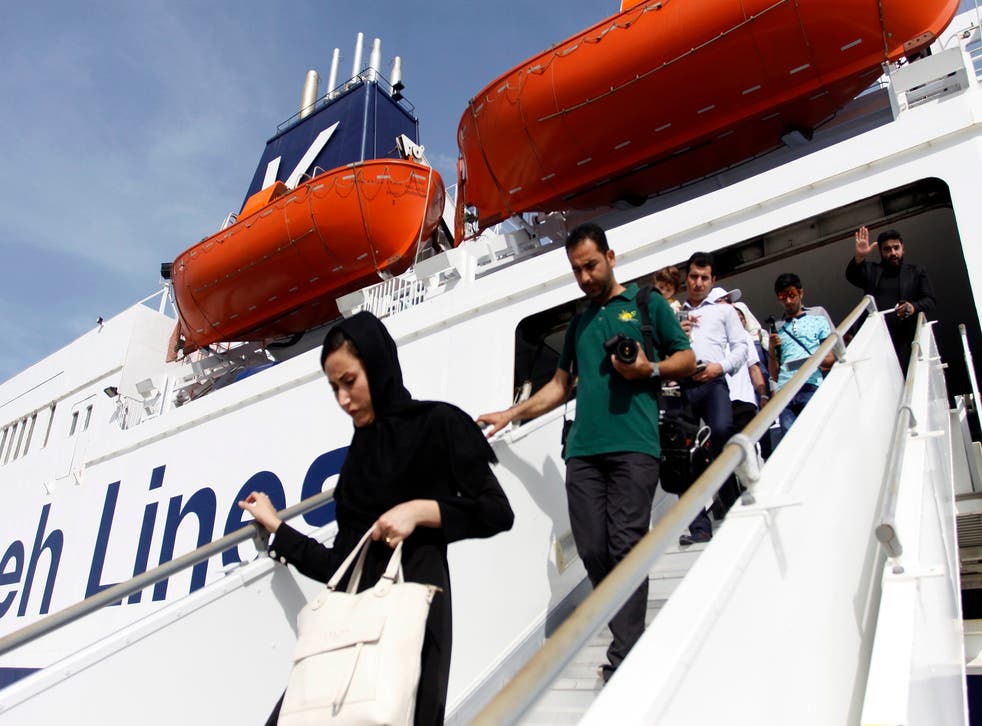 "It is very unfortunate that America has a President who is creating so much division," said Rafi, shaking his head. "I wish we could just ignore Donald Trump, but he is causing problems which are affecting all of us, causing so much distress."
Like many others he is unsure about the punitive reach of the US President's immigration restrictions on travellers from a list of Muslim states which includes Iran. He emigrated with his parents to Germany when young but returned regularly to the land of his birth to keep in touch with relations.
​Rafi's current trip was to see an ill uncle in Tehran as well as pay a visit to friends from his Armenian background in Isfahan. But he was worried whether he would be allowed to travel to America where other family members have settled.
He has been advised by his lawyer that he should be able to get a US visa with his German passport: others have also told him that as a Christian, rather than a Muslim, he is likely to face fewer difficulties with US immigration.
But the 48-year-old engineer is still apprehensive enough not to want his surname published, in case the views he expressed made him a target for officials at American airports. "Maybe I am being too nervous, but that is what the situation is like now, people are made to feel nervous," he stresses. "Maybe it will be easier for me as a Christian, but we should not be thinking in these terms of division. Just look at this place, look at so many different people from different backgrounds who are here to appreciate all this."
​Rafi is at the Cathedral of the Holy Saviour in Isfahan, built in 1606, at a time when the Armenian refugees from war against the Ottomans were given dispensation to settle in the city by Iran's ruler, Shah Abbas I. Vank, as it is colloquially known after the Armenian word for monastery, is one of the most popular destinations for foreign travellers in Iran who come to view its magnificent dome and frescos, a fusion of Eastern and Western architecture.
Arlet, one of the volunteer helpers at the Cathedral, has seen a rise in numbers of tourists from Europe – France, Italy, Germany, Holland and also, at a smaller scale, from the UK. At the same time, however, the numbers from the US have dropped off, starting from around the time of Mr Trump's election victory.
There is anxiety about whether the new law will affect the steady stream of emigration of Armenians which has been taking place to the US from Iran. Many of Arlet's family and friends from New Juffa, the community's quarter in Isfahan, have made the journey to join fellow expatriates in California and the Mid-West. She does not know, she says, of the possible impact of the new laws.
Tourism to Iran has increased significantly in volume since the country started opening up to the outside world, in particular since the relative relaxation in the political climate following the signing of the nuclear deal with international powers and the coming of a reformist government in Tehran led by President Hassan Rouhani.
For visitors the lure is the culture and history of a sophisticated civilisation, with no fewer than 19 Unesco heritage sites, which had been inaccessible for decades when Iran was shunned as a pariah state. Now the country is also viewed as safe in comparison with other states offering similar attractions in the region – Syria, Egypt, Turkey, Tunisia, Libya – places which have become no-go areas due to the varying degrees of threats from terrorism or civil war.
More than 5.5 million foreign tourists visited Iran in 2016. About half the number were Shia pilgrims from the Middle East, others came from the Americas, Europe and South and East Asia. The benefit to the economy is estimated at $8bn. The Iranian government says it aims to host 20 million tourists by 2025, raising revenues to $30bn and creating around 650,000 jobs.
But there is uncertainty whether the high expectation will be fulfilled. Mr Trump's repeated threat to withdraw the US from the nuclear agreement, achieved through years of painstaking negotiations, is creating concern that Iran will be pushed back towards isolation. There was a terrorist attack in Tehran in June – a rare occurrence in the country – killing 12 people. Isis claimed "credit" for the killings: Iran has pointed the finger of blame at its Sunni sectarian rival, Saudi Arabia.
European visitors in Isfahan do not seem to have any great concern. "Not only is this a beautiful country, but I feel pretty safe here," says 27-year-old Matilde Lejeune, from France. "We have had many terrorist attacks in Paris where I live, also in Nice, it is now something we have begun to expect. I do not feel that tension here and also, personally, my friends and I have not been hassled at all in any way."
Francesca and Roberto Marchesi, from Milan, are on a tour of five Iranian cities. Francesca has been "surprised how relaxed and easy everything has been, we have wanted to come to Iran for a long time and didn't really know what to expect. The Iranian people really seem so glad to see foreign visitors, I am very glad we came." The couple had, however, checked about future travel to America before their visit. "It means we will have to go for an interview at the embassy and get a visa, it will cost more, but we just have to accept that," saya Roberto. "We cannot let Trump dictate where we go on holiday."
World news in pictures

Show all 50
The Marchesis have made their own travel arrangements, working out that it costs less to pay for the visa on arrival at Tehran and have been travelling between the destinations by bus. "We just go along to the bus station and book our seats. We hire local guides for places when necessary, we have had no pressure to take official ones, and it's all reasonably priced," says Roberto, at the palace of Chehel Sotoun, where Safabid Shahs used to entertain foreign dignitaries including ambassadors from Europe.
British and American nationals have to be part of organised tours: suspicion of the "Great Satan" and "Little Satan" still runs deep among hardliners in Iran's hierarchy. Tourism is just one of a range of policies in which President Hassan Rouhani and his reformist government have to tread carefully.
At the end of the day, tourism cannot be separated from politics here. Visitors from the Gulf States had begun to come to Iran with the easing of relations between Tehran and its Sunni neighbours after the end of Mahmoud Ahmadinejad's presidency. But the current confrontation between Qatar and Saudi-led Gulf states put an end to that.
One of the main reasons for the blockade of Qatar by the Saudis and their client states was Doha's amicable relations with Tehran. Now the Saudis, Emiratis and Bahrainis are no longer to be found here.
For Hakim Ghasemi, the owner of an artefact emporium, it is a matter of seeking the positives from a crisis. "We still get some Kuwaitis, some from Oman and some Qataris," he says. "I had a Qatari customer last week, I told him about how we are losing out because of the Saudis no longer coming and then I assured him we were doing the right thing standing by his country. He was very happy, he spent good money, he said others will come from Qatar. We're getting people from other places, from Europe, I am optimistic about the future, we cannot go back to the past."
Register for free to continue reading
Registration is a free and easy way to support our truly independent journalism
By registering, you will also enjoy limited access to Premium articles, exclusive newsletters, commenting, and virtual events with our leading journalists
Already have an account? sign in
Join our new commenting forum
Join thought-provoking conversations, follow other Independent readers and see their replies