Donald Trump and Saudi King Salman agree safe zone plans in Syria and Yemen
Leaders discussed future humanitarian provisions in the bloody Syrian and Yemeni civil wars as well as increasing Saudi contributions to the fight against Isis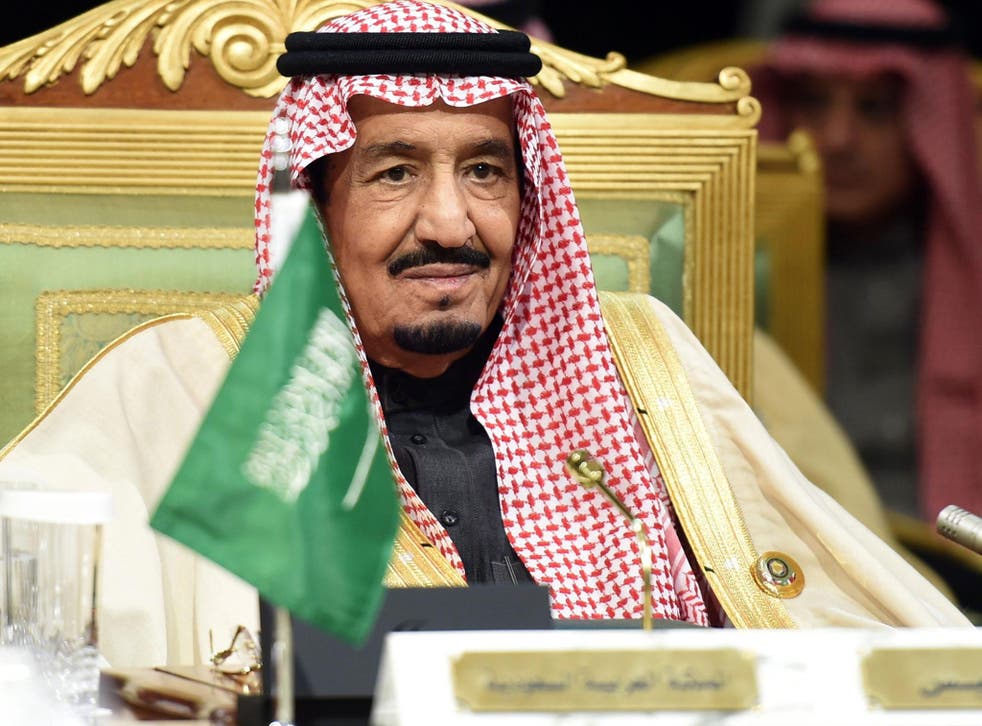 US President Donald Trump and Saudi Arabia's King Salman have come to conclusions on future strategies in the wars in both Syria and Yemen as well as how to deal with Iran, the White House has said.
King Salman spoke with the new US president in a phone call on Sunday in which he agreed that Mr Trump's proposed safe zone plan for Syria was the best way forward in the six-year-long conflict.
The countries were agreed on the need to address "Iran's destabilising regional activities," the White House said.
A Saudi write up of the call said that both countries "share views about Iranian policies in the region", or what Riyadh believes are attempts from arch-enemy Iran to step up its involvement in Arab affairs.
The two also agreed in the hour-long conversation that fighting Isis must be a priority for both countries, and needed closer counter-terrorism and military co-operation. Neither source mentioned whether Mr Trump's travel ban for citizens of seven Muslim countries was discussed.
Donald Trump ordered the Pentagon and Department of Defence to come up with a plan in the next three months on how to set up safe zones in Syria last week.
President Trump's predecessor Barack Obama resisted Republican calls to set up safe zones on the grounds that such a move – which could involve ground troops and extra US aircraft if a "no fly zone" is created – would draw the country deeper into Syria's complex civil war.
An increased US military presence in the country could also cause clashes with Russian forces, which operate in the country at the request of ally Syrian President Bashar al-Assad.
Activists protest Donald Trump's proposed Muslim ban

Show all 11
Speaking to reporters last week, a Kremlin spokesperson urged caution on the part of the US, adding that Russia had not yet been consulted on any safe zone plans.
On Monday, Syria's state news agency said that any attempt to establish safe zones in the country without coordination with Damascus would be a violation of Syria's sovereignty.
On the campaign trail last year, Mr Trump had said that he would get the Gulf states to pay to establish safe zones in Syria for refugees, as "they have money like hardly anyone else has."
King Salman also gave his support to the creation of safe zones in Yemen, where a Saudi-led Arab coalition is currently bombing Houthi rebels at the request of the exiled Yemeni government.
Yemen's prime minister accuses UK of war crimes
The almost two-year-old campaign has been criticised for causing heavy civilian casualties.
The Saudi Press Agency, in its readout of the call, made no specific mention of safe zones. It said the two leaders had affirmed the "depth and durability of the strategic relationship" between the two countries.
Also on Sunday, the US carried out its first military operation authorised by Mr Trump in central Yemen.
The US commando raid on an al-Qaeda site killed one US soldier and injured three others. The US said that 14 militants were killed, but did not confirm reports from medics on the ground that 30 people, including 10 women and children, had died.
Reuters contributed to this report
Register for free to continue reading
Registration is a free and easy way to support our truly independent journalism
By registering, you will also enjoy limited access to Premium articles, exclusive newsletters, commenting, and virtual events with our leading journalists
Already have an account? sign in
Register for free to continue reading
Registration is a free and easy way to support our truly independent journalism
By registering, you will also enjoy limited access to Premium articles, exclusive newsletters, commenting, and virtual events with our leading journalists
Already have an account? sign in
Join our new commenting forum
Join thought-provoking conversations, follow other Independent readers and see their replies