Three-quarters of 'unintentional' civilian deaths in Iraq and Syria have occurred during the Trump presidency
Just ahead of Mr Trump's inauguration, the US military reported 188 civilian deaths. Now it is up to 831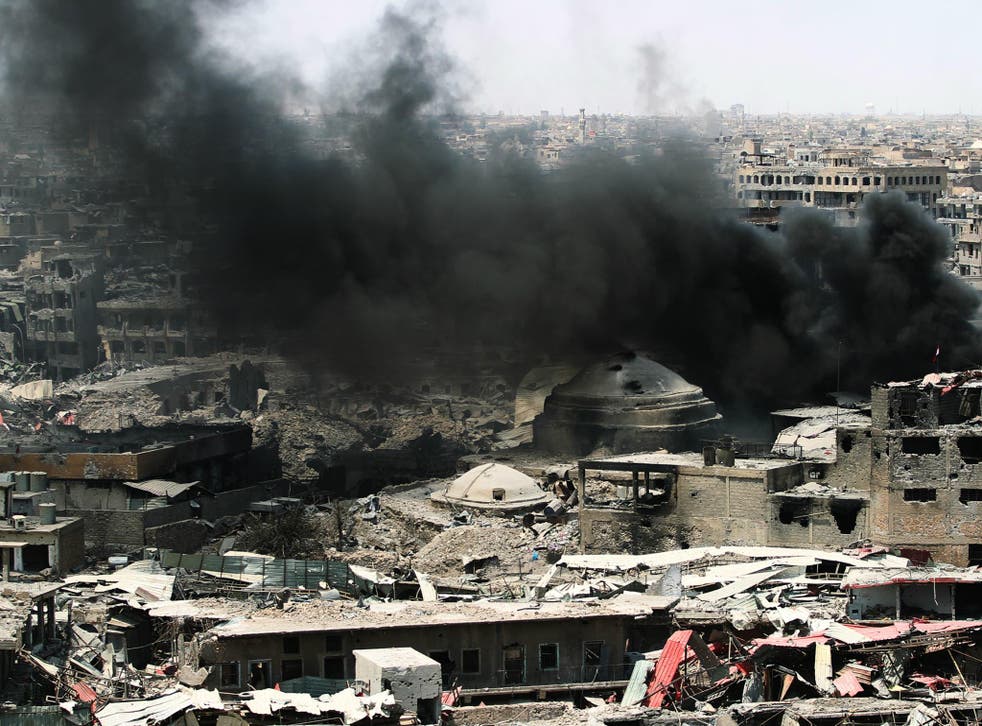 More than three-quarters of the civilians killed during the four-year war against Isis in Iraq and Syria occurred during Donald Trump's presidency, new figures show.
A total of 831 civilians have been "unintentionally killed" over the period, according to the US military's own figures.
Data released by the Combined Joint Task Force for Operation Inherent Resolve (CJTF-OIR) on 2 January 2017, just a few weeks before Mr Trump took office, said "it is more likely than not, at least 188 civilians have been unintentionally killed by Coalition strikes since the start" of the operation in 2014.
But that has increased significantly over the last 12 months since Mr Trump took office.
"Although the coalition takes extraordinary efforts to strike military targets in a manner that minimises the risk of civilian casualties, in some incidents casualties are unavoidable," the task force wrote in the last report.
However, there is still an imprecise count of civilian deaths in the conflict.
The coalition has been criticised by several experts for under-counting the number of civilian deaths. It did not start issuing monthly civilian casualty numbers until March 2017.
Airwars, a journalist-led watchdog of the coalition, has said the number is closer to 6,047 civilians who have been killed since the start in 2014.
The group also said the number of airstrikes by the coalition, made up almost entirely of US planes, had increased by nearly 50 per cent in Iraq and Syria in 2017 compared with the previous year. Civilian deaths rose by 215 per cent, The Guardian reported.
Explosions as Turkey confirms airstrikes on Afrin, Syria
According to a New York Times report about civilian casualties in November, "in the effort to expel Isis from Iraq and Syria, the coalition has conducted more than 27,500 strikes to date, deploying everything from Vietnam-era B-52 bombers to modern Predator drones".
Major Shane Huff, a spokesman for the US Central Command, told the newspaper that it is "one of the most precise air campaigns in military history".
The coalition command did not immediately respond to a request for comment on what metrics were used to determine "credible" reports versus those that were deemed "non-credible".
In Pictures: The crisis unfolding in Syria

Show all 30
Some experts have noted that part of the issue may be Mr Trump's lack of involvement in military operations compared to his predecessor.
In mid-April 2017, Mr Trump declared he was giving US military generals "total authorisation" to make complex decisions on the ground in conflict zones, which alarmed some national security experts who felt the lack of a civilian check on military operations would harm civilians caught in the conflict.
"We have the greatest military in the world and they've done a job as usual. We have given them total authorization and that's what they're doing and, frankly, that's why they've been so successful lately," Mr Trump said.
It was a move away from the policies of the previous Obama administration, who had been deeply involved in strategic decisions.
Democratic Senator Jack Reed told Roll Call: "By definition, he's commander in chief so I would think that that's not the way I would phrase delegation of authority to subordinates if I were commander in chief...It's difficult to understand his involvement. Whether he wants to be briefed before [an operation] or briefed after or briefed at all, I don't know."
Defence Secretary James Mattis said at the time on CBS' Face the Nation programme: "I would point out here that we have not changed the rules of engagement. There is no relaxation of our attention to protect the innocent. We do everything we can to protect the civilians, and actually lowering-- delegating the authority to the lower level allows us to do this better."
Register for free to continue reading
Registration is a free and easy way to support our truly independent journalism
By registering, you will also enjoy limited access to Premium articles, exclusive newsletters, commenting, and virtual events with our leading journalists
Already have an account? sign in
Register for free to continue reading
Registration is a free and easy way to support our truly independent journalism
By registering, you will also enjoy limited access to Premium articles, exclusive newsletters, commenting, and virtual events with our leading journalists
Already have an account? sign in
Join our new commenting forum
Join thought-provoking conversations, follow other Independent readers and see their replies