Dubai airport fire: Tributes paid to firefighter who died saving passengers and crew
Jasim Issa Mohammed Hassan gave 'ultimate sacrifice' in boarding burning plane, says agency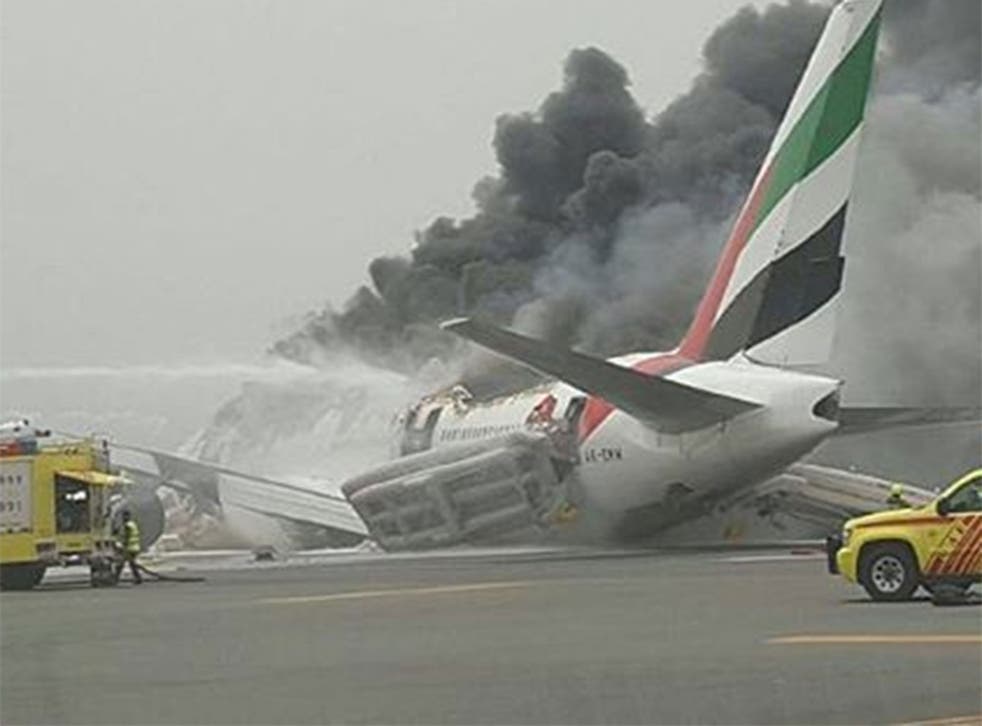 Tributes have been paid to the "ultimate sacrifice" of a firefighter who died rescuing 300 passengers and cabin crew, when a plane crashed and burst into flames at Dubai International Airport.
Officer Jasim Issa Mohammed Hassan boarded the wreckage of Emirates Flight EK521 when it exploded shortly after arriving from Thiruvananthapuram in India, and ensured everyone on board was able to escape the aircraft without significant injury.
Mr Hassan was however unable to avoid the flames, and later died in hospital from severe burns and asphyxiation.
There were alleged problems with the plane's landing gear, forcing the pilot to attempt a second landing at the last minute, which unfortunately was quickly aborted.
The majority of the 282 passengers on board were Indian nationals, as well as 24 British travellers, while the 18 crew members on board were also able to exit unharmed as flames and smoke issued from the engines of the Boeing 777.
In a statement, UAE's General Civil Aviation Authority (GCAA) praised the efforts of Mr Hassan in rescuing those trapped on board.
The GCAA spokesperson said: "We are grateful to God for his mercy and confirm that there were no fatalities among the passengers and crew on board.
"We are however, very sad to announce that one of the firefighters lost his life while saving the lives of the others.
Firefighter dies after Emirates plane crash-lands in Dubai
"On behalf of the General Civil Aviation Authority, I would like to offer my heartfelt condolences to the family of deceased. I salute his ultimate sacrifice that kept many from harm's way.
"Our thoughts and prayers are with his family."
Later, Dubai emir Sheikh Mohammed bin Rashid Al Maktoum tweeted residents were "proud of our youth and their sacrifices while performing their duties in protecting lives and saving people".
In pictures: Emirates plane crash-lands in Dubai

Show all 7
The Emirati pilot and Australian co-pilot, who was named as Jeremy Webb, have more than 7,000 flying hours between them according to the airline.
Emirates, which began operating globally in 1985, has never yet had a fatal accident involving one of its aircraft.
An investigation is now underway to examine the cause of the accident and to see what measures can be taken to avoid such an incident occurring again.
Dubai airport is the biggest air hub in the world in terms of passenger traffic, handling some 78 million passengers last year.
Register for free to continue reading
Registration is a free and easy way to support our truly independent journalism
By registering, you will also enjoy limited access to Premium articles, exclusive newsletters, commenting, and virtual events with our leading journalists
Already have an account? sign in
Register for free to continue reading
Registration is a free and easy way to support our truly independent journalism
By registering, you will also enjoy limited access to Premium articles, exclusive newsletters, commenting, and virtual events with our leading journalists
Already have an account? sign in
Join our new commenting forum
Join thought-provoking conversations, follow other Independent readers and see their replies