Dubai sandstorm: Flights cancelled at world's busiest airport ahead of Easter weekend travel
Dramatic images showed the major storm engulfing a number of Middle Eastern cities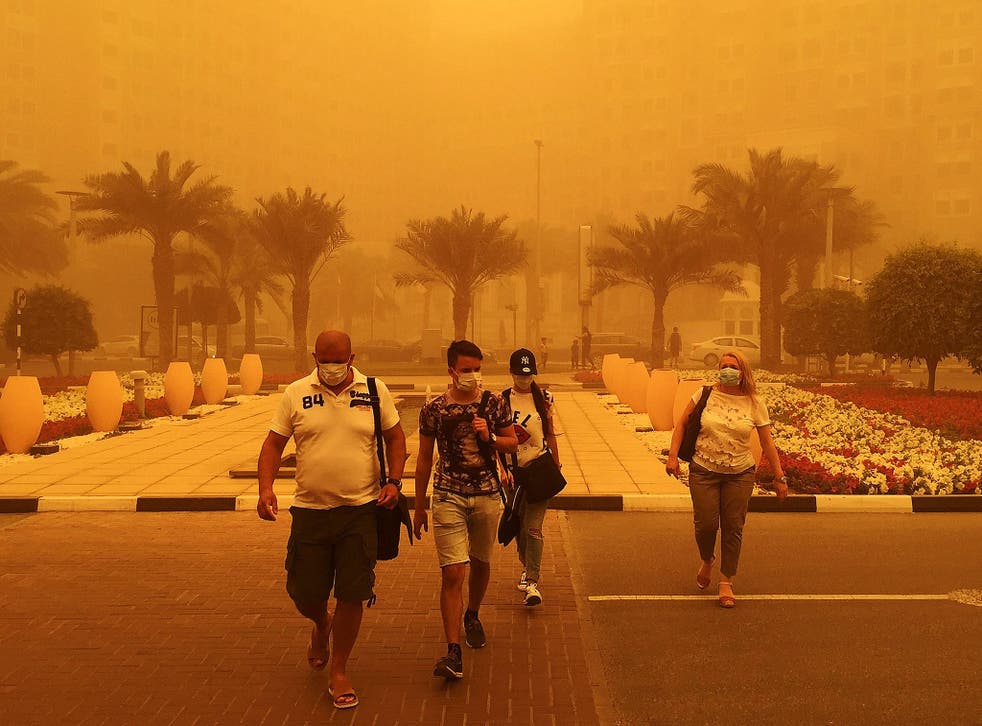 Flights have been cancelled and further delays are expected in Dubai and across the Middle East after the Gulf was hit by a major sandstorm on Thursday.
The fine dust filling the air significantly reduced visibility for motorists and made breathing outside a challenge, as hospitals reported an increase in patients suffering from respiratory problems.
Dramatic images showed the extent of the problem, and Dubai airport officials confirmed that 12 inbound flights had to be diverted to nearby airports.
Dubai is the world's busiest hub for international air traffic after it overtook London Heathrow earlier this year, and authorities warned travellers that further delays and diversions were expected.
In Abu Dhabi, the capital of the United Arab Emirates, police reported that a 24-year-old was airlifted to hospital following a serious road traffic accident caused by the reduced visibility.
Airline officials at the man Abu Dhabi airport said flights to Bahrain and Dammam, Saudi Arabia were delayed due to bad weather.
In Qatar, the authorities ordered the closure of all schools due to what officials described as "extreme weather conditions".
In pictures: Gulf sandstorms

Show all 10
Delays were also reported at Hamad International Airport, which opened last year in the Qatari capital, Doha. National carrier Qatar Airways urged passengers to check their flight status online.
The United Arab Emirates' National Center of Meteorology and Seismology issued a general warning reduced visibility.
And there was no more luck for those trying to travel by coach. Dubai's transit authorities stopped bus services to Abu Dhabi, citing "zero visibility" caused by the storm.
Join our new commenting forum
Join thought-provoking conversations, follow other Independent readers and see their replies