Dubai workers for British firm beaten by police over strike
Employees on £121 a month were attacked, imprisoned and deported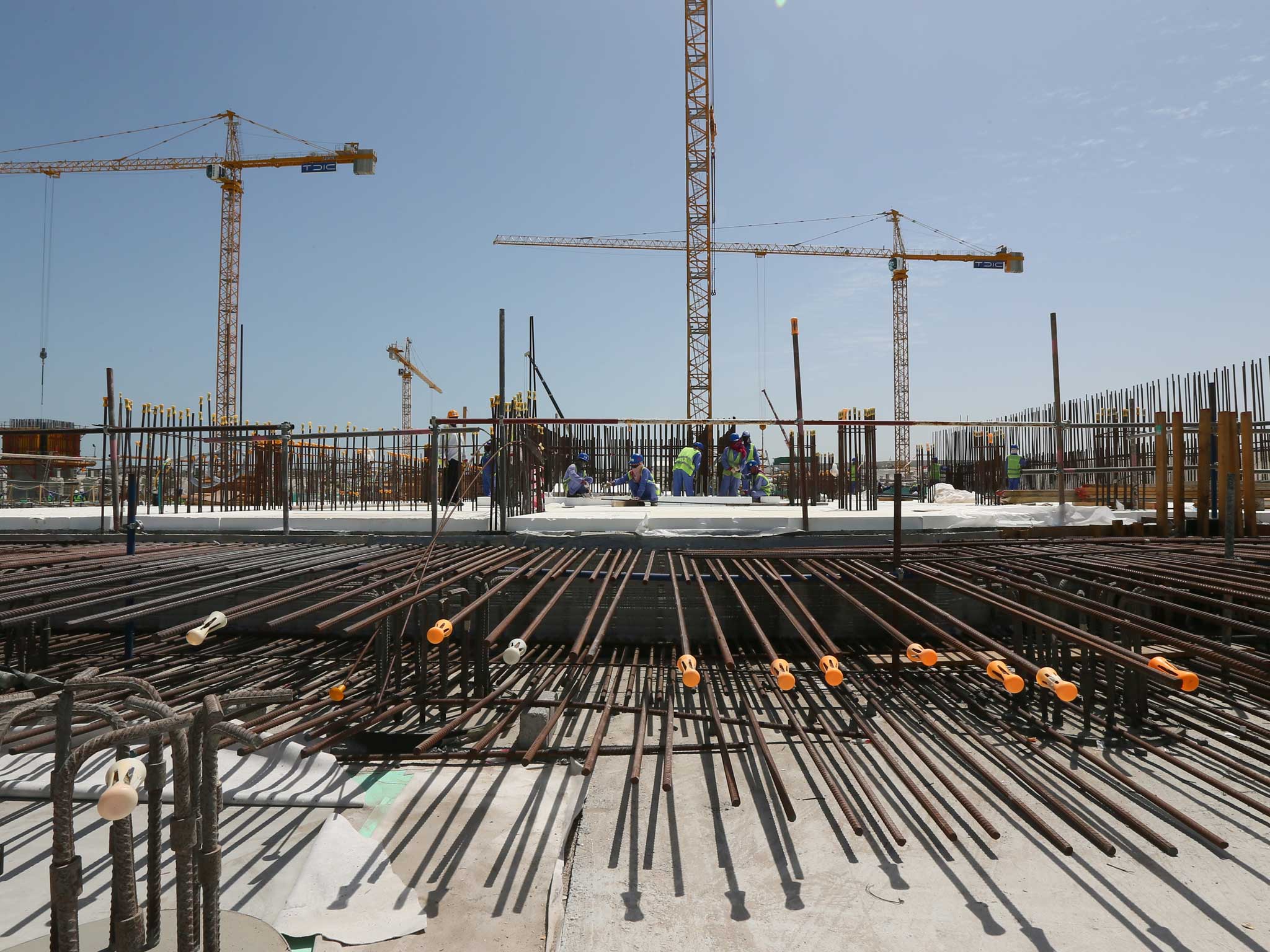 A major British building contractor has been accused of handing striking construction workers over to Dubai police who then beat, imprisoned, and deported them.
Workers helping to build a new university campus were attacked after going on strike asking for an increase to their salary of £121 a month, according to eyewitnesses spoken to by The Independent on Sunday.
Managers at BK Gulf, a joint venture company run by UK-based construction firm Balfour Beatty, alerted police to the strike at a site where New York University is being built. The eyewitnesses, most of whom were working on the new Abu Dhabi campus of New York University, described officials at BK Gulf videotaping striking workers last October before police kicked down doors and arrested dozens. Others were tricked into meetings with management, only to find police waiting for them.
Balfour Beatty denied the claims, saying that BK Gulf managers merely acted in accordance with local law. But Human Rights Watch condemned the alleged abuses yesterday as "shocking but not surprising" and called for construction companies and the British Government to do more to put pressure on the United Arab Emirates authorities to reform their notorious labour regulations.
Many of those arrested described being slapped, beaten and kicked at the largest prison in Dubai, which shares federal labour laws with Abu Dhabi. Some begged the company to intervene. Several said that a British manager informed of the abuse refused to act to stop it.
"It was the first time in my adult life that I cried, because I was so scared," said Matur Rehman, an NYU Abu Dhabi worker deported back to Bangladesh. "One police officer was shouting, 'Are you a strike leader? Are you a strike leader?' And the other one beat me with his shoe and slapped me on the neck. I was crying and begging him to stop," he said.
Mr Rehman, who was suspected of being a strike leader because he and others missed their work bus on the day before the strike started, said he was locked in darkness in Dubai police headquarters for two days before being transferred to Dubai central prison. Another Bangladeshi, Inam Ul Hacq, from a different Dubai camp, said he was slapped and pushed in the chest during interrogation. "An Arab man in plain clothes was shouting: 'Who told you about the strike? Who told you about the strike?' and he was hitting me," Mr Ul Hacq said.
Another striker recalled being slapped on the face at the prison because he didn't look straight ahead during an iris scan used to ensure he never returns to the UAE.
All of the men were working for BK Gulf, co-owned by Glasgow-based Balfour Beatty PLC, one of the UK's largest infrastructure companies, with pre-tax profits of £187m in 2013. The "BK" in BK Gulf is an abbreviation for Balfour Kilpatrick, which has now been consumed into its parent company, Balfour Beatty.
Sources at Balfour Beatty dispute many of the details of the workers' accounts. They say that in the UAE, where striking is illegal, companies are obliged to report the formation of any workers' committee to the authorities. They say BK Gulf paid rates up to 50 per cent above the local average, and add that the company received no reports of mistreatment of workers by the authorities. "BK Gulf complies with all UAE laws regarding the employment, welfare and accommodation of employees," Balfour Beatty said in a statement.
The allegations are just the latest episode in a troubled history of mistreatment of migrant workers in the UAE. BK Gulf's work is part of the Saadiyat Island construction project, a £16.5bn venture that will bring Abu Dhabi outposts of the Louvre and the Guggenheim as well as NYU's new campus, where former US president Bill Clinton will deliver a commencement address today.
Originally intended as a major tourist attraction and beacon of Abu Dhabi's cultural power, Saadiyat has instead drawn unwelcome fresh attention to that pattern of abuse, with reports of the routine confiscation of workers' passports upon arrival in the country and claims that a code of practice governing the treatment of workers has been repeatedly breached. A number of Western companies besides Balfour Beatty are involved in Abu Dhabi's massive construction programme, and British institutions such as the British Museum and Cranleigh School have also lent their names to developments on Saadiyat Island.
Nick McGeehan, Gulf researcher at Human Rights Watch, said that the problems at BK Gulf were indicative of a broader issue. "Yet again it exposes the dangers in that sector," he said. "For far too long companies have just hoped that the problem would go away and that standards would get better, but they're not getting better. It's the same stories over and over again.
"You can sympathise – this is a lucrative market, one of the most lucrative in the world, and no one would criticise them for being there. But you cannot operate in the UAE and adhere to the codes of responsibility that they claim to. If they want to do both, then they need to be more proactive, with the assistance of the British Government, and take concrete steps to protect workers."
The allegations against BK Gulf suggest that, at present, Western businesses and institutions are unable or unwilling to prevent such abuse. Several of the eyewitnesses said a British construction manager at the company knew of the arrests among the 3,000 NYU workers on strike, but would not intervene.
One worker frantically made calls to BK Gulf managers to beg them for help. He got through to a construction manager at the Atlantis Hotel on Dubai's artificial palm-shaped island. The manager told him to do what the police wanted and to stay quiet, he claimed.
"A policeman saw me talking on the phone. He slapped me on the face and said he would beat me all the way to the prison if I tried to talk again," the man recalled.
About 40 men had no change of clothes for at least nine days while they were held in Dubai central prison. They were not allowed to exercise, mix with other prisoners or use the prison mosque. One Pakistani striker, Majid, said that a BK Gulf representative returned their possessions on their last day at the prison. Most of his possessions, including DVD player, laptop and phone, were not returned. His most valuable possessions, work tools he bought in Abu Dhabi in the hope of starting his own business, were also not returned, he said.
New York University apologised last week for abuses in the building of its Abu Dhabi Campus and promised a full investigation in conjunction with Tamkeen, the Abu Dhabi government's campus developer.
Many of those deported after the two-day strike last October said they were in their Dubai labour camp because they were on night shift at the New York University campus and said they were not involved in the strike.
Eight of the 40 jailed workers, now in Bangladesh and Pakistan, spoke to The IoS. The men were later deported and abandoned in their home countries, they said. One worker had to wait a week in the Bangladesh capital, Dhaka, for a week until he raised funds to return to his village.
In all, more than 3,000 men were on strike for two days, most of them working on the NYU project on Saadiyat Island. Three hundred BK workers were deported as punishment for refusing to work, according to the workers and a site supervisor.
All the men were striking for an increase in their six-day salary from £121 a month to £162.
Another NYU worker, Faruz, unrelated to the strikers, said he asked a British BK Gulf manager for 15 days' emergency leave to sort out his marriage problems. The manager cancelled his visa and had him sent back to Bangladesh as punishment, he said.
Join our commenting forum
Join thought-provoking conversations, follow other Independent readers and see their replies