No relief for Eastern Ghouta as Syrian army advances into rebel district one 'bite' at a time
US President Donald Trump and French leader Emmanuel Macron promise a 'firm response' if investigators find use of chlorine gas on besieged rebel district
Friday 02 March 2018 19:38 Comments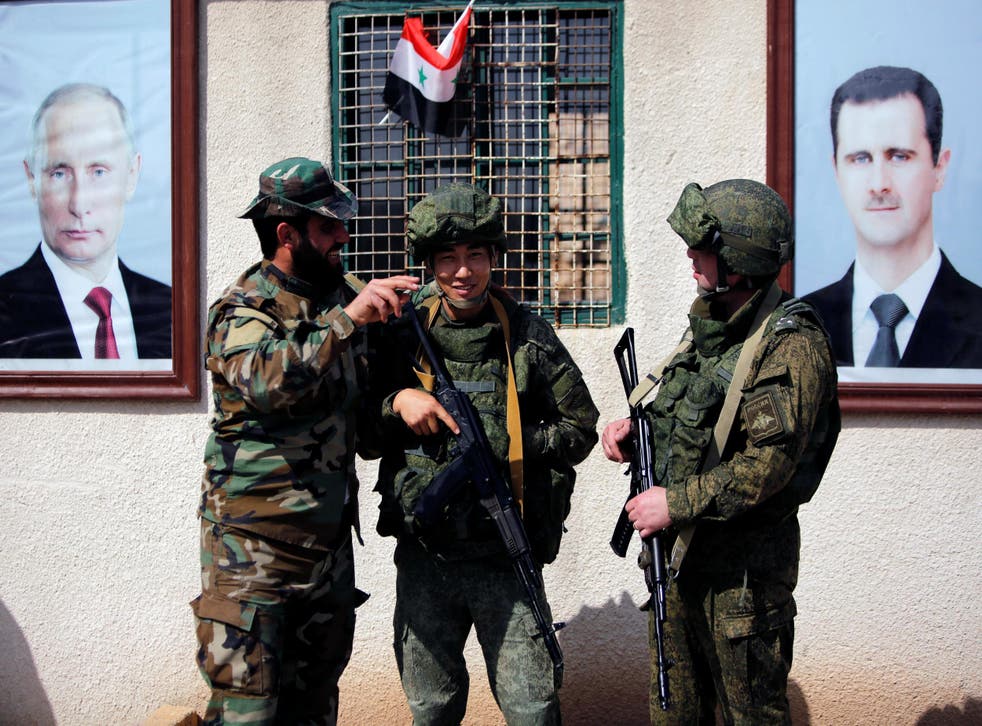 Syrian government forces are advancing in a corner of Eastern Ghouta, six days after a UN-ordered ceasefire failed to stop the bloodshed in the besieged rebel district.
Both an army commander and war monitor said on Friday that fresh ground had been seized from rebel forces in an aerial and ground offensive, which has been going on for almost two weeks and has killed over 600 people. Intensified rebel shelling of government-controlled neighbourhoods in Damascus has killed 27.
The elite Tiger Force have been attacking rebels in the Maraj area of Ghouta for several days.
Scenes of devastation in Syria after deadly shelling and airstrikes and eastern Ghouta
On Friday they managed to capture two villages, although the UK-based Syrian Observatory for Human Rights said rebels managed to inflict heavy losses in the fighting.
Government forces had also made "notable" advances in Harasta on the western edge of the besieged zone.
"What is happening at present is biting and taking some villages from the eastern side," a commander told Reuters.
Eastern Ghouta bombings: Syrian war in pictures

Show all 14
The UN held a second emergency meeting on the situation on Friday to debate the failure of a UN ceasefire mandated on Saturday, as well as orders from Syrian ally Vladimir Putin for daily pauses in fighting to allow aid deliveries and medical evacuations.
Very few of the 400,000 people thought to live in the area of farms and towns have been able to use the humanitarian corridors set up on Monday. The routes have been routinely shelled, with President Bashar al Assad's forces and rebel factions blaming each other for the violence.
The US State Department on Thursday dismissed Russia's daily five-hour humanitarian windows as "a joke".
As in other episodes of urban conflict in Syria's now seven-year-old war, residents have said they are afraid to leave for fear of recrimination once they cross into government-held territory.
There are also reports that rebel forces have not allowed them to leave.
While Ghouta is technically covered by an internationally-brokered 2017 deescalation deal in four areas of the country, the Syrian government says it is fighting al Qaeda-linked factions, which are not covered by the agreement, in the district.
Western intelligence understands there to be a small jihadi presence in eEstern Ghouta, where after six years of siege rebel infighting is rife.
US President Donald Trump spoke to French leader Emmanuel Macron and German Chancellor Angela Merkel about the situation on Friday.
The leaders called on Damascus and Moscow to abide by the agreed 30-day ceasefire – and also promised a "firm response" if international investigators determine chlorine gas was used in a bombing on Sunday that killed two children and hospitalised 18 other people.
Boris Johnson suggests the UK could strike Syria in response to Assad's attack on eastern Ghouta
The Syrian government has repeatedly denied the use of illegal poison gas in the war.
An investigation established by the United Nations concluded last year that Damascus was behind an attack with sarin nerve agent in north-western Syria last April, and also that government forces had used chlorine as a weapon on three occasions.
More than 200 poison gas attacks have been documented by monitors.
Register for free to continue reading
Registration is a free and easy way to support our truly independent journalism
By registering, you will also enjoy limited access to Premium articles, exclusive newsletters, commenting, and virtual events with our leading journalists
Already have an account? sign in
Join our new commenting forum
Join thought-provoking conversations, follow other Independent readers and see their replies