Egyptian belly-dancer sentenced to three years in prison for stirring up 'immorality'
Sama el-Masry arrested during investigation into content on TikTok and other social media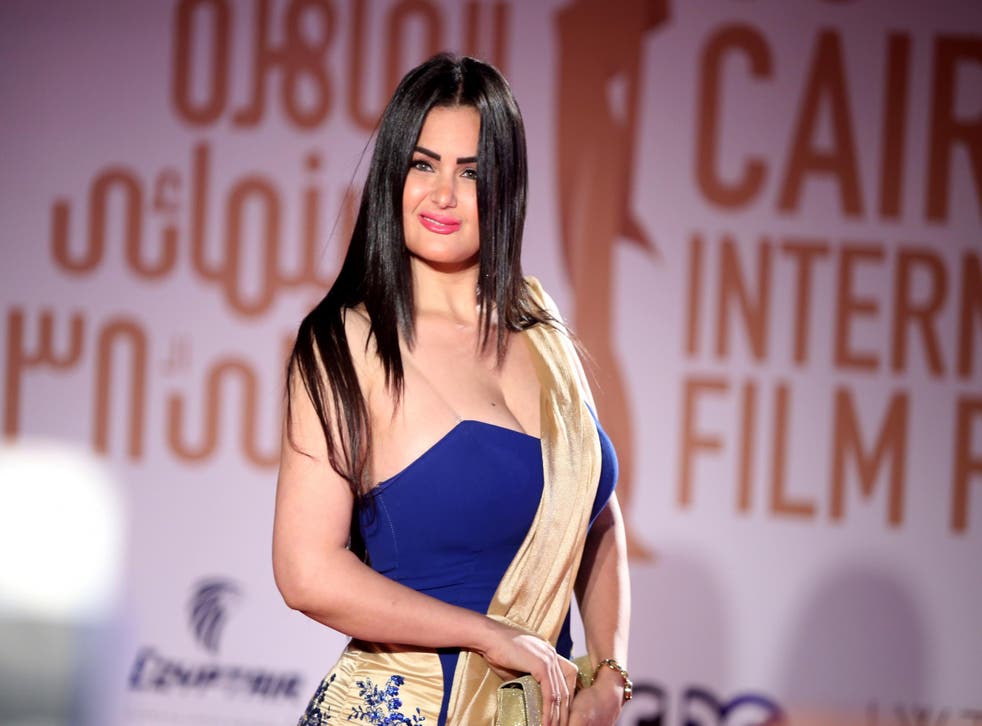 A prominent Egyptian belly-dancer has been handed a three-year jail sentence and hit with a £15,000 fine for feeding "immorality".
The sentencing of Sama el-Masry, who was ordered to pay 300,000 Egyptian pounds on Saturday, is part of a wider clampdown on content shared on social media.
The 42-year-old, who has said she will appeal, was arrested in April during an investigation into videos and photos on social media, including the popular video-sharing platform TikTok, that the public prosecution deemed to be sexually suggestive.
Ms El-Masry denies the accusations against her and says the content was stolen and shared from her phone without consent.
A Cairo court said she had violated family principles and values as well as establishing, managing and using sites and accounts on social media with the aim of committing "immorality".
John Talaat, a member of parliament who asked for legal action against Ms El-Masry and other female TikTok participants, said: "There is a huge difference between freedom and debauchery".
Mr Talaat told the Thomson Reuters Foundation that Ms El-Masry and other female social media influencers were destroying family values and traditions, activities that were banned by the law and the constitution.
Several women in Egypt have previously been accused of "inciting debauchery" by challenging the country's conservative social norms, including actor Rania Youssef after critics took against her choice of dress for the Cairo film festival in 2018.
In 2018 Egypt adopted a cybercrime law that grants the government full authority to censor the internet and exercise surveillance of communications. The law carries penalties of imprisonment for at least two years and a fine of up to 300,000 Egyptian pounds.
A group of female TikTok and Instagram influencers and YouTubers have been arrested by the Egyptian authorities in recent months on charges of promoting debauchery and prostitution on social media.
Mr Talaat said those influencers were expected to face the same prison terms as Ms El-Masry as they had committed the same crime.
Entessar el-Saeed, a women rights lawyer and head of the Cairo Center for Development and Law, said women are the only group targeted by the authorities according to this law.
"Our conservative society is struggling with technological changes, which have created a completely different environment and mindsets," she told the Thomson Reuters Foundation.
Egypt ranks low in gender equality rankings compared to other countries in the world – with UN Women stating there are "entrenched patriarchal norms" in the country.
Women in Egypt are most likely to engage in informal work which often goes hand in hand with a dearth of social protection so are therefore more exposed to deprivation.
Additional reporting by Reuters
Register for free to continue reading
Registration is a free and easy way to support our truly independent journalism
By registering, you will also enjoy limited access to Premium articles, exclusive newsletters, commenting, and virtual events with our leading journalists
Already have an account? sign in
Register for free to continue reading
Registration is a free and easy way to support our truly independent journalism
By registering, you will also enjoy limited access to Premium articles, exclusive newsletters, commenting, and virtual events with our leading journalists
Already have an account? sign in
Join our new commenting forum
Join thought-provoking conversations, follow other Independent readers and see their replies