Egypt church attacks: Congregations 'won't celebrate Easter' after twin Palm Sunday bombings
Easter celebrations cancelled in southern Egypt as Coptic community mourns 45 killed by Isis in last week's suicide bombings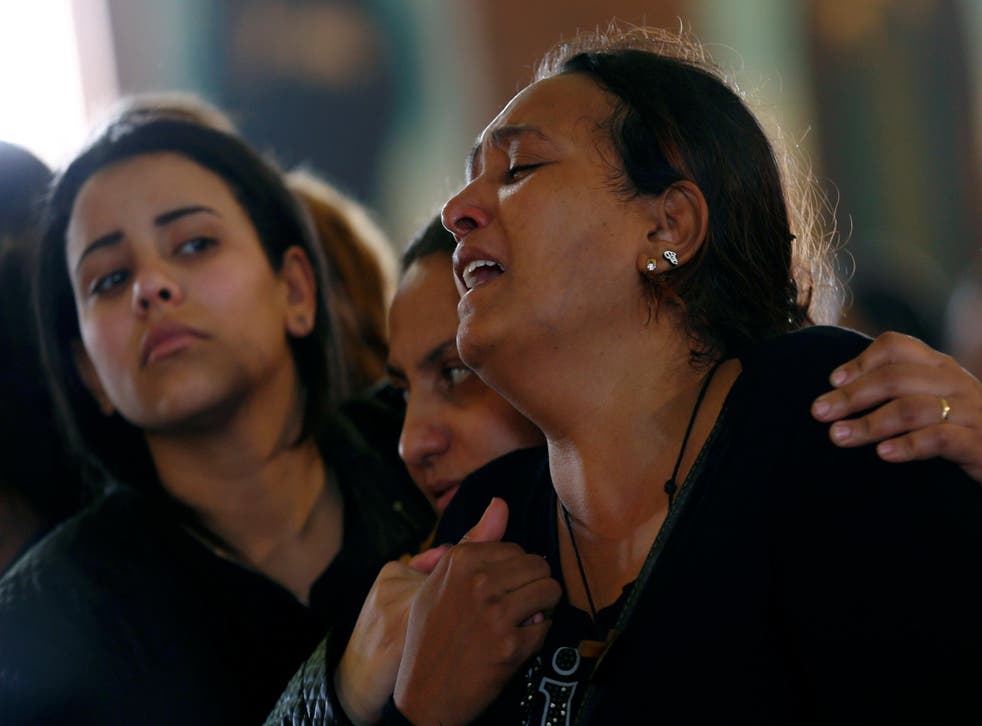 Several churches in the Egyptian city of Minya have said that they will cut back on Easter services as a mark of respect for those killed by Islamic extremists in last week's twin Palm Sunday bombings.
The Minya Coptic Orthodox Diocese, a southern province home to the largest Christian population in the country, said on Tuesday that Easter celebrations later this week will be limited to just liturgical prayers "without any festive manifestations."
It is traditional for Egypt's Coptic community to hold Easter services on Saturday, and then visit family on Sundays. Pope Francis is also due to visit Egypt later this month.
On Tuesday parliament approved President Abdel Fattah el-Sissi's decision to declare a three-month state of emergency following the Isis suicide bombings in Alexandria and Tanta which killed 45.
The president has previously promised to protect Egypt's Christian minority - around 10 per cent of the 90 million strong population - from extremism.
Among the provisions approved is legislation designed to speed up the trials of those charged in terrorism-related cases and the formation of a new body called the 'Supreme Council to Combat Terrorism and Fanaticism'.
Sunday's attacks sparked rare public anger at the government's seemingly inability to prevent suicide bombings and other terror attacks.
Explosion in Tanta Church in Egypt wreaks havoc and deadly destruction
The community has become the frequent target of Islamist groups around the country as well as Isis-affiliated militants in the Sinai, which have flourished in the chaos that has engulfed Egypt since the 2011 revolution.
In December 2016, a blast claimed by Isis at a Coptic church in Cairo left 30 dead.
At least 45 people were killed in two bombings targeting Egypt's Christian minority on Sunday - the first at St George's Church in Tanta, about 60 miles (100 kilometres) north of Cairo, followed by the explosion during Mass at Alexandria's Saint Mark's Cathedral.
Isis claimed responsibility for the bloodshed, claiming that two of its fighters wearing suicide vests carried out the attacks, and warned of more to come.
Join our new commenting forum
Join thought-provoking conversations, follow other Independent readers and see their replies