Trump's 'favourite dictator' clamps down on Egyptian activists ahead of Biden presidency
EIPR's Gasser Abdel-Razek has been in solitary confinement for days in Egypt's notorious Tora prison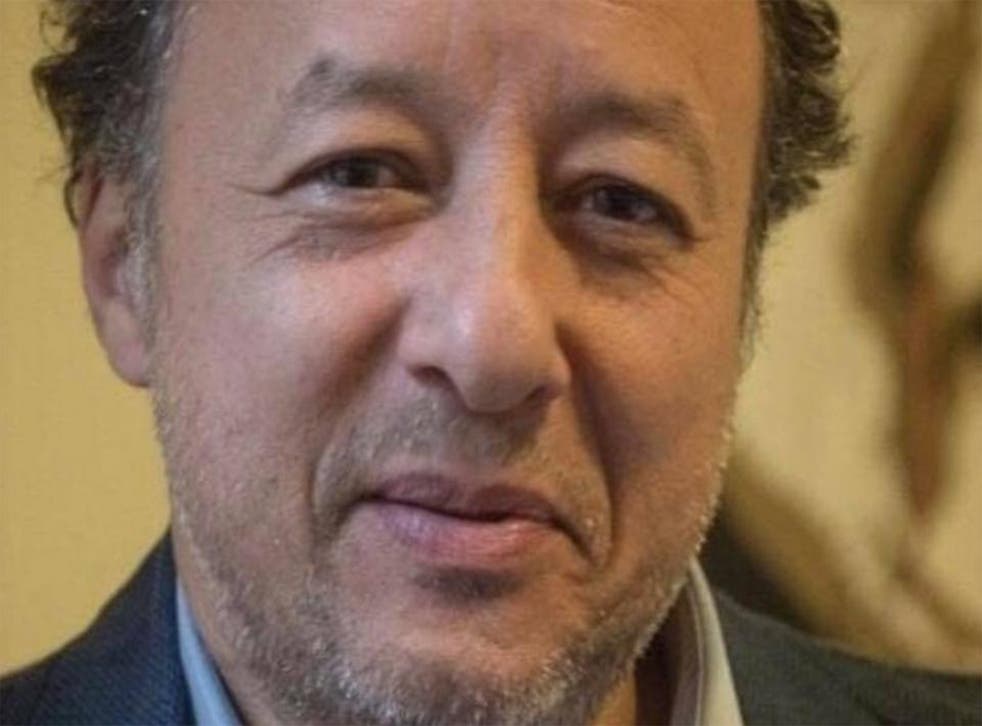 When he was finally hauled before a Cairo prosecutor on Monday, Gasser Abdel-Razek, executive director of the Egyptian Initiative for Personal Rights (EIPR), had his head shaved and showed signs of neglect.
He had been locked for days in a cold solitary confinement cell inside Cairo's notorious maximum security Tora prison complex, without a mattress or warm clothes. His two colleagues, Mohamed Basheer and Karim Ennarah, who had also been arrested, were expected in court but were nowhere to be seen. They are likely still in their cells, subject to potential abuse and possible outbreaks of Covid-19 that have reportedly afflicted Egypt's prison system.
As Mr Abdel-Razak's meeting in the prosecution office finished up he was hustled into a police van, but managed to yell to his wife through the narrow grates. "Mariam!" he called out, according to EIPR. "Say hello to the boys. I love you!"
He had a smile on his face.
The continued detention of EIPR employees, despite a global public outcry, has raised fears that the Sisi regime is settling scores with human rights activists and tightening the screws on civil society in the weeks before Joe Biden takes over as president in the US and Trump, who called Egypt's leader his "favourite dictator", leaves office.
Egyptian officials claim the judiciary is independent, but international observers have derided it as an arbitrary tool of Mr Sisi and his junta. Regulations and procedures are often flouted, and those in politically charged cases are often held without formal charges or proper access to legal counsel.
On Monday, an Egyptian court also placed jailed longtime leftist activist Alaa Abdel-Fattah, his lawyer Mohammed al Baqer and former presidential candidate Abdel Moneim Aboul-Fotouh along with 26 other civil society leaders on a list of "terrorists" for at least the next five years, a stigma that could prevent their release from prison, bar possible pardons and haunt their return to civilian life afterward.
Ironically, Mr Aboul-Fotouh, a 69-year-old retired physician with severe medical problems, broke with his erstwhile Islamist allies and supported a series of protests that led to the 2013 ouster of Egypt's first and only freely elected government and brought Mr Sisi to power in a coup.
The EIPR personnel were rounded up last week after they briefed a group of foreign diplomats about current events in Egypt, including the UK's own deputy head of mission. The intensified crackdown has come despite a global condemnation. On Sunday, the UK Foreign and Commonwealth Office reiterated that it was "deeply concerned" over the arrests and that Foreign Secretary Dominic Raab "has raised the issue directly with his Egyptian counterpart," according to a statement.
"All human rights defenders should be able to work without fear of arrest or reprisals," it said.
Former US Deputy Secretary of State Antony Blinken, who is said to be US President-elect Joe Biden's pick for America's next top diplomat, has also condemned the arrests. "Meeting with foreign diplomats is not a crime," he wrote on Twitter last week. "Nor is peacefully advocating for human rights."
The United Nations, the European Union, and several other countries including France and Germany have also condemned the arrest.
EIPR says the punishment of its personnel violates Egyptian law and prison regulations, and that the group's lawyers are in the process of trying to get them out of jail.
Register for free to continue reading
Registration is a free and easy way to support our truly independent journalism
By registering, you will also enjoy limited access to Premium articles, exclusive newsletters, commenting, and virtual events with our leading journalists
Already have an account? sign in
Register for free to continue reading
Registration is a free and easy way to support our truly independent journalism
By registering, you will also enjoy limited access to Premium articles, exclusive newsletters, commenting, and virtual events with our leading journalists
Already have an account? sign in
Join our new commenting forum
Join thought-provoking conversations, follow other Independent readers and see their replies